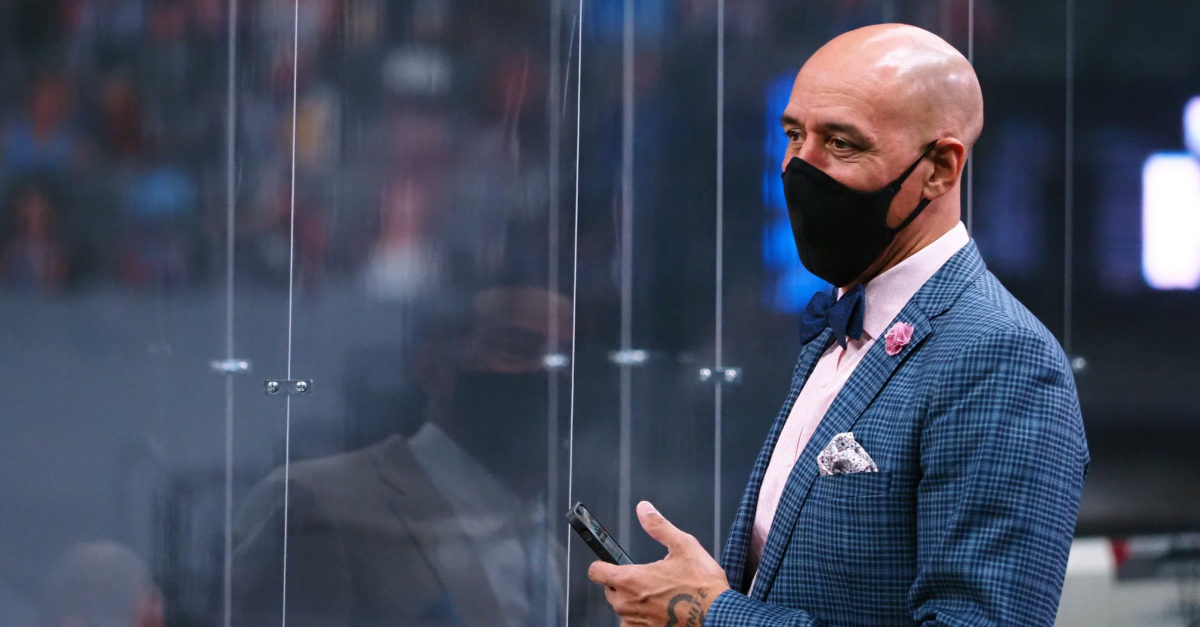 It was no surprise to Sacramento fans when Doug Christie was named as the newest Assistant Coach for the Kings back in early August. After providing several years of color commentary on the Kings broadcast, where he was able to exercise and flex his basketball IQ muscle, it seemed only a matter of time before he would transition into a coaching role.
Though Doug Christie spent his 15-year career on seven different NBA teams, his most successful and, what I like to believe, his favorite years, were spent in Sacramento from 2000-2004. In all five seasons with Christie at the shooting guard position, the Kings competed in the NBA playoffs and were known around the league for their palpable team chemistry and showmanship. During his time in Sacramento, Christie solidified his identity as a defensive specialist and racked up multiple All-Defensive team awards. Christie left Sacramento in 2005 as 2nd in all time steals in franchise history.
His success as a player and subsequent commitment to this organization and city in his retirement has already secured Doug Christie's legacy in the hearts of Kings fans. But now he has a new opportunity to further this legacy by contributing to the team from the sidelines. Christie has stated:
"It's been a dream of mine to coach for the Sacramento Kings. I feel like I have some unfinished business."
As an assistant coach, directly involved with the day-to-day and in-game action with the team, how could Doug Christie help the Kings this upcoming season? Here are some of my hopes of how he will impact this team:
DEFENSE: In case we haven't all heard this enough, here's another reminder, bolded and in all-caps, that the Kings recorded the second worst defense in NBA history last season. We suffered through countless defensive breakdowns, both individual and team, and saw little improvement as the season progressed. As a player who earned numerous accolades for his performance on the defensive end, Doug Christie seems like the perfect kind of basketball mind to mentor and mold this Kings team into shape on defense. While Mike Longabardi, new defensive coordinator for the Kings, undoubtedly has proven his knowledge and experience and could help this team on the defensive end, Christie can bring another layer of first-hand experience to the coaching staff that will hopefully further permeate to the players.
Team Basketball: The Kings have shown improvement on the offensive end, especially with the development of De'Aaron Fox and his ability to disfigure defenses by getting into the paint. With such a gravitational force in Fox, the next step for the Kings is to figure out how to utilize this to their advantage to uplift everyone else's play. Known for his role in the Kings' starting five that became known as "The Greatest Show on the Court", Doug Christie knows a thing or two about how to play team basketball. The Kings have developed some real talent on their roster and I'm hoping Christie can help guide this team in how to use and maximize it together as a collective unit.
How to Win in the NBA: In the past two shortened seasons, the Kings have finished with the exact same record: 31-41. They haven't won more than 40 games in a season since 2006. Needless to say, this team has been struggling to put a significant amount of wins together for awhile now. For his five years in Sacramento, Doug Christie was a part of the winningest basketball this franchise has ever seen. My hope is that Christie will be able to use this experience to teach and instill in this team what it takes to consistently win in this league.
Development of Tyrese Haliburton: It seemed like it only took a few moments after drafting Tyrese Haliburton for Kings fans to recognize and appreciate the similarities between him and Doug Christie, right down to their physical resemblance. Both have demonstrated high basketball IQ on the court, on both sides of the ball, but most alluringly on the defensive side. They seem to share a similar sixth sense in anticipating passing angles and knowing just where to be on defense. Christie finished his career averaging an impressive 1.9 steals per game, even having a season in Toronto where he averaged up to 2.5 steals per game. In his rookie season, Haliburton averaged 1.3 steals per game. Given their similarities in their natural knacks for defense, I hope to see Christie be a big part in Haliburton's development for his second year in the league.
I want nothing more than to see Doug Christie as a part of this team and take care of the "unfinished business" he refers to like he's the main character in a redemption-themed action film. I have a few movie titles floating in my mind already (i.e. The Second Coming: Return of Christie) but we can work out those details later. For now, I look forward to all the impactful ways Doug Christie can help this Kings team in the upcoming season.