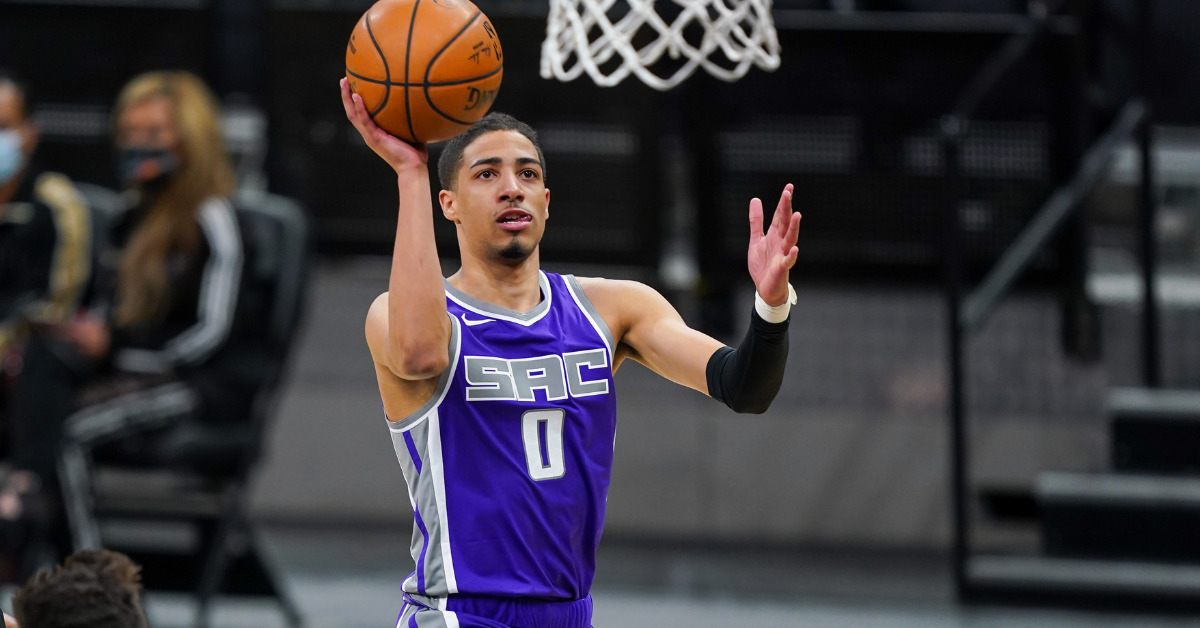 The Athletic's Sam Amick held a wide-ranging interview with Tyrese Haliburton covering everything from the draft, the rookie of the year race, social justice, the Kings season so far, and more. It's a deep dive, and well worth your time to read the entire article. Here are three key takeaways.
Haliburton didn't orchestrate his draft-day slide
A persistent rumor ever since draft day has been that Haliburton and his team had engineered his fall to the 12th pick so he could play alongside De'Aaron Fox. Haliburton speaks at length about the draft process, that he figured the 12th pick was his floor, that he spoke with the Kings once during the pre-draft process and they had said they loved him. It's clear that Haliburton was well informed on the variety of factors that would impact where he ended up. But as far as purposefully sliding to Sacramento, Haliburton says:
[T]here's all these stupid rumors going around that I told everybody not to pick me because I wanted to go to Sac at 12, like come on now? Are you crazy? I would never. These teams just didn't pick me, you know? It is what it is.
Amick adds that from his conversations with teams that passed on Haliburton, that none of them were dissuaded by Haliburton's camp. Amick spoke on the reasons teams passed on Haliburton:
As for the question of why he slid, most executives cited his unorthodox shooting form, his struggles getting to the rim and the free throw line, and concerns about his slight frame. All the intel off the court, as one source put it, was €œoff the charts.€
Not only did Haliburton not orchestrate the fall, he still maintains a chip on his should about it, telling Amick:
Everybody's got to make their own decisions, and live with that. And then my goal is just to make people in 20 years be like, €˜Man, I fucked that up,' you know?
So far I'd say several of the 11 teams that passed on Haliburton are already saying that.
Tyrese doesn't care if he's coming off the bench
Haliburton and Amick spoke about the frustrations of this losing season, and the challenges of adapting to the NBA. One of the things Amick asked was how it felt when Luke Walton moved him back to the bench. But the funniest part is that Buddy Hield had the least-surprising reaction to Haliburton being benched:
And€¦about coming off the bench. I'm not tripping off that. At the end of the day, I'm a basketball player. I'm not just saying this because it's a media answer. Like, (veteran Kings guard) Buddy (Hield) yelled at me yesterday because I told him this and he was like, €˜Oh, don't give me the media answer.' But it's the truth. I'm a basketball player at the end of the day, so I'm coming out here to compete every night. If you put me off the bench or start me or however many minutes, I'm going to value those minutes and compete. It is what it is.

So Buddy asked you what you felt and thought you were bullshitting him?

Yeah, yeah, exactly. Obviously I have aspirations to start and be a star and be a superstar, (and) I know that that can come. I've just got to go about my days the right way.
Oh, Buddy.
Tyrese Haliburton's cousin is former NBA player Eddie Jones
From what I saw on Twitter, this had been mentioned on the TV broadcast at some point, but I had completely missed it. Mind blown.
***
The interview covers far more than what I've highlighted here, and goes into much more depth on all topics. It's a really great read, and Haliburton comes off well throughout. How many rookies could explain "no, the rumors are wrong, I wasn't purposefully trying to be in Sacramento" and still not have it come across poorly? Haliburton is candid and insightful throughout, and it's a must-read for Kings fans.