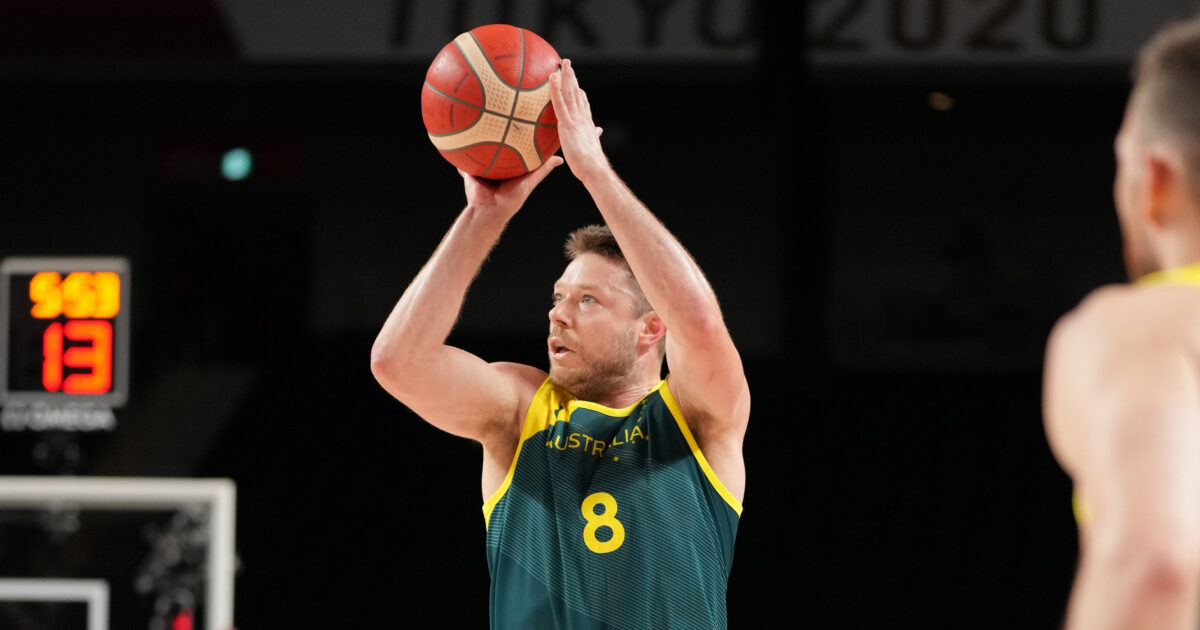 Training camp this year features some interesting competition for the last few roster spots in Sacramento. Right now, the Kings have 12 players whose contracts are fully guaranteed for the upcoming season. That leaves three roster spots up for grabs between six players that the Kings have brought in for camp: KZ Okpala, Kent Bazemore, Matthew Dellavedova, Chima Moneke, Quinn Cook and Sam Merrill.
The Kings mentioned at the start of the offseason that they'd be looking to bring in more shooting and defense, and all of these players fit at least one of those categories.
KZ Okpala is intriguing because of his youth (he's just 23) and his defensive upside. At 6'8, he's got great size at the wing, and he also has previous experience playing for Mike Brown on the Nigerian Olympic team. Brown was effusive in his praise for Okpala during those Olympics:
Nigerian Olympic coach Mike Brown, the Warriors, assistant, "KZ [Okpala] is a remarkable talent . . . He has a chance to be, obviously, an elite defender." Says he could be an eventual contender of Defensive Player Of the Year. "His upside is tremendous."

— Ira Winderman (@IraHeatBeat) July 9, 2021
Okpala had previously been with Miami the past three seasons but never really got a chance to break into a veteran heavy rotation. Okpala has never been particularly known as a shooter or scorer, but if he can find a consistent outside shot and still bring most of his focus on the defensive side of the floor, that'd be a nice upside play for the Kings at a position of need.
Kent Bazemore is one of the more well-traveled players in the group. A former King himself, Bazemore has been in the league since 2012. Bazemore is one of the few candidates who can do a little bit on both ends, if not excel at either. He's always been a decent shooter, albeit a streaky one, and his 7'0 wingspan more than makes up for his 6'4 height on defense. He has experience in Mike Brown's system, having played with the Warriors in the 2020-21 season and can slot at Shooting Guard or Small Forward in a pinch.
Matthew Dellavedova has been out of the league for a couple years but during his time in the NBA he developed a reputation as a defensive pest, even earning the nickname the "Curry stopper" from Cleveland's battles with Golden State in the NBA Finals. Dellavedova isn't known for much offensively, but he can hit outside shots and he's also probably the best playmaker of the bunch, having spent some time playing the Point. For the Kings, he'd likely be the third string point guard, something they don't really have otherwise.
Chima Moneke is a bit more of an unknown, but he has spent a lot of time around the team this summer. A native of Australia and a former UC Davis alum, Moneke has spent the last couple seasons playing in France and Spain, as well as playing for Mike Brown's Nigerian Olympic squad. Moneke is a bit of an undersized Power Forward, but he's an excellent rebounder for his size and was able to score efficiently overseas, even though his outside shot still needs work. According to Moneke, he got a call from Brown the day he found out he was going to be the new head coach:
"He told me that unofficially, he's going to be the next head coach of the Kings and when he knew he was going to get that job, I was the first name he thought of."
Quinn Cook's another NBA veteran, and played his biggest role as a backup for the Warriors a few years ago. Cook is best known for his shooting, with a career 3P% of 40.8% (which would make him the best shooter on the Kings if he makes the team). Cook would also fill a slot as a third string point guard, although he hasn't shown the same playmaking chops as Dellavedova has, averaging just 1.6 assists a game for his career.
Finally, there's Sam Merrill. Merrill has played two seasons in the NBA but an ankle injury in his second season that required surgery kept him off the floor for much of the year and he was later waived by Memphis. He was a four-year collegian at Utah State and was a prolific shooter in that time, making 42% of his three pointers and 89.1% of his Free Throw attempts. He was able to show off that shooting touch in his rookie year in Milwaukee, when he made 44.7% of his threes. Merrill is probably the longest shot to make the Kings roster, but I wouldn't be surprised if he finds his way to Stockton instead.
It remains to be seen who makes the final cut, but my prediction would be Okpala, Dellavedova and Bazemore make the team. This is a team trying to win now, so I think they're going to be focused more on adding a defensive edge to the roster, and vets like Dellavedova and Bazemore will be able to bring more with their presence if they're not playing compared to the young guys. Okpala himself gives the Kings one upside play at a major position of need.
I do like that there's an actual competition for these final spots however. Usually it seems written in stone who will make the team, but the Kings have assembled a list of quality players who all have a shot in my mind.