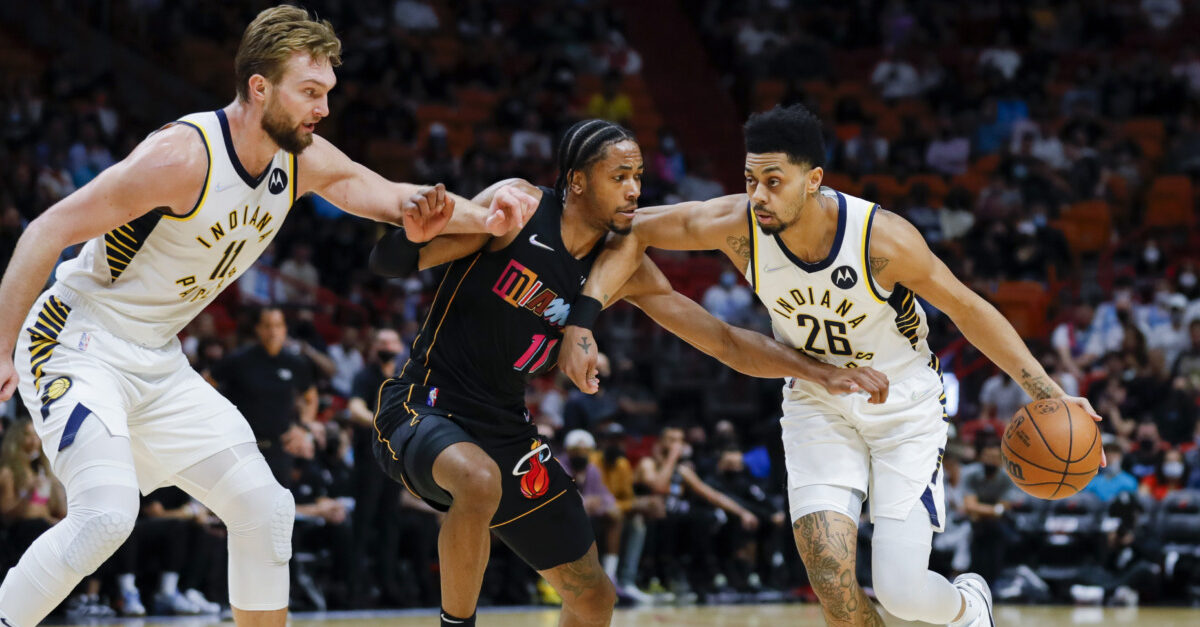 Following the hiring of head coach Mike Brown, the Sacramento Kings brought in two players that Coach Brown was previously familiar with from his time coaching the Nigerian National team: KZ Okpala and Chima Moneke. That pairing, along with Chimezie Metu, most recently spent time with Brown during the 2020 Tokyo Olympics, which took place in July of 2021. Prior to those games, Brown spoke glowingly of Okpala's defensive potential.
"KZ (Okpala) is a remarkable talent. These are high expectations, but in the short time that I've had him, (I think) he could be a Defensive Player of the Year type candidate," Brown said. "His length, his size, his strength, his want to play defense is off the charts." Brown went on to say that their coaching staff, which included current Sacramento coaches Jordi Fernandez and Luke Loucks, planned to use him "similar to how we do Draymond Green a bit in Golden State where he'll guard everybody at different times."
It was clear from their first friendly, an epic victory over Team USA, that Mike Brown wasn't being hyperbolic. Okpala, who stands at roughly 6'8" with a 7'0" wingspan, started the game picking up Damian Lillard full court. Throughout the course of that game, he switched onto the likes of Bam Adebayo, Draymond Green, Zach LaVine, Jayson Tatum, and Kevin Durant while somehow never looking out of place.
Constant, agitating ball pressure was the name of the game when dealing with initiators.
With bigs and wings, Okpala had no problem playing a more physical brand of defense while continuing to utilize his overwhelming length to be a persistent pest. Mike Brown's trust in the Stanford product was crystal clear while speaking to the media, but his on-court actions spoke even louder. As Team USA was fighting to close the gap Nigeria had built in that game, Kevin Durant took matters into his own hands down the stretch multiple knocking down clutch shots to keep it close. Looking at a three-point lead with 13.2 seconds remaining, Nigeria was in desperate need of a stop and KZ Okpala was assigned to Kevin Durant.
While there was nothing flashy from Okpala on this play, his battle to deny Durant the basketball, comparable size, and Coach Brown's trust is worth highlighting.
Brown wasn't working with a supremely talented roster throughout that run, particularly on the defensive end, but that same label could be placed on Sacramento's roster heading into the 2022-23 NBA season.
Who is their best option to cover the likes of Kawhi Leonard, Paul George, LeBron James, Giannis Antetokounmpo, or Kevin Durant? Harrison Barnes has struggled in years past. Rookie Keegan Murray seems like an unlikely option. Maurice Harkless was traded to the Atlanta Hawks. Davion Mitchell is a bulldog, but he lacks the needed measurements. KZ Okpala could very well be the best option.
Obviously, the games that came against Team USA are the easiest to pick apart and understand how it could translate, but Okpala was a dominant defensive force against Argentina, Australia, Germany, and Italy as well. His aforementioned ball-pressure was a constant and peaked against Germany when he tallied five assists and plenty more deflections.
He is far from perfect on the defensive end, as evident by foul trouble that lead to limited playing time in Nigeria's final game of the 2020 Tokyo Olympics, but the tremendous potential that Mike Brown sees is apparent.
As for his offensive skillset, it's the definition of a work in progress, which is assumedly why Mike Brown followed his DPOY potential comment with the asterisk of, "once he figures some things out to get consistent minutes on the floor."
Brown proceeded to compliment Okpala's moments of impressive ball-handling and passing and expressed confidence in his ability to knock down triples.
"When his feet are set, we're telling him to let that thing fly no matter where he's at on the floor because his shot looks good and its gone in." Up to this point, that's been the struggle for Okpala.
Throughout his three seasons with the Miami Heat, Okpala has converted just 27.3 percent (21/77) of his three-point attempts. That number will need to be much improved if he is to find a consistent spot in the rotation with the Kings next season alongside De'Aaron Fox and Domantas Sabonis.
At just 23 years old, there's a reason for optimism surrounding KZ Okpala's offensive game becoming competent enough to for Mike Brown to utilize what might be his second-best defender in Sacramento. His length, versatility, athleticism, and drive are a highly sought-after combination in the modern NBA, it's just about piecing it all together on a consistent basis.