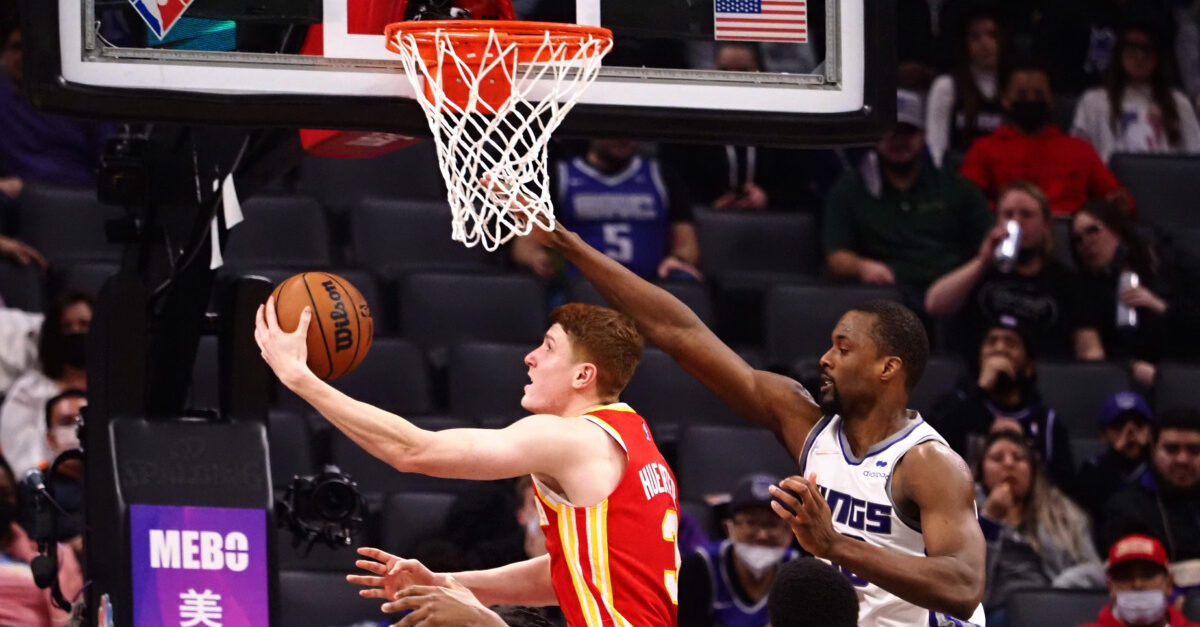 Can he play small forward? has been a meme in Sacramento for nearly as long as the Kings playoff drought, and unfortunately for the Kings 2022-23 roster, the answer is likely still "no" for a majority of the squad's proven contributors. The Sacramento front office has made some moves this summer to try and load the Kings wing and forward core with versatility moving forward, but are these moves enough?
Since that meme originated in the late 00s, the league has become much more positionless; the lines between small forwards, power forwards, and shooting guards have blurred and become more about offensive fit and defensive coverage than traditional sizes. But adding young players who can play at the 3 spot has never been a strength or priority of this Kings organization during the playoff drought. Over the past 15 years, only 3 of the Kings 19 first round draft picks can/could play small forward; Omri Casspi, Justin Jackson, and now Keegan Murray.
Murray will likely play time at both forward positions, and given his offensive versatility and defensive focus, he'll likely be a huge key to helping Mike Brown fill out his rotation. His shooting ability will, like Harrison Barnes, offer him the ability to pair with pretty much any combination of players on offense. On defense, Keegan isn't the quickest or most effective stopper against more explosive players—he's likely more built to handle rangier power forwards than quicker small forwards—but his solid awareness and consistent effort will give him a higher floor than most rookies. And while I and many others wanted Sacramento to draft Jaden Ivey over Murray from a talent standpoint, I'll say that given Murray's Summer League dominance, it's nice to think the Kings may have taken a true step forward to addressing their roster imbalance by snagging Keegan.
As Greg talked about last week, how the 30-year-old Barnes defends against faster perimeter players is going to be worryingly critical for this squad. We know what Barnes can do for this team on offense when he's engaged—like Murray, his shooting ability and offensive versatility should let him fit with any number of teammates—but defensively is much more of a question. Barnes had an intense rivalry with De'Aaron Fox most of last year to see who could give less of a care on defense. The Kings need much more from their veteran on that end of the court if they are going to make a meaningful run this year.
Kevin Huerter, who might/probably should be the starting off-guard come October, could get some run at the 3 in small-ball lineups. Indeed, our buddy Tim Maxwell is gonna come on here in the coming days and rant about how the analytical numbers signify that Kevin Huerter may be the Kings best option at small forward. At 6'7, he's got the height and physicality, and certainly has the off-ball shooting ability… but perhaps not the ideal defensive capacity to handle starting-level small forwards. He's another promising, if imperfect, fit for this team at the 3 spot. Indeed, the same goes for Terence Davis, who Brenden Nunes hypothesized recently could see his minutes in three guard lineups. The Kings guard talent certainly could mean a ton of minutes to go to small-ball lineups.
Deeper down the squad's depth chart are players who will be using training camp as a shot to fill the Kings' wing and forward depth. KZ Okpala, Chima Moneke, and Kent Bazemore have reportedly signed partially guaranteed contracts, while rookie Keon Ellis is on a two-way contract. If one of them proves to Mike Brown that they're ready for a real role (or in Bazemore's case, can still play a real role), that'll be fantastic—the Kings haven't hit on a diamond in the rough at this position in forever—but they aren't gambles Kings fans should count on quite yet.
The Kings may have more answers this year at the small forward position than in years past, but that isn't saying a whole lot—and the long-term answer for the position may still not be on the roster. But they have more versatility and lineup options with Murray, Huerter, Barnes, Davis, and hopefully any one of Okpala, Moneke, Bazemore, and Ellis than they did 4 months ago.