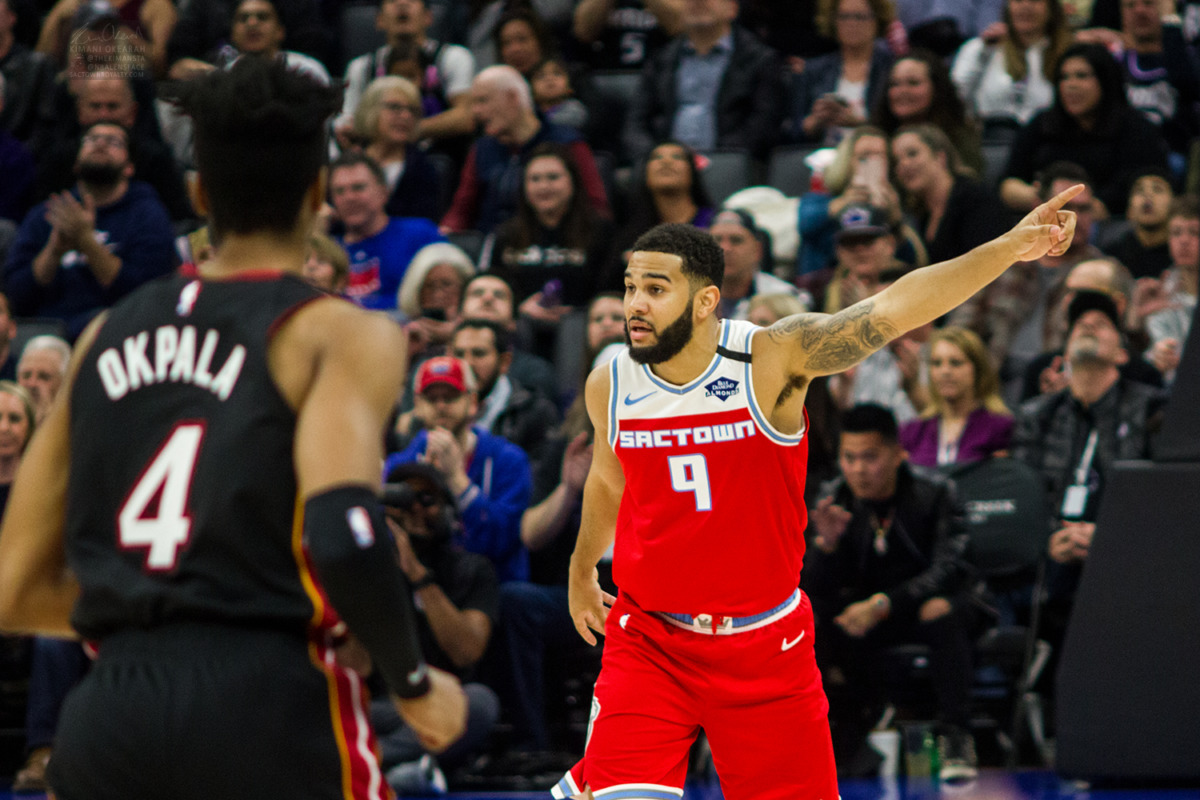 There's good reason to think that many of you saw this article's query and scoffed. Defense and the Sacramento Kings? An absurd thought. The Kings haven't had an above average defense since Rick Adelman was still the head coach. Since 2006, the Kings have been in the bottom 10 in team defensive rating every single year, and it's hard to think that this year will be any different.
Defense requires a buy in from everybody involved, and it's rare to see young, rebuilding teams put together strong defensive squads. But given how Monte McNair has structured the Kings this season, I think it could be reasonable to think that this team might fare better on that end of the floor than in recent years.
Few Kings rosters have assembled as much youth or athleticism on the perimeter as this Kings squad. Monte McNair's draft in particular targeted three young athletes who all showed great promise on the defensive side of the floor. Tyrese Haliburton was one of the best ballhawks in college. Robert Woodard is built like a Mack Truck and prides himself on his defensive energy. Jahmi'us Ramsey still has a lot of work to do on that end, but flashed moments of one-on-one brilliance. Sacramento also brought in Glen Robinson III, another young wing who provides toughness on the perimeter.
Hassan Whiteside, for all his faults, is a rim protector the likes of which the Kings haven't had in ages, if ever. Rebounding and blocks have been deficiencies for the Kings for years, and that's what Whiteside excels at. Combined with Richaun Holmes, who proved his worth last season, the Kings actually have true depth at Center on the defensive end of the court.
Returning players should be factored in as well. De'Aaron Fox is entering his fourth year and has shown stretches where he has played some fantastic individual defense. Corey Joseph is also a very good defender, and Harrison Barnes has experience and savvy on his side.
Another year with Luke Walton might help as well. Walton's first full season as coach with the Lakers saw him captain the worst defense in the league. But the season after that saw them improve dramatically on that end, jumping all the way to 12th in the league. The Lakers had also gotten younger and more athletic that season through the draft, and were running teams ragged on the other end, finishing 2nd in pace. That's the exact type of scenario that I think could be quite possible for the Kings this season as well, especially if the word out of training camp that the Kings are looking to get back to playing at a fast pace turns out to be true.
So the Kings and defense? Might not be as crazy as you think. We'll see for sure in a few weeks.