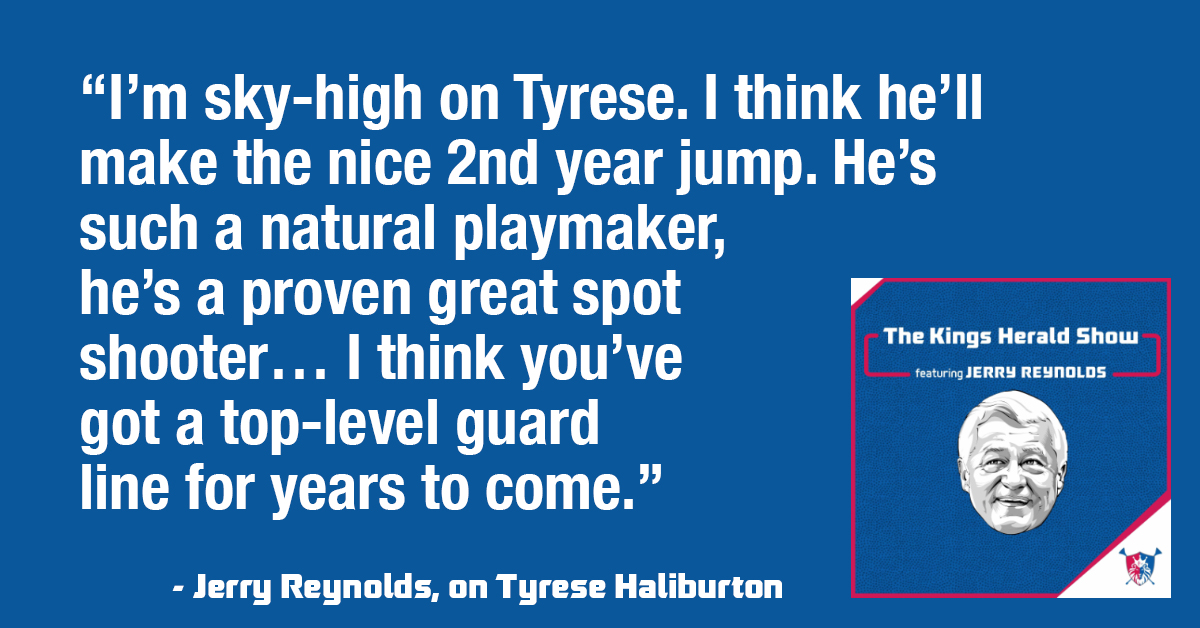 The Kings Herald Show featuring Jerry Reynolds, Will Griffith, and Tony Xypteras returns to talk Sacramento Kings preseason basketball. We've got expectations, predictions, lineup notes, rotation talk, goals, and everything else you'd expect in a preview of something.
Timestamps:
(2:00) What does a GM and head coach look for in the preseason?
(3:15) What should we expect from more established players like Fox and Haliburton in the preseason?
(4:00) Do preseason expectations change for less established players?
(5:30) How important is the 2021 preseason for Marvin Bagley?
(8:55) Should Kings fans buy into the training camp hype?
(12:00) Will Monte McNair look to make a big move before the season starts?
(16:00) Is this roster well balanced like Monte McNair suggests?
(20:00) How much of the three guard lineups will we actually see this season?
(27:20) What can we expect from Davion Mitchell in his rookie season?
(39:10) How good can Tyrese Haliburton be?
(43:40) What would make this a successful season for the Sacramento Kings?
One quick note on the audio this week – we had some issues towards the beginning of the show with the recording. We tried cleaning it up as best we could, and it gets better as the show goes on, but yeah. It's there. Apologies. We'll do better next time.
You can find The Kings Herald Show wherever you listen to podcasts, but if we're missing a platform of your choosing, leave us a note in the comments and we'll get to work. If you can subscribe, rate, and review the podcast on any and all platforms, that would be greatly appreciated, too. It's the easiest way you can support the show!
Apple.
Spotify.
Google.
Stitcher.
In addition to our bi-weekly podcast with Jerry Reynolds, we also record a Patreon exclusive Q+A once a month where Patrons at any level can Ask Jerry Anything. You can listen to our latest Patreon exclusive Q+A right here.
You can submit questions for Jerry on Patreon, or write your questions in the comments below this post! Or you can just yell questions to Tony or Will on Twitter.
And finally, you can sign up for our Patreon here.
Thanks for listening!