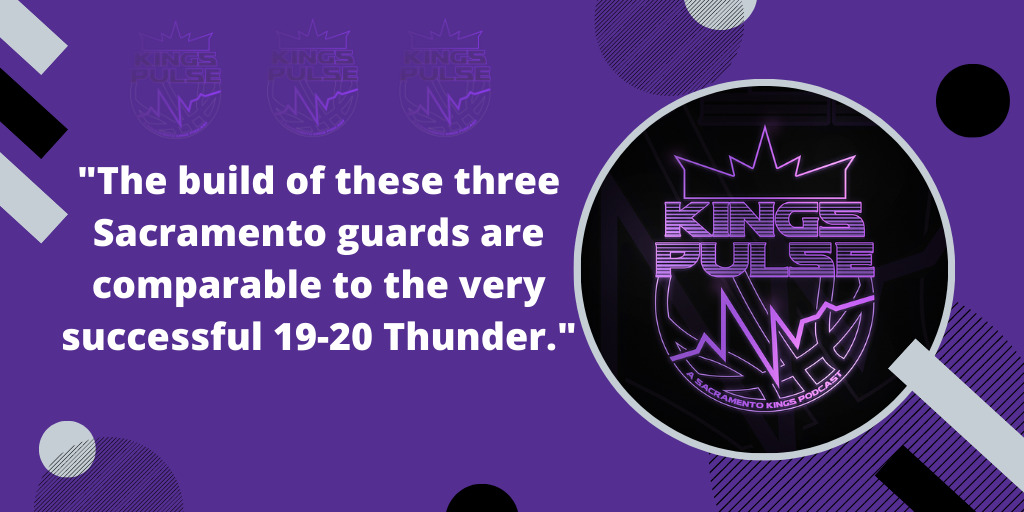 When Monte McNair and the front office made the decision to draft Davion Mitchell with the ninth pick, it was apparent that a three guard lineup was in Sacramento's near future. There are very limited examples of successful lineups with three guards on the shorter side, the most recent being the 2019-20 Oklahoma City Thunder.
To gain some perspective and understanding of that lineup, I brought on Jacob Kniffen (@JacobKniffen) who hosts the Uncontested Oklahoma City Thunder podcast.
Mitchell, Fox, and Haliburton actually have some comparable body types to Chris Paul, Shai Gilgeous-Alexander, and Dennis Schroder. CP3 and Mitchell are both 6'0"-6'1" and strong/tough for their size. Fox and Schroder are both listed at 6'3" and have slimmer frames with impressive speed. SGA has one inch on the 6'5" Haliburton, but both possess notable length.
The obvious question is which of those guards is going to be responsible for covering the largest opponent. Jacob explained to me how that Thunder roster managed to keep it together in the defensive end of the floor and why they were so switch-heavy. Luke Walton seems to be a fan of switching already, but that Thunder roster had a backline of Steven Adams and Nerlens Noel.
I picked Jacob's brain about how crucial Adams & Noel to their competent defense and if we think that Richaun Holmes, Alex Len, and Tristan Thompson can have a similar impact and role in Sacramento.
The Kings were the worst rebounding team in the league last season, and that is something Oklahoma City struggled with in 19-20 as well. With smaller lineups, there really is no avoiding this and hopefully the Kings can gang rebound to prevent them from getting killed on the offensive glass. This could lead to less transition opportunities for the Kings, as explained in the episode.
When it comes to the offense of that Oklahoma City lineup, they shot the ball at a ridiculous rate. The lineup of CP3, SGA, Schroder, Gallinari, and Adams posted a true shooting percentage of 67% including 75 percent at the rim and 43 percent from deep. Sometimes guys just have a good year shooting the ball and that certainly was at least partially the case for OKC that season.
Their clutch stats were also ridiculous, and that's partly because of how isolation-heavy their offense was. Typically with a three-guard lineup, you would expect the ball movement to be supreme, but that OKC assist rate was actually pretty low. This is because there was almost always one mismatch from one of their guards or a simple way to create that advantage.
Fox is a player who clearly excels in isolation situations (especially if it's an advantageous matchup), but Tyrese Haliburton and Davion Mitchell are notably worse in that aspect than Schroder and SGA. I don't think the Kings will be as isolation-heavy as that OKC squad, but it may be more frequent than past seasons.
It's undeniable that OKC roster was more talented at the top, but Sacramento's does have greater depth and additional X-Factors. To close out the episode, I asked Jacob who he thought the ideal type of role players around three guards are and which on Sacramento's roster fit that description.
There are not many examples (I really struggle to even find one good one outside of 19-20 OKC) of teams who regularly rolled out three-guard lineups throughout the NBA. That Thunder roster made it work though, and they finished the year with a 44-28 record, good for the 5th seed in the Western Conference.
Sacramento is surely hoping for similar success, but they will first need to prove the skeptics wrong in the same way that Thunder team did.
Let me know in the comments what has you skeptical, excited, or confused when it comes to a three-guard lineup consisting of De'Aaron Fox, Tyrese Haliburton, and Davion Mitchell.
The Kings Pulse podcast is available on all major listening platforms.