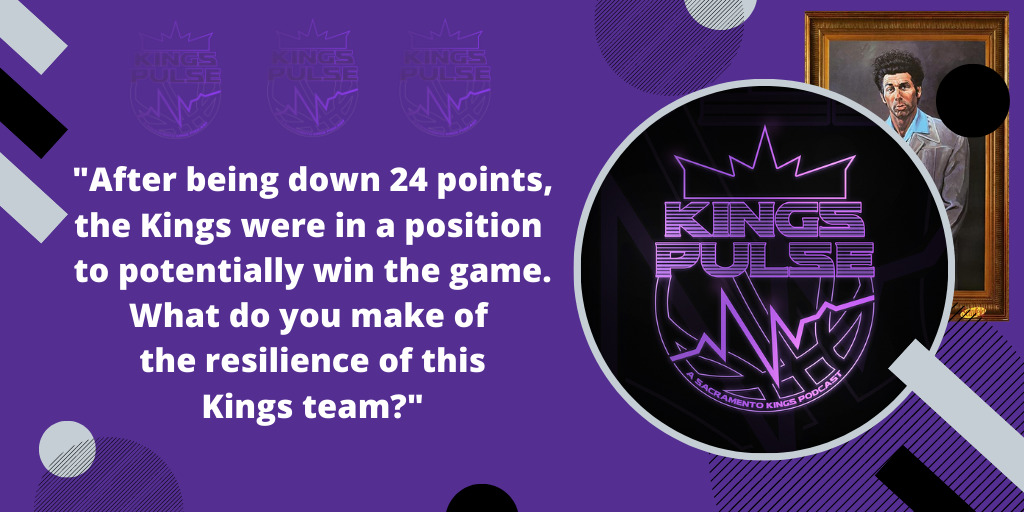 The Sacramento Kings played quite the game against the Phoenix Suns last night, nearly coming back from down a 24 point margin. However, close doesn't count in this league and the final result was just another tally in the loss column.
Tim and Greg join the show to talk about the resilience we saw from this Kings' team. Aside from blowout victories, Sacramento has been a part of close games every night. After scoring just 12 points in the third quarter, the Kings held Phoenix to 11 in the fourth to give them a chance to win.
So, we start by giving our thoughts on how much their fight really matters. In the end, it was all for nothing, but does this show that this team is different this season?
The three of us break down what we see going wrong during these extreme highs and lows in the 2021-22 season, starting with the lows. The halfcourt offensive struggles are familiar and apparent throughout these lulls.
How much of it has to do with a lack of shooting on the roster? How much of it is caused by the lackluster start for De'Aaron Fox? How is the defensive inconsistency affecting the offense?
On the other side, there have been some phenomenal offensive quarters this season as well. What is going right in those moments?
Harrison Barnes has been the Sacramento Kings' best player this season. He is averaging 22.5 points and 8.7 rebounds on 49.7/43.5/86.4 shooting splits with a substantial jump in attempts across the board.
Now that we've seen the Black Falcon manage this level of play for a notable stretch of games, do we think this is sustainable? To put it bluntly, can Barnes average 20+ points per game this season?
Other topics that we touch on include:
Our thoughts on the ultimate green-light of Buddy Hield
Terence Davis receiving playing time once again
Chimezie Metu playing over Marvin Bagley
After 11 games, does this feel like a play-in team?
In closing, we point out how important the upcoming road trip is for the Sacramento Kings. Their opponents include San Antonio, Oklahoma City, Detroit, and Minnesota. That's four games that the Kings will likely be favored going in, and taking care of business is essential.
OT Question: What TV show should have run for one more season?