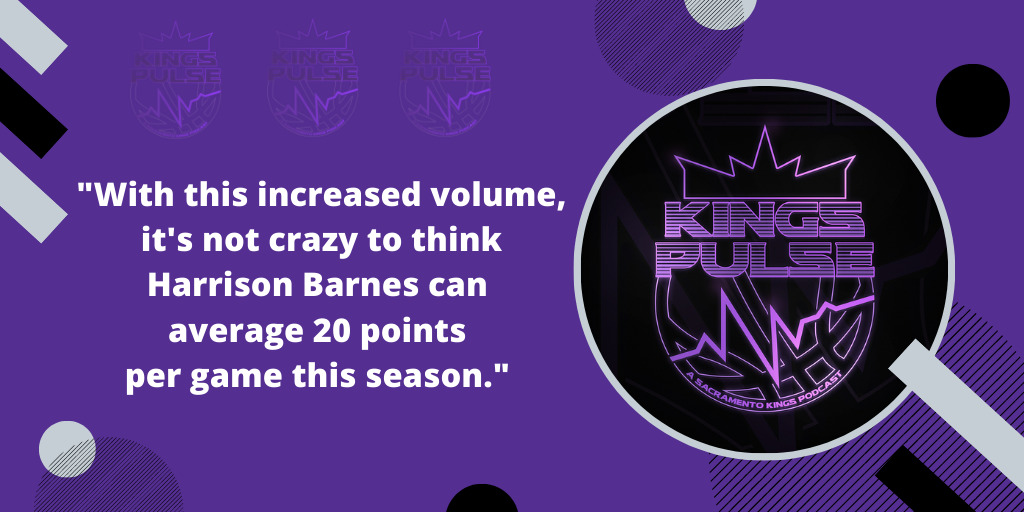 Mirann joins the show today to talk about how the Kings have played four games into the season, both as individuals and the team as a whole.
The obvious place to start was with Harrison Barnes, who has been Sacramento's best player and hit the game-winning three at the buzzer in Phoenix. Barnes led the team in scoring in each of the first three matchups, and we talk about what his jump in field goal attempts means moving forward.
Is an average of 20 points per night reasonable this season? I explain why I think it is. What would this sort of jump mean for his league-wide value and Sacramento's ceiling?
Richaun Holmes is another player who has been his usual productive and efficient self to start the season. We dive into his offensive contributions as well as how he has been the best defensive center on the roster.
There has been an idea of the backup center spot, which is a battle between Alex Len and Tristan Thompson, being situational. We've seen that come to fruition early on and Mirann and I talk through their early performances and when each could be preferred.
De'Aaron Fox's shooting percentages have been horrific to start the season, but sometimes they just don't go down. I was surprised to see where his shots were coming from this season compared to last and broke down those numbers in conversation. Mirann and I broke down where we stand on Fox's slow start and if there is any reason for concern moving forward.
Fox's backcourt pairing of Tyrese Haliburton has gotten off to a similarly slow start in 2021-22. Unlike Fox, Haliburton's type of attempts have been notably different compared to his rookie campaign, and we talk through some of those numbers - which of course has the asterisk of being a small sample size.
Aside from those main points, we talk about the coaching we have seen this season and if there seems to be promising growth. Specifically, does the coaching staff deserve credit for the halftime switch we saw from the roster in Phoenix?
Overtime: What is the most underrated and overrated Halloween candy?