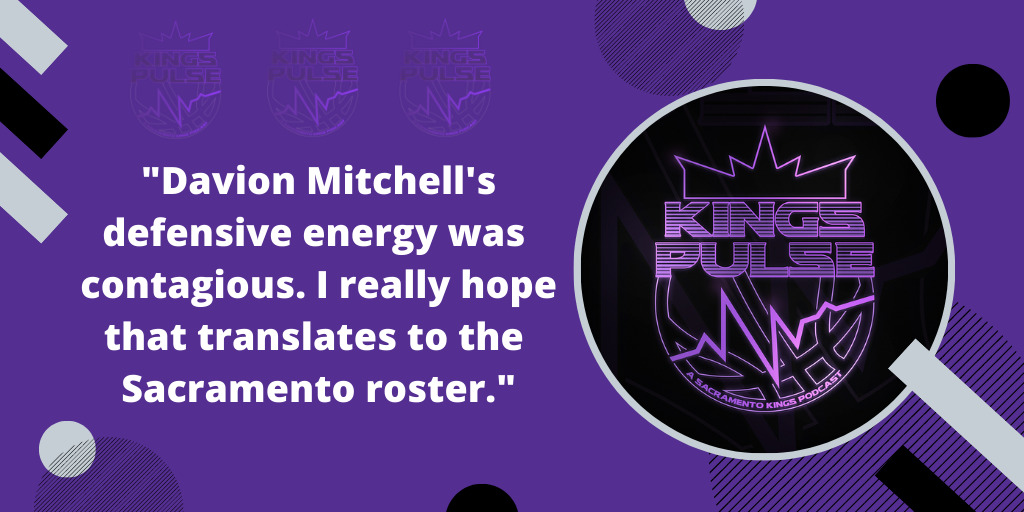 The Sacramento Kings are champions! The Bobby Jackson-coached squad went undefeated in the Las Vegas Summer League and took home the crown. I recorded right after their victory with the great Jill Adge to talk about the culture set by the coaching staff and Davion Mitchell.
Mitchell, who was awarded the co-MVP of Las Vegas, was phenomenal and his energy/effort on defense was contagious. We debated how much that will impact the Sacramento roster in this upcoming season. Also regarding Davion we talked about his leadership, shot creation ability, finishing, and potential all-star upside. After watching Summer League, does your opinion of MonteMcNair selecting Mitchell at nine change?
While Mitchell stole the show, we of course spent a good portion of this long episode talking about Jahmi'us Ramsey and Robert Woodard. JR finally showed signs of life after a disappointing run in the G-League Bubble his rookie season and never lacked effort on the defensive side of the ball. I explained what I think the next step for Ramsey is in his development path.
As for Woodard, disappointing is an understatement. Jill and I talked about how the circumstances were unideal for the second-year player and why I am far from ready to move on from him. There is a real case to be made for Louis King over Robert Woodard, however.
My bad, Summer League Finals MVP Louis King. King is proving to be a solid addition from McNair last season and is a rare small forward on the Sacramento roster going into 2021-22.
In closing, we covered how we would feel if this was the final roster heading into next year. Are there any notable contributions from this Summer League roster? Can they become a pesky defensive team with neverending effort? How improved is the depth?
Let us know your thoughts on the Summer League performance and how it will translate to the future of Sacramento.
The Kings Pulse podcast is available on all major listening platforms.