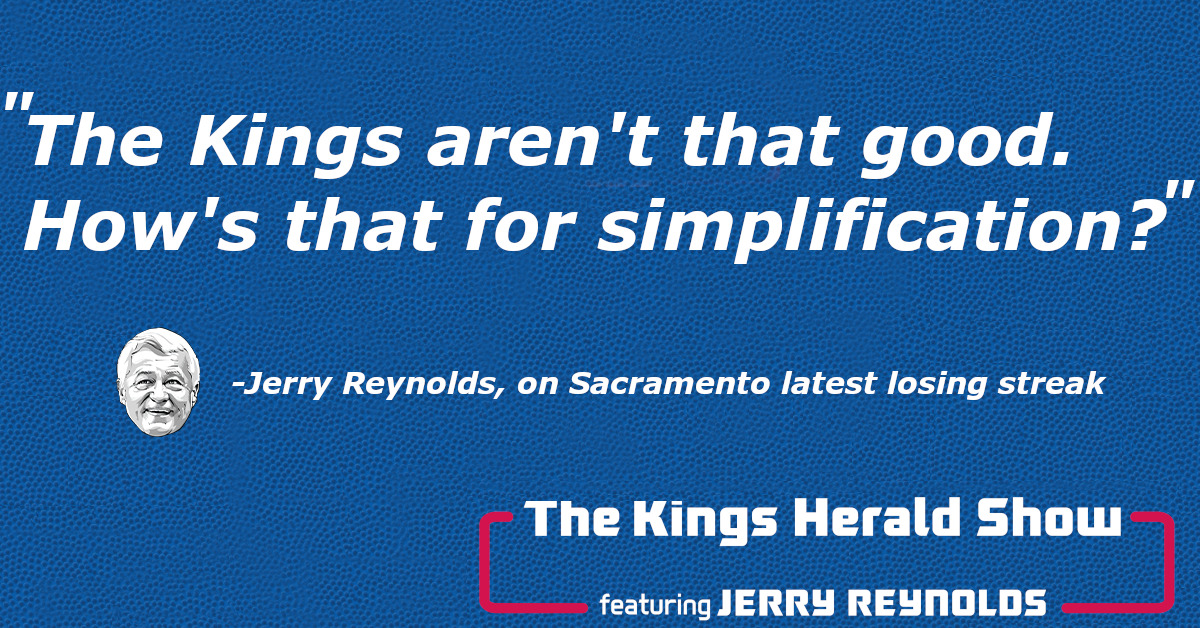 After winning 7 of 8 games just a couple of weeks ago, the Sacramento Kings went full Kangz in February, including their longest losing streak of the season. Why did the Kings seemingly go from good to terrible in an instant? Jerry Reynolds, Will Griffith, and Tony Xypteras break down how the Kings' season started falling apart on this episode of The Kings Herald Show.
Timestamps:
- (3:25) What the hell happened to the Sacramento Kings?
- (11:30) What is an acceptable loss? The Philadelphia 76ers game.
- (14:00) What went wrong vs. the Orlando Magic and Tyrese Haliburton's start at point guard.
- (22:00) Falling apart vs. the Memphis Grizzlies and Luke Walton's bizarre rotation choices.
- (31:00) Disappointing performances by the Kings' key players vs. the Brooklyn Nets.
- (33:35) The Kings haven't been competitive when Richaun Holmes isn't playing.
- (38:30) Should Tyrese Haliburton start?
- (43:00) What went wrong in the dreadful Miami Heat loss?
- (54:50) DaQuan Jeffries is earning more playing time.
- (103:30) Have there been any positive developments during the losing streak?
- (109:15) Where do the Kings go from here?
- (115:00) Patreon Question of the Week.
You can find The Kings Herald Show wherever you listen to podcasts, but if we're missing a platform of your choosing, leave us a note in the comments and we'll get to work. If you can subscribe, rate, and review the podcast on any and all platforms, that would be greatly appreciated, too. It's the best way you can support the show!
Apple.
Spotify.
Google.
Stitcher.
In addition to our bi-weekly podcast with Jerry Reynolds, we also record a Patreon exclusive Q+A once a month where Patrons at any level can Ask Jerry Anything. The 3rd Patreon Q+A with Jerry was posted here.
You can submit questions to us on Patreon, or post your questions for Jerry in the comments right below this post! We'll be recording another Q+A soon, so get those questions in now.
And finally, you can sign up for our Patreon here.
Thanks for listening.