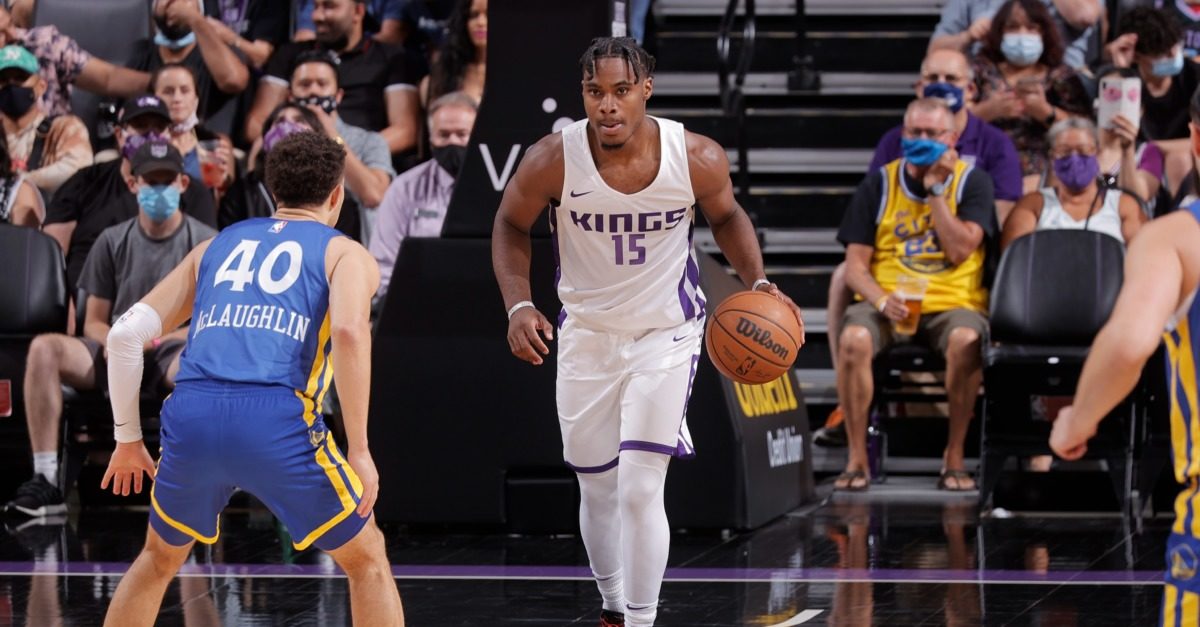 Summer League basketball is chaotic and ugly, but it's also a blast. For many fans, it's their first opportunity to see rookies in person, or to see how players from last year's squad have grown (or not) over the summer. Great summer league performances hardly mean a player is going to thrive in the NBA, but bad ones don't tend to inspire confidence either.
The Kings faced the Warriors last night at Golden 1 Center for their first Summer League game, and with Golden State's Moses Moody and Jonathan Kuminga both sitting, Davion Mitchell was the main attraction. Sacramento's lottery selection of Mitchell was a surprise to everyone (including Mitchell himself) but it didn't take long for Kings fans to warm up to him. Mitchell stood out as the best player on the floor and by the fourth quarter was even getting a scattering of "M-V-P" chants from the enamored Golden 1 Center crowd. While the Kings would go on to lose in overtime, Mitchell clearly looked like the best player on the floor, putting up a game-high 23 points on 9-18 shooting in 32 minutes.
https://www.youtube.com/watch?v=nI-bc5MfUCI
Mitchell was advertised as one of the most NBA ready prospects in the draft, and last night's performance left no doubt that he looked ready to contribute from Day 1 on both ends of the floor. Defensively, he was just as advertised. Warriors players had an incredibly tough time dribbling around him, often choosing to give the ball up. Mitchell had 3 steals, and all of them came from him just taking the ball away from the player he was defending. Mitchell is a defensive pest in a way we haven't seen in Sacramento in years, and fans appreciated the effort.
Mitchell looked exceedingly comfortable with the ball in his hands, showcasing a tight handle and ability to get to spots he wanted on the floor. His first step was as quick as advertised, and his ability to stop and start at a moment's notice allowed him to draw a few fouls here and there.
One of the biggest questions with Mitchell is his outside shot and how consistent it can be. While Mitchell's first two threes went in, he missed his next four, and he also went just 3-6 from the free throw line. Getting his own shot doesn't seem to be a problem for him, but he'll definitely need to become more consistent at the next level. His lack of size also worked against him on a couple drives where he got blocked from behind by a taller Warriors defender.
As a playmaker, Mitchell struggled a bit, posting just 1 assist to 3 turnovers. Part of that was just the team's lack of familiarity with each other as well as the lack of NBA talent around him. Mitchell found several guys for open three point attempts that missed badly (this Kings summer league squad had some of the ugliest looking three point attempts I've ever seen, and shot just 4-21 from distance). His turnovers came off some sloppy passes however that were deflected in traffic or thrown into crowds.
Overall though it was a great debut for Mitchell, despite an apparent hamstring injury he suffered right at the end of the game in overtime. It's unclear if he will play tonight, but it also seems clear that he doesn't necessarily need the time to get acclimated.
It was a far more disappointing performance for Sacramento's other prospects. Louis King, who looked so promising at the end of last season, looked completely lost out there. Not only was his shot not falling (3/9 overall and 0/2 from three) but he also lost the ball multiple times in traffic (3 turnovers) and just didn't look like the player we had seen before. He was a game-worst -16 and while single-game plus/minus isn't often a great indicator of a player's impact, it certainly was in this case.
Robert Woodard II also had a fairly disappointing performance overall, although he at least showed off his athleticism on a few dunks and alley-oops. Woodard is incredibly athletic and has an NBA body, but he needs to be able to hit a jumper to have a future in the NBA. He shot just 4-14 overall, including 0-4 on three point attempts. He also missed the game-winning attempt at the end of regulation on what was a decent look from the midrange. It's just one game though, so we'll see how he fares over the rest of Summer League.
Out of the rest of Sacramento's roster, two players stood out. The first was Emanuel Terry, a thin, wiry big man who provided a ton of energy on both ends of the floor. He finished with 9 points, 14 rebounds (including 5 offensive), 2 blocks and 2 steals in just 26 minutes. It seems like every year that the Kings have a big man on their summer league team that fans fall in love with and Terry's a good bet to be that guy this year.
Matt Coleman from Texas also had some solid moments, mostly in the first half. Coleman was the Kings' second leading scorer with 14 points on 6-12 shooting. He was one of the quickest players on the floor and also one of the only Kings players who showed they could hit an outside shot at times. Unfortunately he also threw up perhaps the ugliest attempt of the game, a wide-open corner three that hit the stanchion behind the hoop.
Kings rookie Matt Coleman hit the arm of the hoop behind the backboard on a corner 3 pic.twitter.com/brsmeunzD6

— CJ Fogler AKA Perc70 #BlackLivesMatter (@cjzero) August 4, 2021
The Kings are back in action later tonight where they'll face the L.A. Lakers.