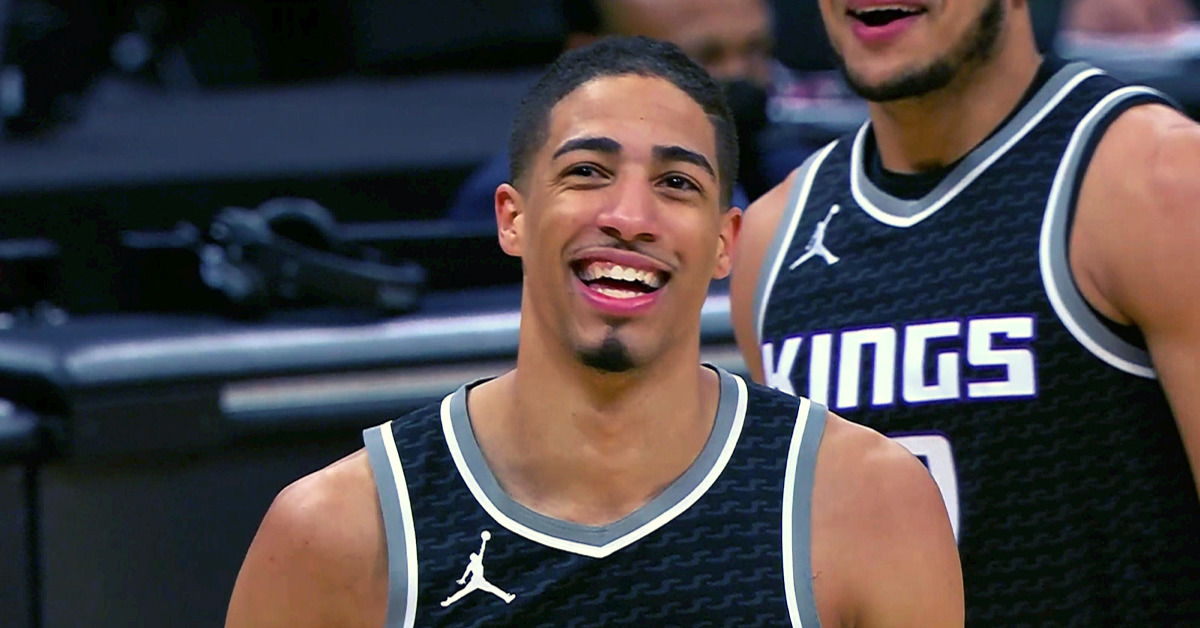 With much of the focus of the day being on the trade deadline, it was easy to forget that the Sacramento Kings had an actual basketball game to play. The Kings certainly didn't forget, coasting to a relatively easy and entertaining 141 to 119 victory over the hobbled Golden State Warriors. The 141 points scored by the Kings was a season-high and De'Aaron Fox set a new career-high himself with 44 points.
The Warriors were without stars Stephen Curry and Draymond Green, so this was more like the Warriors team that was the worst in the league last year than the title teams of yore. Even still, Golden State got off to a fast start, outscoring the Kings 37 to 35 in the first quarter. Andrew Wiggins in particular got going early, as he usually does against the Kings. Wiggins finished with a team-high 26 points and 10 rebounds for Golden State.
De'Aaron Fox decided to get going in the 2nd quarter and he never really let up from there. Fox scored 20 of his 44 points in the 2nd alone and pushed Sacramento's lead to double digits at halftime. Tyrese Haliburton was also cooking, hitting four three pointers in the first half on his way to 17 points. He would end up finishing the game with 21 points, including this absolute gem of a four-point play to end the third quarter.
Haliburton's 4-point play had the Kings' bench going nuts 🤣 pic.twitter.com/yhoQ1GmYZB

— Kings on NBCS (@NBCSKings) March 26, 2021
The Kings pushed the lead to 20 points in the third quarter and got some really solid minutes in particular from Kyle Guy and Chimezie Metu. With Cory Joseph gone in a trade, Guy took most of the backup PG minutes and finished with a career-high 17 points to go with 6 rebounds and 4 assists in 22 minutes. Metu, in just his 2nd game back from injury, scored 11 points with 5 rebounds, 2 assists and a block in 16 minutes. He showed great energy on both ends of the floor as Sacramento's backup center.
The Warriors, despite their lack of depth, managed to keep the game interesting by making 17 of 32 three point attempts, and even cut Sacramento's 23 point lead to 9 points with 9 minutes to go in the game thanks to a barrage of three pointers from Jordon Poole and Kelly Oubre. De'Aaron Fox soon checked back into the game and Sacramento was able to build the lead back up and comfortably close out the game.
Regardless of your thoughts on the direction of the Kings right now, it was nice to at least enjoy two hours of fun and entertaining basketball. Sacramento's next game is this Saturday against the Cleveland Cavaliers.
Random Obervations:
Richaun Holmes had yet another ridiculously efficient game, scoring 25 points on 10 of 14 from the field. If Sacramento doesn't find a way to re-sign him, I am going to be very, very upset.
Harrison Barnes couldn't buy a bucket tonight, shooting just 1 for 10 from the field. But he found ways to contribute anyway with 6 rebounds, 5 assists and 2 steals.
Justin James only played 11 minutes and shot 1 for 3 from the field. James tries hard but at this point it seems clear he needs a lot more development if he's going to stay in the NBA long-term.
Robert Woodard II only entered the game with a minute left. I would have liked to see the Kings get him some more playing time down the stretch but given that they just added more depth via the trade market, that seems unlikely.
Perhaps most impressive for Fox in his career night was shooting 9-10 from the free throw line. More of that, please.