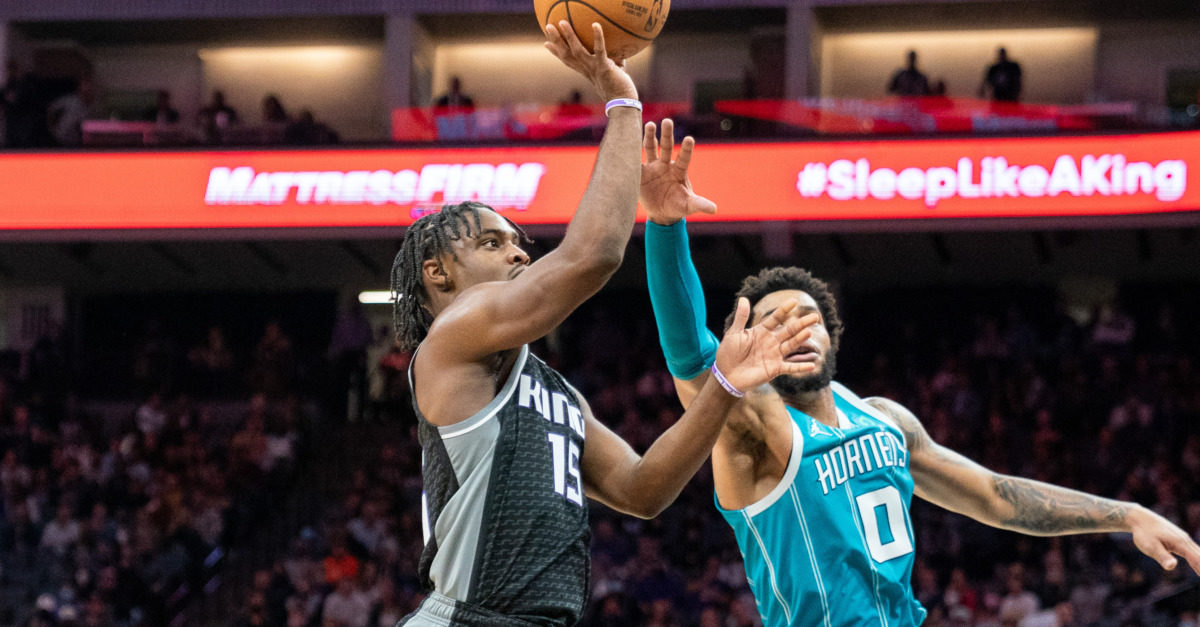 Twenty Two.
That's how many three pointers the Kings made against the Charlotte Hornets last night, setting a franchise record. It was an offensive explosion that it felt like we had been waiting for all season.
Buddy Hield led the way with 26 points, including 8 of 17 from three. He had one field goal attempt that wasn't a three... and it was only because his toe was on the line. Just take a look at his shot chart: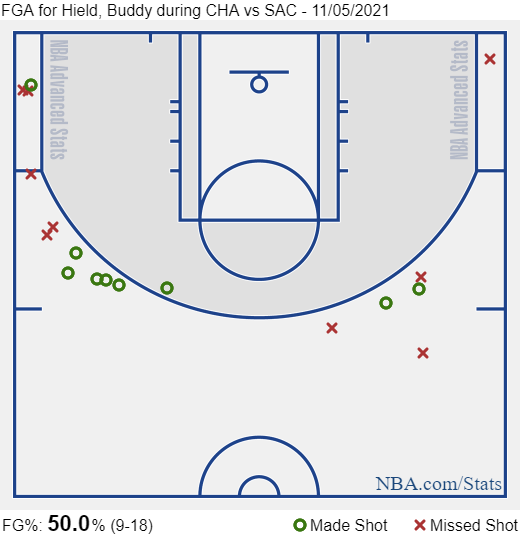 The Kings as a team got it going early and didn't let up. The Kings were 9-15 from beyond the arc in the first quarter and got out to a 41 to 22 lead. The Hornets came into the game with the league's best offense but also the worst defense, and you could tell early on the Kings were enjoying the increased freedom. De'Aaron Fox didn't even score in the 1st quarter, but he was able to penetrate the paint at will and find open shooters. Terence Davis, who had recently found himself out of the rotation and had been off to a bad start this season, came in and scored 8 points in that opening quarter, including 2 of 3 from beyond the arc.
The Kings are a relatively small team, oftentimes playing just one big man. Charlotte is even smaller, and it showed tonight. Richaun Holmes, who might have had a small grudge considering the Hornets were one of the teams that could have (and should have) pursued him in the offseason, dominated the paint. Holmes scored 23 points on 9-12 from the field and set a career-high with 20 rebounds. The Kings as a team shot 55.2% from the field and still managed to get 13 offensive rebounds for an absurd offensive rebounding rate of 38.2%. Mason Plumlee, Charlotte's starting center, finished with just 6 points, 6 rebounds and 6 fouls in just under 22 minutes.
The Kings let their foot off the gas slightly in the 3rd quarter, but not by much. Gordon Hayward got going, scoring 14 of his 25 points in the quarter. The Kings still took a 17 point lead into the final frame, but we've seen this story before and a few minutes into the fourth quarter I was starting to get nervous, as Charlotte made it a 12 point game with 8:18 left.
The Kings responded in kind though, with Davion Mitchell and Buddy Hield scoring 8 and 9 points respectively over the next 7 possessions to push the lead up to 25, effectively breaking Charlotte's back.
This was the closest to 48 minutes of basketball we've seen from the Kings this season, and it resulted in their biggest win to date. While Gordon Hayward (25 points) and LaMelo Ball (24 points) got their own, nobody else on the Hornets was able to do much. Miles Bridges and Terry Rozier combined for 7 of 28 from the field. Every single King who played had a positive +/-. This was a complete win, and I hope to see more like it in the future.
King of Kings
Who could it be but Richaun Holmes? On a night where his teammates were draining three after three, Holmes was the Secretary of the Interior. Holmes just might be the most efficient big man in the entire league. After last night's game, he is averaging 15.9 points on a ridiculous 69% (nice) from the field. The 20 rebounds is icing on the cake too. Tristan Thompson and Alex Len are both capable bigs, but Holmes provides such versatility on both ends of the court that the Kings miss him tremendously whenever he's off.
Random Observations
Harrison Barnes didn't have the best shooting night, but still managed to put up 14 points, 10 rebounds and 4 assists. Harrison's rebounding this season has been perhaps the most underrated part of his game, and it's allowing the Kings to continue to play small.
Speaking of playing small, the Kings guard rotation of De'Aaron Fox, Tyrese Haliburton and Davion Mitchell all showed out tonight. Fox started off cold, but finished the night with 21 points and 9 assists. Haliburton scored 14 points on 6-8 from the field to go with 5 assists, and Mitchell had his best shooting night of his young career, scoring 19 points including 4-5 from three. When these three are all clicking, it's very fun to watch, and I think it's only going to get better as they get more experience playing with each other.
Moe Harkless is so valuable when he can knock down those corner threes. He's not the best shooter so he's often left open, but when he hits them it just opens things up for everyone. The Kings don't need a lot from Moe, but he's been giving the team good minutes on both ends.
Coming Next
The Kings continue their home stand as the Indiana Pacers come to town for an early 3 p.m. tip-off on Sunday.