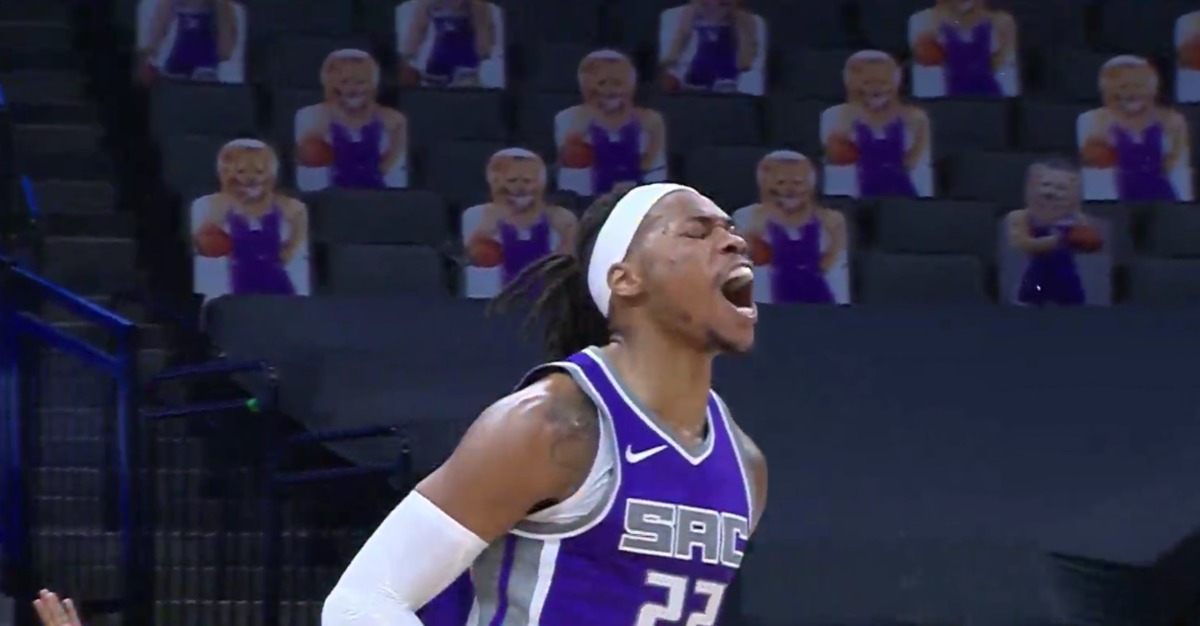 In a clash of two rebuilding squads hoping to rise into respectability, the Sacramento Kings improved to 2-0 on the season as they snagged a 106-103 victory over the Phoenix Suns on Saturday night.
While Sacramento's game-closing offense was less than stellar (2 of 7 shooting in the final three minutes), they sealed the victory in large part due to Richaun Holmes. The king of grit and fire had 5 points (including three key free throws) and 3 rebounds in the final two minutes. Six Kings finished in double figures, led by DeAaron Fox with 24 points, 7 assists, and 5 rebounds. New Sun Chris Paul was in full point god mode on Saturday, finishing with 22 points and 12 dimes, while superstar Devin Booker had 26 points to lead Phoenix.
Harrison Barnes, the hero of Wednesday's ovetime win against the Denver Nuggets, was the best King early in Saturday's contest - he scored all 11 of his points in the first half, and set the tone for Sacramento early. Indeed, for the 2nd game in row, the Kings were competitive from the jump - and while the Suns threatened throughout the contest, Sacramento held the lead through most of the contest. It wasn't the prettiest victory, but it came through 48 minutes of near-consistent effort from Luke Walton's squad.
The Kings and Suns will meet again tomorrow for a rematch in Phoenix, and then the Kings will return to Sacramento on Tuesday for a second contest against the Nuggets.
Tyrese Haliburton's shot didn't fall in his first game in Sacramento - he finished with just 2 points on 1-4 shooting - but he made his impact felt with 5 assists and some excellent team defense. Haliburton helped spark an otherwise listless lineup in the late 3rd that featured the rookie, Cory Joseph, Glenn Robinson III, Nemanja Bjelica, and Hassan Whiteside - a lineup that Luke Walton needs to burn and never try again.
Marvin Bagley finished with 13 points and 11 rebounds, and got some key cleanup buckets off the boards. Bagley is clearly still shaking rust off, but again earned his points through cuts, rebounds, and transition plays. His defense was less impressive, as both Booker and Paul took him to school on multiple switches.