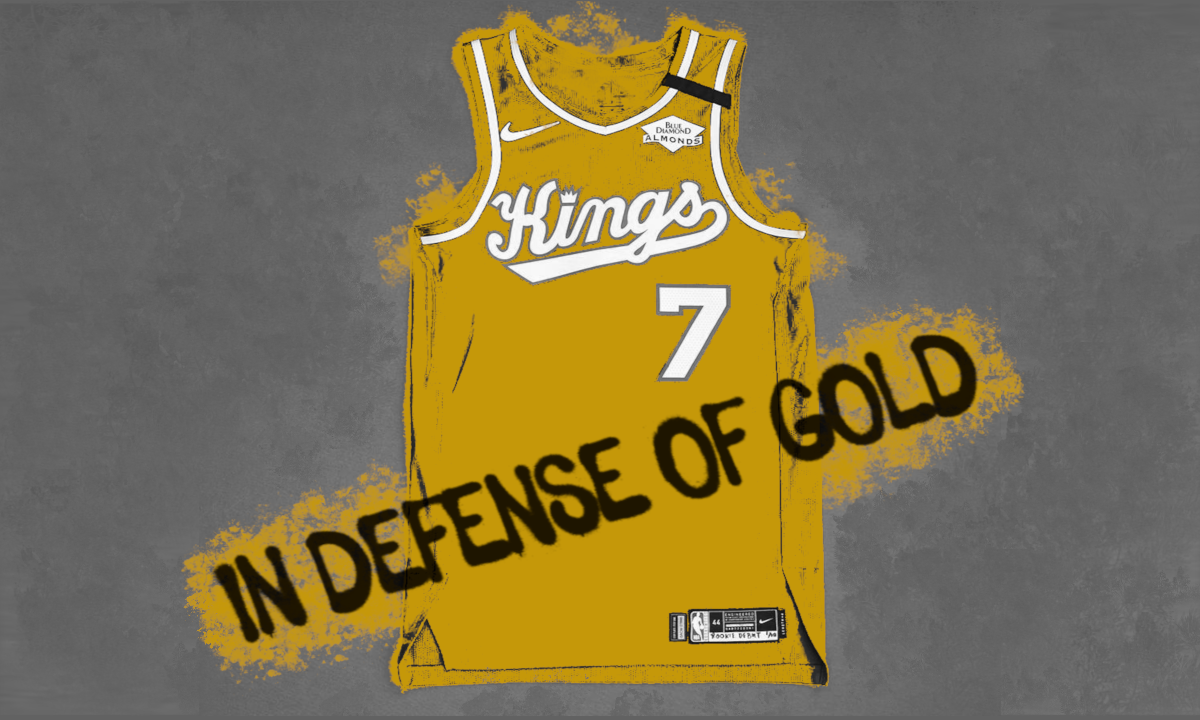 I possess very few basketball hot takes in my life. I still feel like Michael Jordan is the best basketball player of all-time and that the Kings were robbed in Game 6 and that Space Jam is fun but almost entirely due to nostalgia. Tepid is just about as warm a take can get when it's emanating from me. But there's this one thing, this tiny, inconsequential thing that comes up from time to time that can take me from Vlade leaning on a wall watching a game to Boogie Cousins fifteen rows deep, fed up and flinging his mouthpiece into the stands and wouldn't you have it, but they're back in the news: those goddamn gold jerseys.
If your pandemic-altered existence has yet to bring it to your attention, Senior Writer Ryan McGee over at ESPN.com wrote an article ranking the worst NBA jerseys of all time and for the first time in a long time, the Kings held the #1 spot in something. Since then, there's been some fun piling on by various basketball personalities. James Ham tweeted out his support for calling them the worst jerseys ever on Tuesday night saying "Worst unis ever". Pete Youngman, former trainer for the Kings tweeted out that they were the worst €œIn the history of sports...all sports, everywhere!€ to which former Sacramento Bee reporter Jason Jones jumped into the festivities, tweeting in response: €œYes€. Even the Sacramento Kings themselves had fun tweeting about their fashion-phobic past:
https://twitter.com/sacramentokings/status/1257852592442540039?s=21
I need to say this so that you understand that I'm not a stark-raving lunatic. No one here is in need of saving. The franchise thinks they're bad, most fans and local media agree and the former owners who commissioned these jerseys couldn't get me to defend them if this was a pick-up game for my mother's soul. Yet, here I am - climbing the highest of horses in my whitest of armors and riding out, maybe not entirely for the honor of those mustard monstrosities of €˜05-'06, but to defend the idea, to raise the flag at the all-but-abandoned Fort Knox of Fashion, to light the fire during these cold days and warm up the hottest take that I've got left:
The Sacramento Kings should have gold in their jerseys.
Take a moment. Stop violently shaking your head and let me talk this out. There are exactly two teams in this league that can stake a claim with gold: The Kings and the Denver Nuggets. Denver has their alternative colorway for years to come - their City Edition Rainbow Skyline jerseys are up there with Miami's Vice uniforms for best in the league. Sure, Sacramento's regular home and away uniforms aren't bad overall, most of which I attribute to being designed before Nike took hold, but for nearly the entire run that Nike's design team has had they Kings have run out of the tunnel in uninspired, unimaginative kits.
You want to talk about the royal blues for a moment? Okay. The royal blue alternate this year was really quite nice if not a bit short lived, I agree. Having those put aside for a broad swath of the season for that Cranberry "Sactown" jersey design, literally just a color swap from the year previous, was quite possibly a crime against humanity. It was a music festival where Adele was followed up by a guy who farts show tunes into a kazoo. Like many other disappointments in the history of the Kings franchise, it was met with "eh, maybe they'll look better on the court!" and then a very quick "well, nevermind". The royal blues were good, if not cold. Some computer plotted a graph where the x-axis was design time and the y-axis was profit, and the royal blues were picked because it hugged that vertical line. They were another throwback to an era of actual design untouched by a bored Beaverton designer, a copy-paste for Nike so they can spend the extra man hours figuring out if "Cream City" is too obviously horny to put on a jersey.
I've digressed.
The Kings are uniquely suited for gold. There is the obvious allusions to royalty, I don't need to list these and honestly, living in a time where we're seeing democracy crumble around us and wealth disparity of unimaginable proportion, Nike dropping some Scrooge McDuck jerseys, with gold coins or bejeweled crowns might fling me into writing a manifesto. But there are other, better and more clever uses of Gold. Sacramento owes its population and status in California to a literal rush for gold in the 19th century. Again, most of you took fourth grade history, you don't need the lesson. But, a black jersey with golden piping or accents around the lettering to represent (let me get my best designer voice going here) "the spirit of Sacramento's roots and the hard working pioneers who brought this city into existence, whose drive and determination we echo today in our quest for a golden trophy of our own". Does that work? No? Okay, so then let's have a quick chat about landmarks. Tower Bridge has only truly been gold since a vote was held in 2001, but it is still one of the iconic landmarks in the city. There's been plenty of amateur jersey mock-ups that show the iconic bridge used as siding on the shorts or jerseys. Toss the tower bridge there or around the waste band and you've got yourself the best jersey in the Ranadive era. If not Tower Bridge then incorporate the Gold Ball & Cupola that graces the top of the Capitol. Don't like that? Give Slamson a partner, toss a California Grizzly (aka California Golden Bear) on a jersey and call it a day. We murdered that guy into extinction, an alternate jersey and a goofy mascot is the least we can do. If Memphis complains, tell them that Texas BBQ is better and Z-Bo wasn't that good and send them on their way. The point I'm beating you over the head with is that the implication of royalty, the history of Sacramento, the current landmarks of the city all point towards a city filthy with auric opportunity. The sooner we accept it, the better the Sacramento Kings jerseys will be.
This is where I have to actually speak to the credibility of the infamous '05-06 jerseys. Are they bad? Yes. The asymmetrical purple-and-white swoop is some brutalist architect's idea of aiguillettes. The jersey's numbers were too large, the wrong font and it forced the cursive Kings logo to the midsection. Are they the worst jerseys of all time? No, but I don't have the strength to argue with you. I've seen soccer kits with Simpsons characters, G League jerseys that were fashioned to look like pizza (thanks for that Stockton), minor league baseball jerseys themed after The Price is Right. No way. The Mavs had the oily, platinum step-sibling jerseys to the Kings gold that were so god awful, Mark Cuban personally pulled the cord on them after a single game. The difference here is that the Kings didn't have Mark Cuban, they had the Maloofs and like all golden opportunities that smacked them across the head, they promptly found a way to fuck it up and couldn't take the financial hit of changing their minds.
The Maloofs were selfish. It shouldn't be a surprise that the same guys that gave a collective thumbs up on those jerseys were the one's that thought eating a $6000 meal from Carls Jr. would somehow give them sex appeal. Like most who claim to be billionaires, they couldn't see that gold is an accent, not something to be slapped everywhere you can physically have it. The Kings and the rest of the league have learned from the gluttony of Gavin, George and Joe. Just this year the NBA champion Toronto Raptors unveiled a Drake/OVO inspired black-and-gold color theme that is absolutely something that the Kings could not only copy, but top.
Inspired by the game, culture & community that shapes our City.

The City Edition Jersey drops on Nov 27th pic.twitter.com/QvI14RxOcq

— Toronto Raptors (@Raptors) November 22, 2019
Run the Tower Bridge or the Capitol dome across the back above the player's name, throw that retro cursive "Kings" that fans all love on the front and print enough money to build a Golden 2 Center.
Obviously, I know this has very little to do with the actual franchise. From what I understand, Nike has all say on design and the scheduling of what jerseys get worn and when, so I'm writing this as much to that single Nike intern who has 5 minutes to come up with a jersey for the Kings next season as I am for the collective conscience of the Kings fandom. Yes, I know the phrase "gold jerseys" triggers flashbacks to Grey Poupon ladened guards and the various and ugly hair styles of 2006. Believe it or not, I even know those old jerseys were bad. But the idea... The idea wasn't. It's time we all give gold another shot.
I mean, how bad could they be?
[yop_poll id="3"]