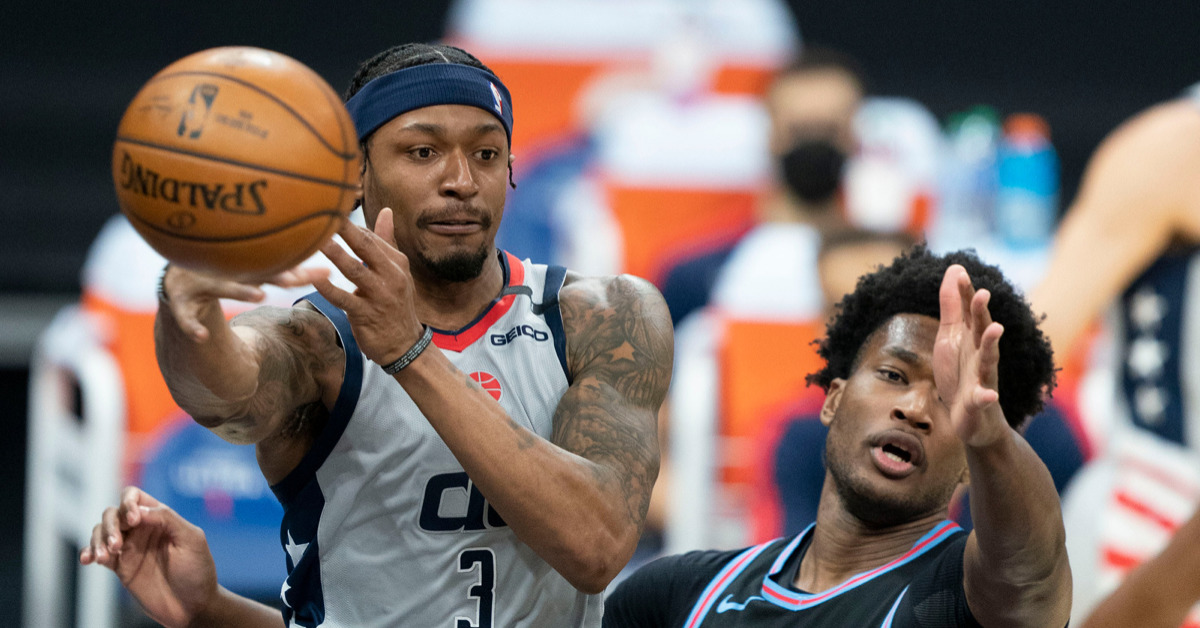 For Kings fans, this Wednesday might just be the humpiest of all hump days, as we continue to struggle through the back end of this season. What's over the hump? It's hard to say. Possibilities include: a slow roll down to the bottom of the league in hopes for a high draft pick, a late-season push towards the shrinking horizon that is the 10 seed, or, this franchise's personal favorite, a noncommittal performance somewhere in between these two endings that pushes us all into another year of basketball purgatory. In short, there's nothing good to look forward to over the hump. But the Kings keep playing basketball, so here we are. Let's see how they did tonight:
Quick Stats
Outcome: Kings lose, 123-111
Sacramento Kings: 111 PTS, 46.2% FG, 33.3% 3 PT, 75.0% FT, 22 AST, 24 TO
Washington Wizards: 123 PTS, 52.2% FG, 29.2% 3 PT, 81.5% FT, 23 AST, 17 TO
It was the same old story. Kings come out bad. Wizards score a lot and get a big lead. Somewhere in the second quarter, the Kings decide they want to try to win and fight their way back, but can never get over the 8-point hump. Fourth quarter chaos ensues - highly questionable referee calls, technical fouls given out like candy, and Russell Westbrook gets his sixth consecutive triple double (15 points, 11 assists, 15 rebounds). Kings lose. And scene.
The Good, The Bad, & The Ugly
The Good:
Offense from Defense: After going down by as much as 19 points, the Kings were able to dig their way back into the ball game by creating offense from their defense. It started with the intensity of De'Aaron Fox as he got handsy and aggressive on the ball and finished with six steals for the night. His defensive tenacity eventually became contagious as the rest of the Kings stepped up and forced 24 turnovers from the Wizards. With how heavily dependent the Kings are on their transition scoring, their defensive activity becomes all that more important. It's a lot more difficult for the Kings to score after having to inbound off of a made basket and run a half court set than it is for them to get a steal or quick rebound and push the pace in the open court. As the story has gone all season, the Kings saw the most success tonight when they were able to score in transition and these opportunities were created once they remembered to play some defense.
The Bad:
Limited Scenarios for Success: Of all the possible scenarios and settings in the game of basketball, the Kings are only able to be successful in a few. To simplify what the Kings are good at: open shots in transition and De'Aaron Fox with the ball in his hands. The list pretty much ends there. Tonight was a prime example as the Kings were able to stay within striking range for most of this game by scoring in transition off of an exorbitant amount of Wizards' turnovers, but they ultimately failed to ever catch the Wizards because they couldn't function outside of this realm. When forced into half court scenarios, the Kings just struggle to produce consistent flowing offense. With such a narrow window for success, opponents are able to force the Kings into multiple situations where they just aren't likely to be successful.
The Ugly:
Wizards' Layup Clinic: In typical Kangz fashion, the Wizards were able to score 42 points in the first quarter. Just 14 of these points were from 3s and free throws, which leaves 28 points produced from 2-point field goals. And with the exception of a Bradley Beal jumper here and a Russell Westbrook midrange bank shot there, all of these were layups. For the first 15 minutes of the game, the Wizards put on a layup clinic. Reverse layups, scoop layups, and one layups, wide open layups - the Wizards showcased it all. A lot of these came from transition opportunities after the Kings committed nine turnovers in the first quarter, but there were a handful of ugly moments where the Kings just refused to defend. It was ugly, hard to watch, but sadly, not surprising. We've seen some of the most unbelievable defensive performances from this team and tonight was no different.
The King of Kings
For sparking the flame to keep the Kings in this game, De'Aaron Fox gets tonight's King of Kings title as he finished with 33 points and six assists. It was De'Aaron who was the first to step up and demonstrate some pride in his defense tonight and this energy eventually inspired his teammates to fall in line. I admired his response to the first quarter 40+-point fiasco as he locked in on defense and led by example. My only wish is that he extends this leadership even further and starts getting vocal about holding his teammates accountable. If he's working his ass off on defense, he has every right to expect his teammates to do the same.
Up Next
Thursday, April 15th @ Phoenix Suns - 7:00 P.M. (PT)