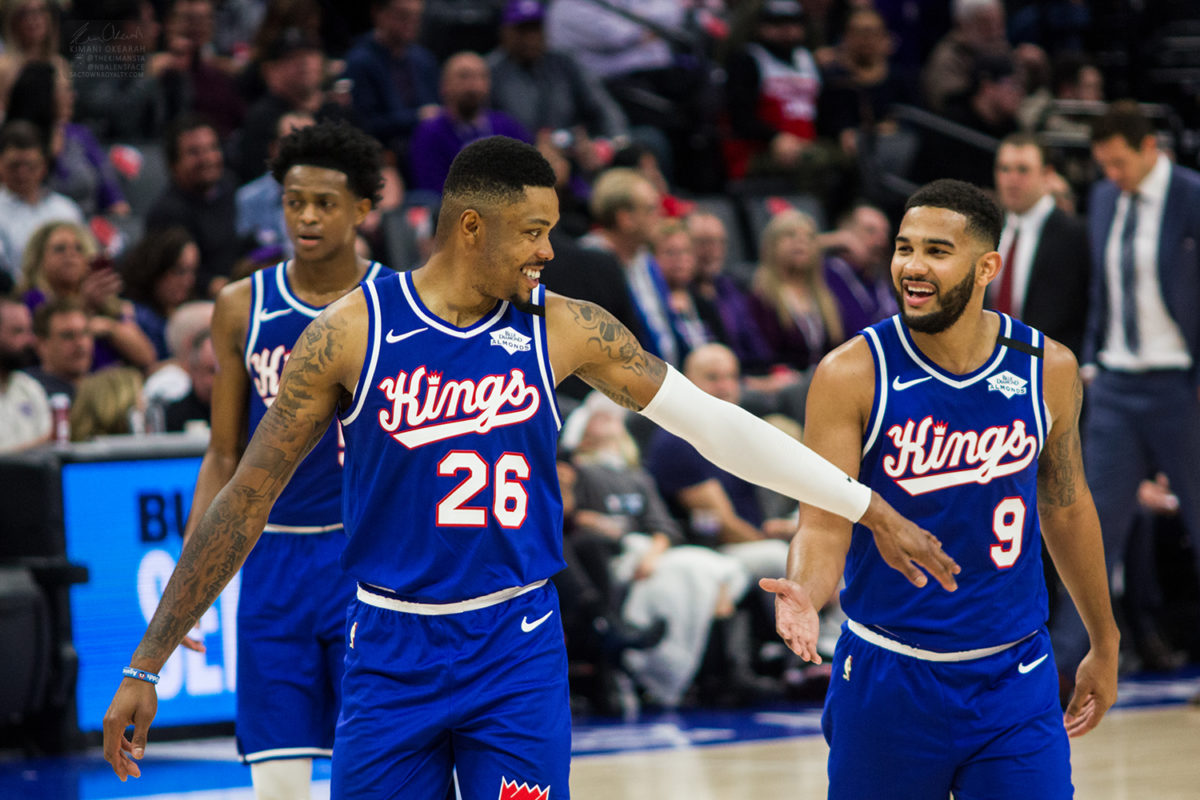 Both Kent Bazemore and Trevor Ariza were off to freezing starts to the 2019-20 season. Ariza, fresh after signing a two-year deal with Sacramento, did not bring the game he's known for to the Kings. His long ball was about average for his career and he helped in the rebounding category, but couldn't elevate the team to another level off the bench. The energy from him lacked on both ends.
Atlanta traded Bazemore to Portland but he failed to produce good numbers. His shooting declined and though he eventually became a starter, it became apparent that he wasn't going to help Damian Lillard and CJ McCollum as expected.
Portland and Sacramento agreed on a trade that saw Bazemore, Ariza and others involved move on to fresh starts. The change of scenery worked, as both Bazemore and Ariza quickly fit into their new teams and became vital pieces to each rotation.
For Bazemore, the Kings lost length at the wing position by swapping the 6'8" Ariza for the 6'4" Bazemore. Has Bazemore played like the Kings would miss that length? Not at all.
Bazemore increased his long ball percentage to the second-best rate of his career, became a double-digit scorer in less minutes and brought intensity on defense among other things.
For this Watching the Tape, we'll dive into how Bazemore became a crucial piece to Luke Walton's rotation.
Part of where Bazemore struggled to aid Portland's stars came from beyond the arc. As a Trail Blazer, Bazemore converted on just 32.7% from deep on four attempts a game. Defenses will not have to respect Bazemore with that percentage. It's better to let him shoot, even if he's open.
However, his long ball significantly improved when he came to the Kings and the biggest reason is he took less attempts. He became efficient and respectable.
Bazemore attempted 2.7 threes a game in the purple and white, upping his percentage to 38.6. That's a massive difference considering all it took was a switch of teams. But when looking at the tape of him shooting in Portland, Bazemore had plenty of open looks. They just weren't falling the same way they are in Sacramento.
Here, we see Cory Joseph reset the play with eight seconds on the shot clock. Bazemore sets a screen that could create space for a Hield three. The screen causes miscommunication on the perimeter for the Clippers, leaving Bazemore open for a straight-on attempt.
Bazemore's versatility on offense is on display here. Walton occasionally likes to place his wings in the post, especially Harrison Barnes.
Bazemore is matched up with rookie Ja Morant. The moment Bazemore curls into the paint, every other Grizzly swarms him. There's three options available when the Grizzlies arrive: kick it out to Bogdan Bogdanovic at the top, make the straight pass to De'Aaron Fox, or dump it down to Alex Len.
Memphis is daring Bazemore to choose wisely, but the veteran shows great poise. Though none of the options available were pleasant, it still worked.
Memphis gets back to man-on-man defense, except Morant who is caught asleep thinking Fox will attempt the tough three. That allows Bazemore to leak out to the left corner and shoot before Morant can recover.
Bazemore has drilled many threes with the shot clock winding down. He shows confidence in all of these attempts.
This play has everything to do with the gravity Fox pulls. Before Giles can screen, Fox immediately attacks to his right. Montrezl Harrell gets switched onto Bazemore, who curls back to the left arc. Fox draws in Harrell when he gets inside the paint and somehow gets his pass to reach Bazemore.
With four seconds on the clock, Lou Williams comes with the contest but the shot is perfect.
Bazemore's versatility on offense expands with his ability to finish at the rim. In Portland, Bazemore's field goal percentage within 0-3 feet from the rim sat at 46.4. That's the lowest figure in Bazemore's career.
When I watched his misses in Portland, I saw a contrasting player. Bazemore showed good footwork to reach the rim, but he'd try to shoot over taller guys. He'd either get blocked or attempt a layup too contested to have a chance.
Now in Sacramento, he's a completely different finisher. He appears more controlled and smart. Combining those traits with his footwork has brought positive results. Bazemore's percentage within 0-3 feet is 60.3 since the trade.
In this play, Bazemore is matched up in the post against Williams. I don't see much off-ball movement, so it's an ideal one-on-one situation against a poor defender. Bazemore backs Williams down and watch the footwork. He sets his pivot foot and uses the other foot to lean in for a cleaner look. Chef's kiss.
I mentioned that Bazemore's misses in Portland came from overaggressive attempts that lacked control. Though he missed some like that in Sacramento, the final product served him significantly better.
Here, Bazemore comes off a wide pindown from Len along the sideline. Usually pindowns can give the runner options like curling into the paint, running beyond the arc or fading back into the corner. Bazemore's only option here is to curl into the paint, given the nature of the pindown occurring near the sideline.
When he enters the paint, Bazemore has the option for a kickout to a strongside Yogi Ferrell. But, Bazemore is determined to attack Nerlens Noel because he never looks to pass. It's a risky decision because Noel averages 1.5 blocks a game with a defensive field goal percentage of -8.7 on shots less than six feet from the rim. Bazemore elevates and controls his movement by extending his left arm to finish over Noel. That's good stuff.
To show a clip from Portland, Bazemore had many isolation or one-on-one situations in which he'd attack the basket. This matchup against Justin Jackson doesn't favor Bazemore, though he does attack to his strongside.
Jackson keeps up and does good on not fouling on the contest, but Bazemore made it easy to do so. Bazemore shows good footwork to have a clean release, but it's rushed and misplaced. He curves his arm towards the rim rather than extending it as he did against Noel.
Bazemore's defense has also provided the Kings with someone they look to off the bench. The Kings signed Ariza to provide defense and length, but it became Bazemore's role despite the height disadvantage.
Still, Bazemore can guard the one, two and three spots and even the four in small-ball lineups, though that's not as ideal.
In this play, three Kings go after Josh Jackson on his dribble drive. Bazemore comes up to watch the roller, but that leaves his man open. The smart play from Bazemore is that he doesn't fully commit to guarding the roller. He does it to make Jackson think the weakside arc is open, but when Jackson gets into passing motion it's fair game. Bazemore sees it coming and intercepts the pass, which wasn't the best pass to begin with.
Bazemore's IQ on this play is tremendous. Gorgui Dieng's dribble drive sucks in three defenders, but his kickout pass is too high.
Tyus Jones can't keep it inbounds, so he has no choice but to pass. Bazemore recognizes that at the four second mark and changes course to jump the passing lane.
Bazemore extends his arm to gain possession and runs to slam it home. Plays like that can be the deciding factor as Sacramento would win the game by three points.
Strangely enough, Bazemore's acquisition stands out as one of the positives for Sacramento this season. He's brought energy off the bench that's been missing and if the Kings can keep him for a few more years, it would be a smart investment.
Bazemore played very well in the scrimmages as the starter and with Harrison Barnes back with the team, having Bazemore off the bench makes the depth deeper. Look for Bazemore to make a big impact when the seeding games resume.