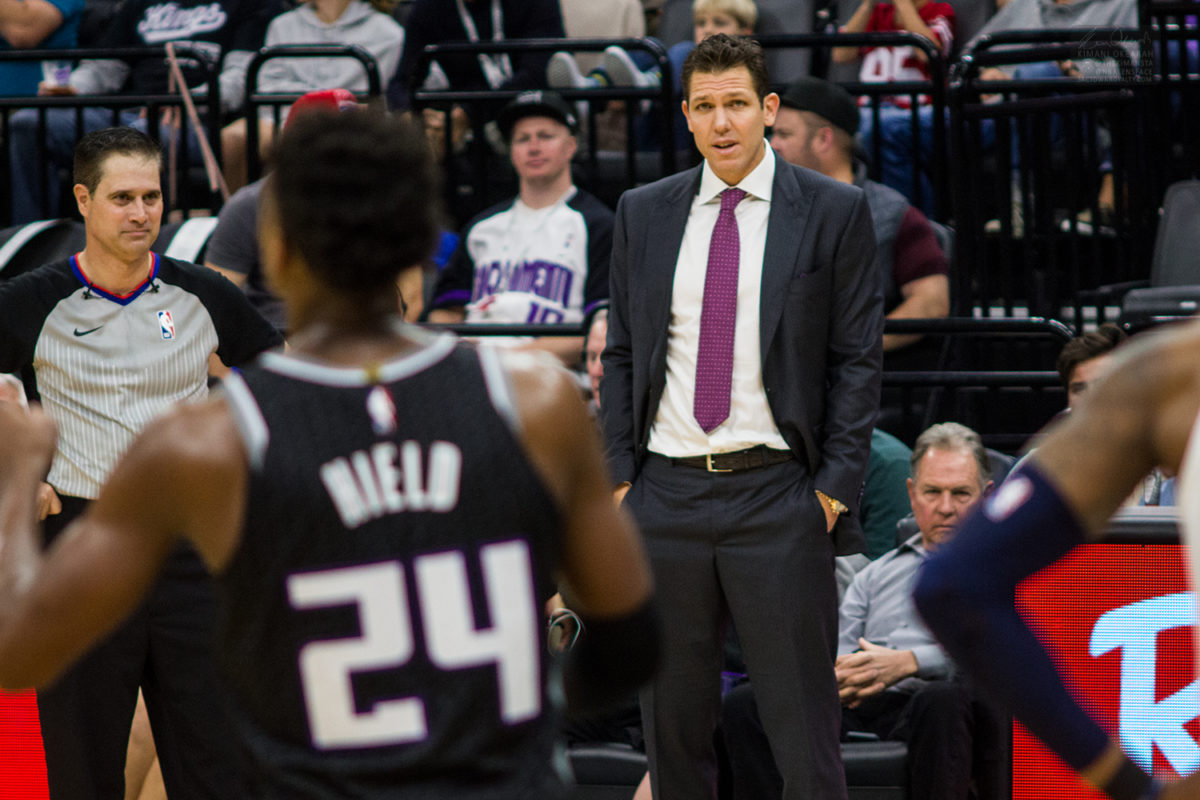 Sacramento Kings head coach Luke Walton joined Sam Amick and Joe Vardon on The Athletic's Tampering NBA podcast this week. Walton detailed what he's been up to during the NBA hiatus, and had some interesting things to say about his relationship with Buddy Hield.
Amick also dropped a companion piece to the podcast Tuesday morning where he reported that both Luke Walton and Vlade Divac have significantly more job security now than they did after the brutal start to the 2019-20 NBA season.
Amick:
€œAs we reported on Feb. 12, owner Vivek Ranadive had made his frustrations known with both the front office and coaching staff during the Kings' 15-29 start. Questions arose about whether he might be compelled to make changes in the offseason, but sources say Divac and Walton appear very likely to remain (their contracts run through the 2022-23 season)."
This isn't terribly surprising news. As Amick notes, the Kings played well enough during the 2nd half of the season to put themselves in the playoff conversation. Considering Walton and Divac signed new contracts last summer, the financial ramifications of firing them both at the end of the season would have been significant. Add in the loss of overall income due to the COVID-19 crisis, and this turns into a pretty easy decision for Vivek Ranadive.
We can debate whether or not Walton and Divac, in particular, deserve that job security, but it's easy to understand why they now have it.
On the podcast with Amick and Vardon, Walton downplayed any significant rift between the organization and Buddy Hield.
€œBuddy and I have a very good relationship, and I've always been honest with Buddy and he's always been honest with me in the way that we communicate with each other."
Walton did confirm that Hield wasn't happy about being moved to the bench.
€œBuddy was not happy about not starting, but he didn't bitch. He said, €˜You're the coach. I'm going to do what I need to do.'€
It appears that Walton's strategy to try and get Hield to buy into a long-term bench role is to use former high-profile sixth men as an example of what Buddy can be for this organization.
€œI mean, you look at Ginobili with the Spurs, you look at Lamar with our Lakers teams, Steve did it with Andre up in Golden State. So you need starter caliber players kind of playing with that second group a lot of times. And I thought Buddy had really, really done a nice job of embracing that and making our team better.€
The big difference in Sacramento is that Ginobili, Odom, and Iguodala sacrificed their starter status for championship teams, and Hield is being asked to do the same for a franchise that hasn't made the playoffs in 13 (going on 14) years.
I'm not sold on Buddy Hield's long-term future in Sacramento as a bench player, but with Walton and Divac's newfound job security, we now know they will be the ones that have to deal with it this summer.