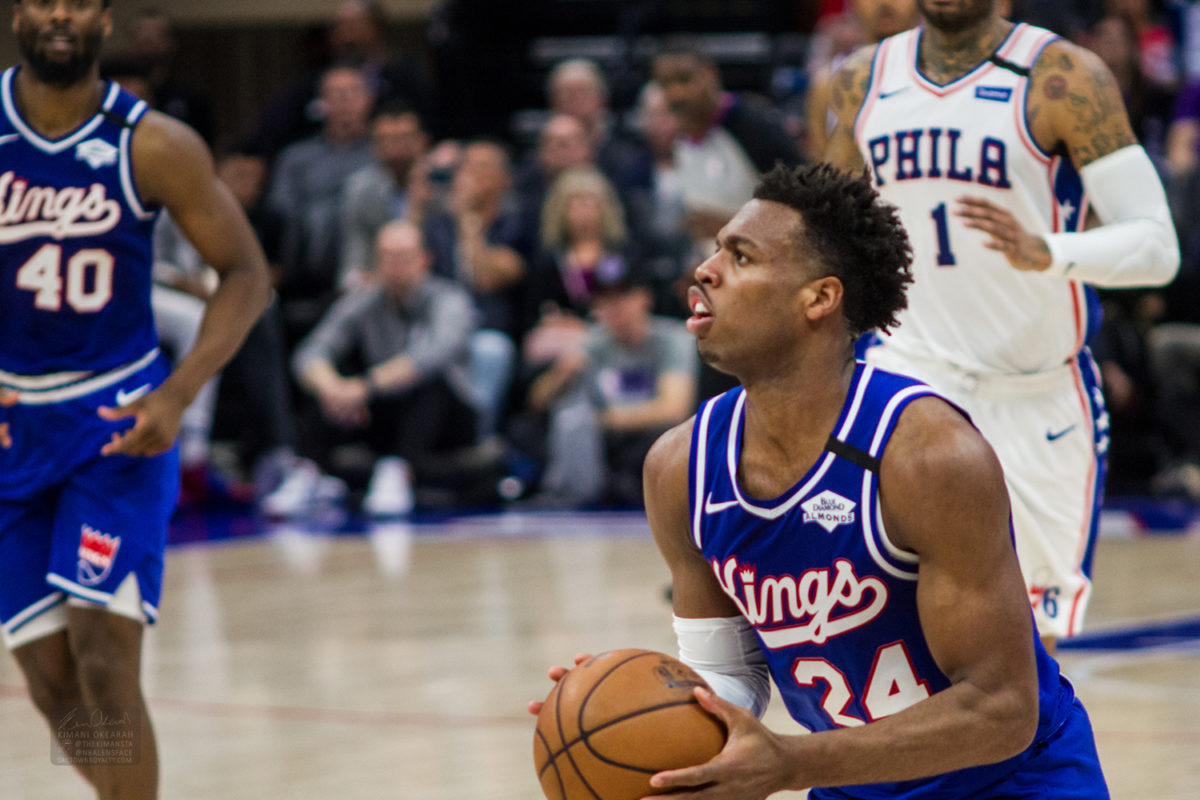 From ukca375: What is your business model and plans for the future?
Tim: One thing that's kind of beautiful and kind of terrifying about The Kings Herald is that it's owned and operated by the people running it. Our staff is a mix of owners who invested their own funds to start the site, as well as contributors who are putting in a ton of effort to keep the content rolling out on a daily basis. As far as our business model is concerned, we're hoping that Patreon contributions will help us pay for hosting fees, security fees, website developments, contributors, photographers, and a million other costs that come along with opening and sustaining a brand new site, as we're currently footing those bills. If you're enjoying The Kings Herald so far, you can support our site here.
Our future plans are to continue to provide the best Sacramento Kings coverage in the world, bar none. Our goal is to provide more avenues for discussion than we had at the old place, such as a Discord channel for Patreon subscribers, live AMAs on Discord, live mailbags, and video podcasts. Also, while this site is run by the staff here, our purpose is to serve the readers. If there's something you would like to see us try, or something you would like to see us stop trying (such as Brad's nightmare-inducing podcast logo), drop a comment, send us a tweet, or shoot us an email. We want to take over all of the good from StR while also enhancing what we did previously. This is a fresh start for everyone involved.
Will: Tim did a great job of explaining this process out without too much of the nitty gritty, but suffice to say that we're a site, owned and paid for by fans of the team. In terms of the future, without the leash of a massive corporation around us, we're opening ourselves to new opportunities that we really couldn't have done at our previous home. Tim laid out the most basic of those ideas that we'll be introducing in the coming months and years but let me be clear when I say that if things go like we're hoping€¦ It's only the very beginning of what is to come. (Also, that podcast logo is art and Tim, as always, is wrong.)
From TheFifthMookie: What were the most challenging aspects of opening up a new site?
Tim: There were two distinct challenges that occurred when we were going through the process of starting The Kings Herald. The first was the issue of actually building a website, and this site quite literally wouldn't have happened without the brilliance of Blake Ellington. He worked many, many long hours, revised things constantly according to the staff's incredibly picky nature (I'm talking about you, Akis), and kept us on a realistic path during these last four months. He's been the early-years Geoff Petrie of this team.
The second challenge was shifting from writing content for a pre-built site with a pre-built business model to developing a business plan and ownership structure between a relatively large group of close friends. Despite a few touch-and-go moments along the way, everyone on staff kept their eyes focused on the end goal of opening this beautiful site, and it was pretty cool to watch everyone bring in other skill sets to help put all of the pieces together. Sometimes I sit back in awe of the fact that 14 people were let go by Vox Media and all 14 of those people stuck with The Kings Herald. It just goes to show the incredible people we have here on staff and how dedicated they are to this project.
Will: So, I'm going to be honest here when I say the most challenging thing for me was the anxiety that comes with the lead up to this whole operation. The group being dropped from Sactown Royalty was like watching a glass fall from a counter in slow motion. We knew we were done in X amount of days and on that day, everything that Tom Ziller, Akis, Greg, Kevin, the whole crew and all of you built would shatter into a million pieces and if we didn't reassemble those pieces exactly right, if we missed a step, if a single shard wasn't put back where it belonged, the whole goddamn thing would leak and go right to the bin. Some of it was easy. I loved kicking around names. I loved seeing Akis draw logos on scratch paper and getting passionate about what we could do differently. But if we got it wrong - if every single one of us didn't get it all right, I truly feel this site wouldn't be here. I haven't told anyone on the team this yet but I'll share it here. Day we get canned, messages start getting sent out: €œLet's build something better, we can do it ourselves€... Inspiring stuff; confidence and pride in each other that warms me more now than it did then. I send my €œFuck'em. I'm in!€ message out to the team while walking in the door at home and I immediately break down crying. It isn't going to work. There's no goddamn way it will. We'll say we'll do it, life will get busy, reality will set in and we'll fade out giving credible excuses to why it failed to launch. You watch: one misstep, the right bruised ego or a bad suggestion not shouted down and we're toast. I told my girlfriend that night it would be like having to pitch a perfect game using 14 relievers. There were absolutely times when I felt that we'd just seen a ball get knocked out of the park. The day the Sac Bee rightfully gave the guys their chance to shine was one. The day 916th Man became the front runner for the website name. More than once we got to the warning track and that ball was still too high in the air. But somehow, someway, the team was always there to snag it. So now, typing this out, getting to say that I watched us assemble the glass back together, that each and everyone of these writers threw absolute heat right down the center of the plate for the last few months is a great relief and immensely satisfying and I never, ever want to do it again.
From 1951: Would a shutdown of this season buy Vlade and Luke more time in their respective jobs?
Tim: Absolutely. I never thought that there was a high chance of either executive being fired at the end of the season anyway, and between the season-long injury troubles, the solid play for the last 15 games or so, and the abrupt end to the season, there's no doubt in my mind that both Vlade and Luke will be back next season.
Will: Their season is saved. Barring some out of left field firing from the Raptors or Rockets or Shareef Abdur-Raheem abandoning his post because he misses Sacramento's fine cuisine, Vlade is safe for another year. As long as Vlade feels safe, the coaching staff will feel safe as well. They're hitched to each other's stars and when the day comes that one goes, the other will be short behind. This shutdown ended any chance of yet another change.
From Kosta: What will be the first thing you do once it's safe to go out and socialize with humans again?
Tim: I want to take my kids to see their cousins and friends. My son turned four about two weeks ago, and we had a combined birthday party planned with his cousin who was turning three within the same week, and obviously we had to cancel that. He's handled everything pretty well, but he truly does miss his friends from preschool, church, family, and the gym. I can take as much quarantine as the world wants to throw at me, but my heart breaks when my son says he's sad because he can't go to the playground or see his classmates or go on our Disneyland trip that we had planned.
Will: Both of my parents live a few hours north of me and live with my sister who works at a medical clinic for the underserved members of the community there. She's around hundreds of patients a week and my parents are well into their golden years. They've taken every precaution they can and do an admirable job minimizing the risk so far. Fate willing, the very first thing I'm doing is going up there and giving each of them a hug.
From Klam: Hobby-wise, have you tried or learned something new during this time of quarantine?
Tim: I haven't picked up a new hobby, other than trying to learn how to build a website from scratch, but I did buy some weights and have actually been pretty consistent with working out in my garage - something that hasn't happened since my daughter was born about a year-and-a-half ago. BabyGiraffe is about to evolve into BuffGiraffe, folks.
Will: I'm taking master's level course work right now so a lot of this time I've tried to focus on making that writing worth reading, trying to keep focused on what I was trying to say before our new normal took hold. Seeing as how I was laid off due to the virus, I do have free time and the hobby I legit decided to pick up completely from scratch was Photoshop. I've thrown a couple of them on Twitter: a bad logo I made my first week involving my dog, a pixelated white and gold Kings jersey. Just little projects a couple hours a day to test the limits of what I could do. The art (stretching that term there) for Brad's €œThe Jester's Court€ podcast was mine - he was a great sport in asking me to do it and letting me be goofy. My hope, way down the line, is to be able to do some cover art for articles that we have here, akin to what The Ringer's art staff puts out, but with our own flavor to it. If not, I'll just do crappy faceswaps and hope for more TKH original podcasts.
From Patrick_fromDavis: By this point we've had a chance to go over Bryant's Draft Board. What are the positions that you would like to see addressed, and how?
Tim: This is an extremely guard-heavy draft, and if the right combo guard is available at the 12th slot, I would love for the Kings to swing for another player who makes those around him better. Tyrese Haliburton is a guy who has a small potential to slide in the draft, and his ability to play off of De'Aaron Fox in a Bogdan Bogdanovic-type role, as well as his defensive potential (if he puts on weight), and shooting efficiency are all extremely attractive to me. Devin Vassell, RJ Hampton, and Josh Green would all be satisfactory as well. If Vlade Divac is looking at going for another big man, I'm honestly terrified of Obi Toppin. I know I judge him too harshly because of Marvin Bagley's deficiencies, but I don't think those two can be the front court of the future. Instead, I would go after someone like Jalen Smith, a 6'10€ big man who can knock down long-balls, block shots, and score in a variety of ways.
The combo forward slot would be a nice area to upgrade in the draft, as the Kings don't have a young prospect in that mold, but there aren't too many of those players who are attractive in the late lottery. Saddiq Bey is probably the best choice for that position at number twelve, while Deni Avdija is almost certainly going in the top-5, and Jaden McDaniels is a stretch-4 who can't shoot. This draft just doesn't have much staying power at the wing spot..
Will: I would love to get a small forward out of this guard heavy draft, but I do feel that if the Kings find a way to jump into the top 5 picks, they should be taking the best player available. If it's a guard, might be time to kick the tires on a Buddy trade. If it's a big guy, might be time to kick the tires on retiring from writing about the Kings. I blame Bryant for this entirely but I'm not really in love with anyone yet. This will change a hundred times before the draft in €¦ November? So we've got time to sort it out. I'm still grumpy about Matisse Thybulle not being on this roster. Hell, I'm still grumpy about OG Anunoby not being on this roster. I'm STILL GRUMPY ABOUT€¦ nevermind.
From TheBufferZone: Are you on board with the €œtrade Buddy€ talk? If so, what is the most favorable and realistic trade scenario?
Tim: I don't think the Kings should actively look to trade Buddy this summer, but if they do end up drafting a guard in the coming months and Hield is unhappy with his role, moving on from him isn't the worst idea in the world either. Although he signed a hefty contract that starts next year, many teams would line up to trade for Buddy if the Kings put him on the market; everyone wants shooting. A couple of destinations could be the Philadelphia 76ers (Tobias Harris or Al Horford + additional compensation) or the Orlando Magic (Aaron Gordon). My bold prediction is that Buddy Hield is wearing a new uniform before this time next year.
Will: I'm always on board for trade talk, I just don't know how far down the tracks we can go right now with it. Tim is right that the Sixers are 100% the team that would be okay with taking him. I'm dreaming about Al Horford and Matisse Thybulle (still grumpy) and a second or conditional first round pick. My thinking is only that Kings need to refocus their talent closer to the ages of De'Aaron Fox and Marvin Bagley, but I also understand that for some the playoffs are the goal and for others, myself included, a championship is. Tybulle gets us closer to a championship 5 years from now, Tobias Harris/Aaron Gordon get us closer to the playoffs next year. No wrong answers, because they aren't happening. Also, hot take but if Buddy is wearing a different jersey next year, it'll be for a European team as the US is still on lockdown because people won't keep their asses off the beach.
From jlandweh: How different will the Kings look in the upcoming season (assuming the current season is over)? Do you see the Kings making some big moves, or just continuing to develop the young players on the roster?
Tim: Well, let's address the second part of the question first. Aside from De'Aaron Fox and Marvin Bagley, the Kings don't really have any young players to develop. Harrison Barnes, Richaun Holmes, Bogdan Bogdanovic, and Buddy Hield are all in the midst of their primes, while the rest of the core roster is made up of veterans. The Kings constantly put out the message that they're not looking to get younger, which is kind of embarrassing considering that they have a severe lack of youth for a rebuilding team.
As far as big-time moves are concerned, I do believe that the front office is going to try and shake things up this summer. Buddy Hield, Bogdan Bogdanovic, and the pick could all be moved at some point in exchange for an upgrade of top-end talent. Sacramento has to make the playoffs next year if Vlade Divac and Luke Walton want to keep their jobs, and the current roster probably isn't getting that done. I expect players like Bradley Beal (not happening), Tobias Harris, Al Horford, and Aaron Gordon to be targeted this summer.
Will: I feel pretty strongly that the Kings view this season as a false start. They can blame the Bagley injury and the Fox injury and the trip overseas for preseason and on and on, but I think they're going to run it back with mostly the same crew next year, a year wiser, a year more congealed. They can point to the Kings turning it around during that last little stretch as to how they feel this season should have started and we'll see the Kings strive for 40 again next season.
From jdwhit: In Coach Walton's comments, he talked about getting Harrison Barnes more looks at the 4. Do you think this will have an impact on Bagley's future with the Kings? Do you think he's capable of playing center full-time?
Tim: I love the theory of playing Harrison Barnes at the four-spot, as that's the exact direction that smart teams are heading in, but there's a massive issue with that plan: who's going to play small forward when the Kings put Barnes in the front court? Kent Bazemore can soak up a few minutes there if he returns, as can Bogdan Bogdanovic, but Vlade Divac really needs to find another combo forward to play alongside Barnes. Trevor Ariza was that guy in theory, but he was terrible, and Jabari Parker is somehow worse. If the Kings can find another skilled wing to slide into the layup, Barnes should absolutely be spending a ton of time as the power forward on the floor.
In regards to Marvin Bagley's future, I have no idea if he can play center full-time because I haven't seen him play a consistent stretch for about a year now. In theory, Marvin's athleticism and bounce should allow him to protect the rim at a decent level, but we haven't seen that emerge yet. Shifting Barnes to power forward shouldn't have a long-term effect on Bagley's future with the team, as the only person that's going to control his ceiling and place on the team is Marvin Bagley himself.
Will: I really think there can't be any substantial talk about Harrison Barnes at the four for any real length of time until the Kings find the guy that is going to replace him in the starting lineup at the three. The patchwork quilt of Kent Bazemore and Bogi just won't do. I'm sure you knew this when you asked but any question with Bagley is going to be a crapshoot. I truly don't know if that kid has a right hand or a left foot that functions at the level of a professional athlete right now but nothing has shown me that he could be a full time center. He's shy around contact, he's not a good shotblocker, he isn't particularly weighty or tall. Right now, if he's a center, he's a young bashful Reggie Evans, until he's on the floor long enough to prove otherwise. I really hope that this looks silly in a year. I root for him to improve, I just also haven't seen a sample size large enough that can be offered as proof that he can hack it at the five spot full-time.