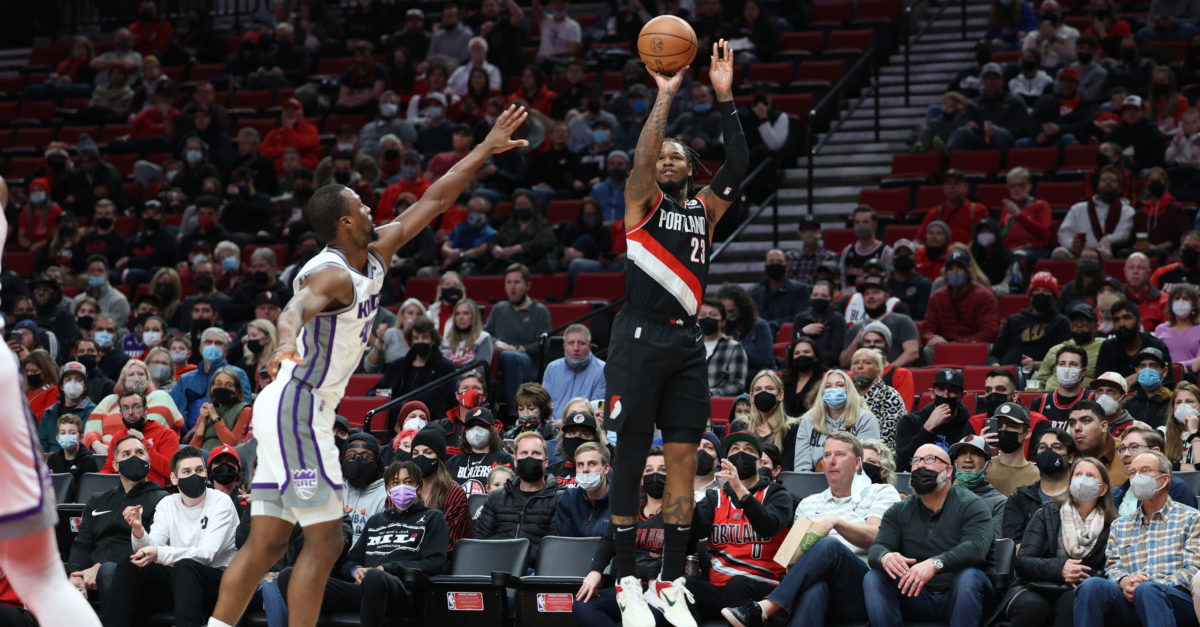 We are officially on the backend of the 2021-2022 NBA season. Are you doing daily calculations of the Kings' chances of making the play-in, or are you counting down the games until this season is over? Either way, time marches on, basketball is played, and here we all are, against our will and better judgment. There was a basketball game played in Portland tonight that I'm not sure if League Pass even remembered to stream. Four Trail Blazers out. Three Kings out. Two underachieving teams. One former Pizza Guy. Zero time from Damian Lillard or CJ McCollum. If you didn't watch, I don't blame you. Here's a look at how the Kings did:
Quick Stats
Outcome: Kings lose, 103-88
Sacramento Kings: 88 pts, 33.8% fg, 22.6% 3 pt, 71.4% ft, 20 ast, 46 reb, 12 to
Portland Trail Blazers: 103 pts, 42.0% fg, 42.5% 3 pt, 80.0% ft, 26b ast, 48 reb, 17 to
The Sacramento Kings lost their fourth game in a row and I feel... nothing. I am not surprised. I am not angry. I am not even disappointed. This team has shown us day in and day out who they are and I think I've finally accepted it. This is a bad NBA basketball team. And bad NBA basketball teams don't win basketball games, even ones against other bad NBA basketball teams.
The Good, The Bad, & The Downright Sad
The Good
My Morals: I respect you all too much to try to bullshit you. There was nothing good about this game. Also, I'm not a good enough writer to even attempt to spin something good out of that performance.
The Bad
3-Point Shooting: It was made apparent very early that it was not a hot shooting night for the Kings. In the first quarter, the Kings shot just 1-8 from deep. Trying to shake off the bad juju, they got 11 more attempts up in the second quarter, but only connected on two of them, finishing the half 3-19 (15.8%). The Kings tried to find more success at the free throw line to start the second half and attempted just two 3-pointers in the third quarter, but ultimately went back to the long looks in attempts to close the perpetual 15-point gap that the Trail Blazers held over them. It didn't work out well. The Kings finished the game shooting 7-31 (22.6%) from deep. To compound on this, Portland got 40 3-point attempts and connected on 17 of them.
The downright sad
The New Normal: This is who the Sacramento Kings are. The Sacramento Kings scored 88 points against the worst defensive team in the league. The Portland Trail Blazers allow an average of 113 points per game, and the Kings scored 25 fewer points than that. Tonight, whenever Jusuf Nurkic took his breaks from grabbing one of his 16 boards, the Sacramento Kings allowed the Trail Blazers to INCREASE their lead over them by letting Cody Zeller get dunks and back up point guard Anfernee Simons cook them for 31 points. Against another team without their star players, the Sacramento Kings got outworked, outplayed, and outexecuted. This is the new normal.
The King of Kings
Tyrese Haliburton led the Kings tonight with 17 points and nine assists.
Up Next
Monday, January 10th vs. Cleveland Cavaliers @ 7:00 P.M. (PT)