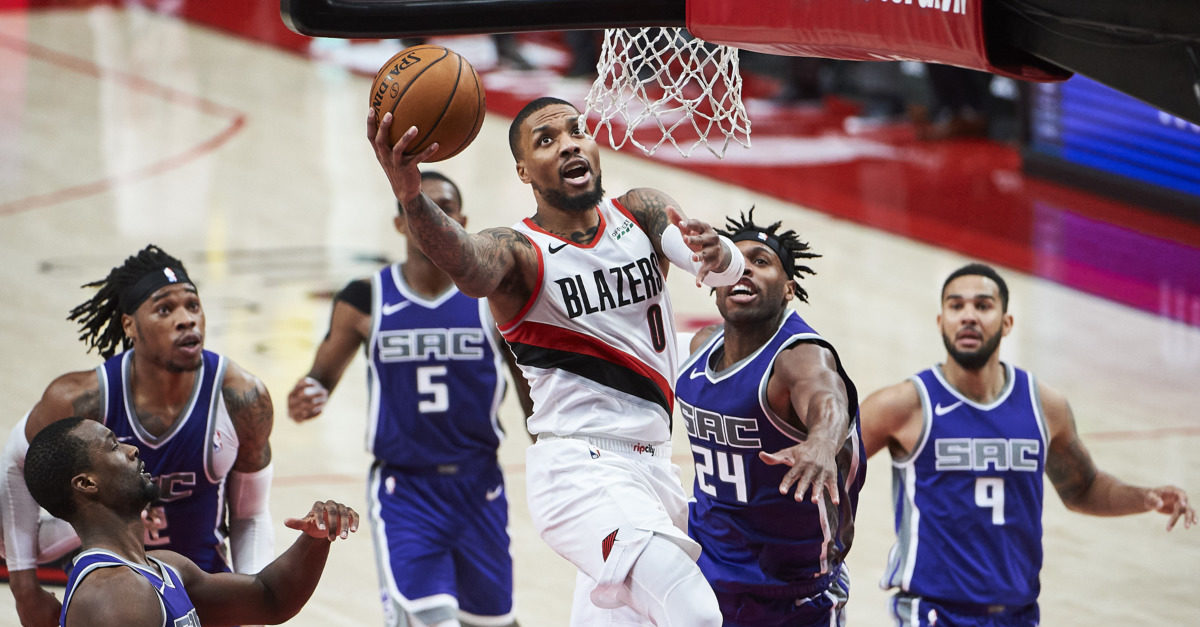 The Ringer's Kevin O'Connor reported on Tuesday that the Sacramento Kings are among the team pursuing Damian Lillard in a trade. And not in the natural "phone calls were made" sense, but in the sense that the Kings are listed as one of the more aggressive teams in the chase.
Few team executives expect a Dame deal to happen this offseason. But multiple front-office sources say the Heat, Kings, Knicks, Rockets, and Sixers have recently been the most aggressive suitors.
But before you start ordering a custom Lillard Kings jersey, it's worth considering whether it would make sense for the Kings to acquire Lillard. First, consider the cost. From KOC:
Front-office executives say that if the Blazers eventually move Lillard, they can expect a return rivaling or surpassing what the Nets gave up for James Harden: multiple young players, plus three first-round picks and four first-round pick swaps.
The Kings would certainly be giving up one or both of De'Aaron Fox and Tyrese Haliburton to acquire Lillard. The Kings would also need to include essentially their entire draft present and future, along with other pieces to make salaries match.
None of this to say that a player of Lillard's caliber isn't worth that price, but it's a question of whether that would make any sense for the Kings. Lillard is unhappy in Portland because the team hasn't been able to successfully build a true championship contender. The Kings are simply hoping the make the playoffs, and losing young talent and draft picks would hamstring the team's ability to continue to build around Lillard.
Could a core of Lillard, Buddy Hield and Harrison Barnes make the playoffs? Lillard is good enough that it isn't out of the question. But nobody is going to confuse that for a title team.
Lillard, of course, has a hefty new extension that is about to kick in, meaning whoever trades for him has him under contract for four years. And Lillard is just 31 years old, meaning he's likely to remain productive for the majority if not all of his contract. But we also know that stars wield their influence in this league regardless of the years remaining on a contract. Like it or not, if Lillard was unhappy the Kings wouldn't have four years to get their act together.
It's hard to imagine a scenario where the Kings do end up acquiring Lillard, but I appreciate that Monte McNair is aggressively pursuing trade opportunities. If a star is available, the Kings should absolutely do everything they can to explore those opportunities.