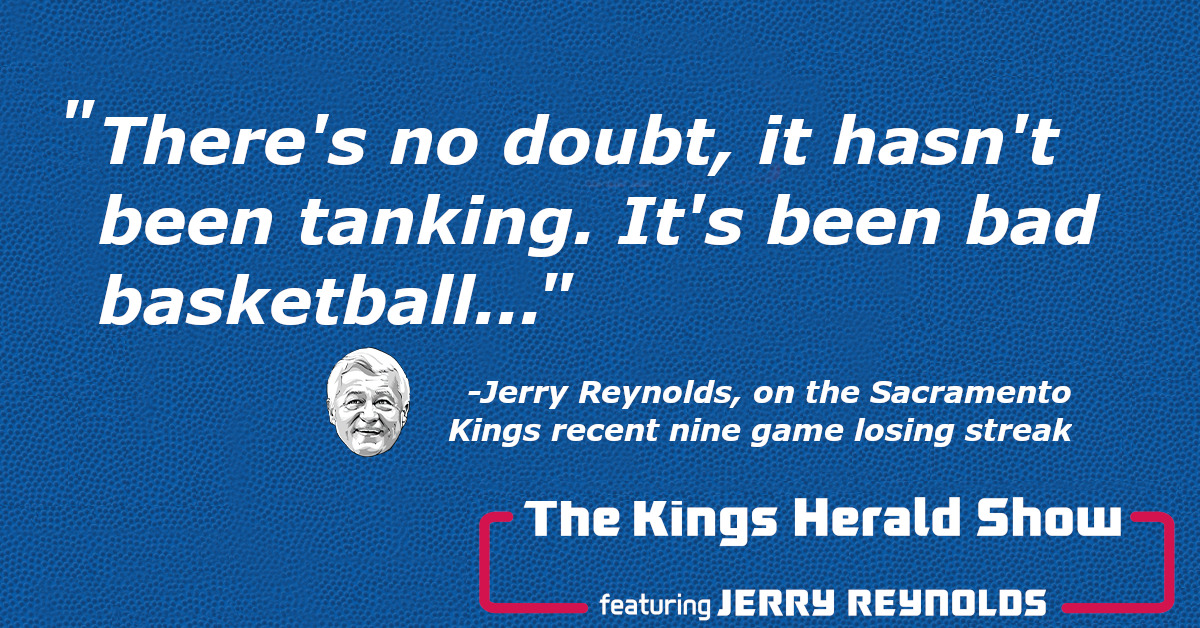 The Kings Herald Show is back with an episode dedicated to one of the big talking points in Sacramento right now: Tanking.
Jerry Reynolds, Will Griffith, Tony Xypteras, and Built To Lose author Jake Fischer break down Sacramento's history of failed rebuild attempts, tell some fascinating behind-the-scenes stories from the Vivek Ranadive era, and discuss the merits of tanking in the NBA today.
Timestamps:
(4:15) Are the Kings tanking, or are they just bad?
(5:45) The 2013 NBA Draft nightmare
(10:50) Behind-the-scenes details from the Marvin Bagley draft
(16:45) DeMarcus Cousins' treatment of former Kings rookies
(23:15) Challenges of the George Karl era
(32:30) Vivek Ranadive's secret weapon
(34:15) The Sam Hinkie conversation
(48:50) €œThe 2nd Draft€
(58:00) Are the current-era Sacramento Kings in a good position long-term?
(102:00) Is there a tanking problem in the NBA today? How would you fix it?
We had a great time speaking with Built To Lose author and Bleacher Report contributor, Jake Fischer, on the podcast this week. Jake told some fascinating Kings stories I had never heard before on the podcast with us, and his new book features a lot more of those never-before-told stories.
You can purchase Jake's book Built to Lose: How the NBA's Tanking Era Changed the League Forever here.
You can also find The Kings Herald Show wherever you listen to podcasts, but if we're missing a platform of your choosing, leave us a note in the comments and we'll get to work. If you can subscribe, rate, and review the podcast on any and all platforms, that would be greatly appreciated, too. It's the easiest way you can support the show!
Apple.
Spotify.
Google.
Stitcher.
In addition to our bi-weekly podcast with Jerry Reynolds, we also record a Patreon exclusive Q+A once a month where Patrons at any level can Ask Jerry Anything. The Jerry Reynolds Q+A for March was posted last month, here.
You can submit questions for Jerry on Patreon, or post your questions in the comments right below this post! Or you can just yell questions to Tony or Will on twitter.
And finally, you can sign up for our Patreon here.
Thanks for listening!