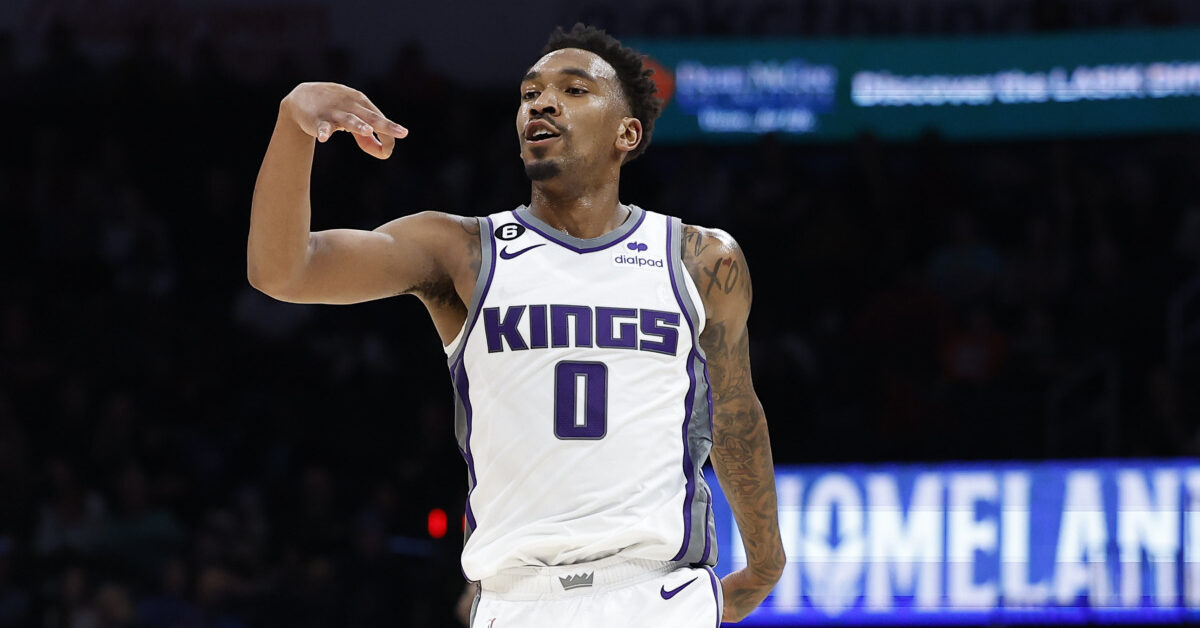 Here's hoping the rest of the NBA community will forgive us Kings fans if we're still buzzing a bit from Friday night.
Well, minus Clippers fans, who are still apoplectic about the way that game ended.
It's just been a really long time since we have watched the calendar turn to March and see our team playing meaningful games, let alone ones that have major playoff seeding implications.
And that doesn't even account for being talked about as participants in what is certainly the game of the year and candidate for best-ever regular season game in NBA history.
Multiple times during the broadcast, the words "playoff atmosphere" were uttered. And it wasn't just the vibe in the building — electric — or the intensity of the competition — off the charts — but how much every single possession seemed to matter to both teams. It truly felt like we were watching a game seven — and the fact that it realistically felt like a potential West Conference championship preview only added to the drama.
But as we watched the Clippers pull away late, you'll forgive those of us that started to lose hope. As a long-suffering Kings fan myself (I'm an OG. I was a Lionel Simmons fan. I thought Walt Williams was the truth and Bobby Hurley was here to save us. I questioned the Mitch Richmond for Chris Webber trade because Mitch was my favorite player EVER. I was inconsolable after *that* game 6. I have felt the pain.) I'll admit I almost turned the game off a few times in the fourth quarter.
Down 13 with six minutes to play and the Clippers holding a 98.3% win probability? I wanted to go to sleep. A minute later it was 13 and 99.2% and I almost turned it off again. The. With under four minutes to play and the Kings trailing by 14, LA holding a 99.7% win probability, and the to-that-point unstoppable Kawhi Leonard with the ball? I was ready to call it.
But that's the magic with this team and this coach. It's hard to ever fully feel out of it.
We know what De'Aaron Fox can do in clutch time, and he had the full bag of tricks on display Friday. And Malik Monk entered another stratosphere alongside him, making a formidable 1-2 punch that willed the Kings first to overtime and ultimately to victory.
It was among the most improbable basketball wins in history, and it could well propel a team that hasn't sniffed the post season in over a decade and a half into true conference title contention — and beyond.
But let's not get too ahead of ourselves. There are games left to play and chips left to fall before the Kings can clinch a spot in the playoffs, but with 21 games remaining in the regular season and Sacramento holding on to third in the Western Conference and first (!!) in the Pacific Division, it's okay to dream a little Kings fans. And to think how this is going to look — and feel — in 2023.
Let's enjoy the ride.
Crown Him:
This week's player of the week has to go to Malik Monk.
It's hard to overstate what the former Laker has meant to Sacramento this season; not only has he added unbelievable scoring punch and confidence to lead the second unit this year, he has infused guys like Fox and Kevin Huerter with confidence. He's not afraid of the moment or taking the big shot, and his athleticism and hops are somehow still underrated.
It was a lot of fun seeing the highlights from Monk and Fox's time at Kentucky pop up on social media after their performance in LA, and fitting that the two stars shined brightest in the Hollywood lights.
And while his shooting and playmaking have been huge for this team, his willingness to play a role, off the bench, has been equally as important for the squad and Mike Brown as he works to grow his team up ahead of the postseason. Monk is all the way bought in, and it's paying off in a big way for him and his team.
Even though he had a relatively quiet game Sunday night, dropping 12/3/2, Monk has been the heartbeat of this team all season. He's the kind of player that makes a fanbase go from hopeful to expectant in April.
I also have to give an honorary mention to the reigning Crown Him champ, Keegan Murray, who showed off in OKC Sunday night, dropping 20 points in the Kings' 124-115 road win to go with six rebounds, three steals, and two assists.
Up Next:
Now 3-0 since the break, the Kings have one of the hardest remaining schedules to close out the regular season.
Sacramento will stay in OKC for the rare two game set on the road, concluding Tuesday night. Then it's four straight on their home floor, as they host the Clippers and Timberwolves for a back to back Friday and Saturday night before New Orleans and the red-hot Knicks head west the following week.
Let's keep that playoff atmosphere rolling!
Sactown's Finest:
There's no shortage of things to highlight in the Capital City, and after highlighting high school hoops last week, we turn to more grown-up fun for the days ahead.
This weekend marks year 13 of the Capital Beer Fest, held at Capital Mall from 12-4.
Featuring live music, food trucks, and of course beer, this event helps support Runnin' for Rhett, an organization that supports youth fitness programs.