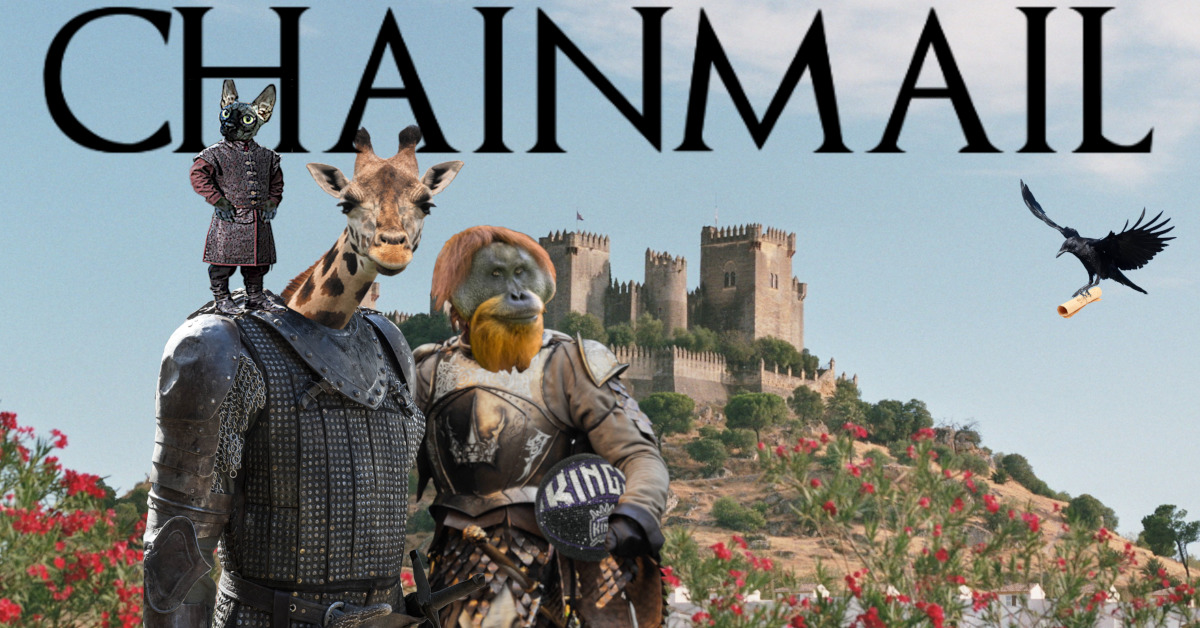 Welcome back to Chainmail! This week, we've welcomed Brenden Nunes, lover of wearing jeans at home, to join the mailbag. Let's jump right in!
From Yakshi:
Why haven't the Kings ever embraced tanking? Do you think it's that they just don't believe it works?
Tim: I wouldn't say the Kings have never embraced tanking; it's just been a while. Back in the 2008-2009 season, Sacramento did everything in its power to lose games, and that plan worked. They finished the year with 17 wins and 65 losses, the worst record in the NBA. Unfortunately, as is always the case for this franchise, the worst-case scenario occurred. The Kings dropped to the worst pick possible, the 4th overall, missed out on Blake Griffin and ended up with Tyreke Evans.
From a more recent historical point of view, I don't think Vivek Ranadive wanted to walk into a losing situation and lose even more, which is sort of understandable, at least for his first few seasons. There's also the financial impact of tanking - empty seats, low merchandise sales, and potential loss of sponsors. It's important to keep in mind that when Ranadive and his group purchased the Kings, they offered to forgo revenue sharing, an estimated $18 million per year, for an unknown amount of time. They may not be getting any of that cut today - we don't know.
And now, Vivek is kind of stuck. He made several poor decisions over his first eight years as the leader of the team, and the fan base is pretty done with both him and the organization. Hell, the arena looked more than half-empty against the Los Angeles Lakers. At this point, can the franchise survive a three or four-year reset with losing seasons, no playoffs, and bad performances (okay, that's exactly what's happening even when they're trying to win, I know)? I'm not sure they're confident that they can. That's why they continuously push for the playoffs or play-in, even with little hope of success. It's desperation, pure and simple.
Will: I think Tim hit the nail on the head here for the most part. The Maloofs certainly weren't going to entertain any sort of intentional tanking because they were trying to boost whatever value the team had in order for a sale. The Blake Griffin draft saw the Kings enter into it with the worst record in the NBA - Kevin Martin was 25 at the time, Shock and Hawes tandem was in the first year of its experiment and Donte Green got playing time by the end of the season as a rookie. There was certainly a concerted youth movement then. Paul Westphal's first year there were ten guys on the team with 2 years or less experience and everyone had five or less save for Desmond Mason and Kenny Thomas.
Vivek's first season as owner of the Kings saw Sacramento make swings towards building a core for an immediate playoff run. They went out and got Rudy Gay as a running mate with DeMarcus, they swapped Marcus Thornton for Reggie Evans to get some help behind Boogie, made high upside swing for a guy like Derrick Williams... and then they never looked back. The next season they had three coaches, all with playoff expectations, the season after that was the Rajon Rondo, Caron Butler year with Karl, the season after that was Joerger and every goddamn vet on earth before Vlade bailed out at the All-Star Break in New Orleans. You could argue that De'Aaron Fox's rookie year was a tank, though how much of that was Vlade's incompetence? His super-team, just young, playing at the slowest pace possible, with Z-Bo as their leading scorer for most of the season. There are various definitions of "tanking" and youth certainly had their fair share of minutes to play that season, but I also remember them winning three of their last five games and Vlade saying later that the basketball gods rewarded him with the second pick because they were trying their hardest to win those games. You know the rest of the timeline from there.
I think ego and money are the things holding Vivek and his various managers back from ever fully just giving it over to a multi-year youth movement. There's an all-time losing streak hanging over his head, the need to be the hero for a franchise yearning for good basketball, the monetary ramifications of continued disillusionment of the city. All of those things apply pressure to ownership and thus to the temporary managers of the team. I said it when COVID hit, I'll say it till the day I die. The Kings had a decent bit of youth - a two-year reset without an audience during the pandemic was the perfect time for the Kings to do a mini-tank. Jettison the vets and coach prior to the bubble and spend the next few drafts building the young talent level when there was no one in the seats to complain. A new coach with a penchant for building talent, a talent chock full of kids trying to make their mark on the league - the losses would still be here this season but you'd have at least seen a future developing, the team would be on the upswing.
I'm still of the mindset that the franchise has to just own the losing streak, stop letting it rule any decision-making, and just eat the punch. The constant aiming for the bare minimum modicum of success has done nothing for Sacramento, so make this crappy decade and a half of losing as much a part of the culture as Kings fans have. Fans of other franchises have figured out you can't hurt a Kings fan on social media by saying their team sucks. They already know. Now, imagine a front office willing to just say "Yeah we got the playoff streak! It'll probably go a few more years too. But now we're building something that will win us a championship and when the day comes, who will care?"
Brenden: I can't comfortably speak further than about five years back, but I think Tim did a great job of laying out a possible reasoning. In the end though, there's no way for us to know. It could be due to financing and the idea of wanting to keep the fanbase engaged (although it's slowly doing the opposite), not wanting to "waste" the talent currently on the roster, maybe they don't believe it works like you are asking, or maybe it's something as simple as Vivek (and maybe other owners) don't want to. It's probably one of those things we will never know, really.
From Gregoryl:
The team has embraced the 3-guard lineup, going small, etc., and it's not working. Any thoughts on trying a big lineup like Holmes/TT, or Holmes/Jones, or TT/Jones?
Tim: While the Kings have played a lot of two-guard + Buddy Hield lineups, I wouldn't necessarily say that the best three guards have played all that much together. Out of 1,119 possible minutes, the trio of Fox, Haliburton, and Mitchell has only appeared together for 46 minutes, or two minutes per game. That's not enough of a sample size to see if that core works together or not. The five best players on the team, De'Aaron Fox, Davion Mitchell, Tyrese Haliburton, Harrison, Barnes, and Richaun Holmes, have played only 16 minutes together this season.
To your larger point, I don't believe that going big is necessarily the solution for this team. The Kings can choose to go small and lose out on rebounding and interior defense, or they can go big and lose out on all spacing and perimeter defense. It's the equal of two evils. Really, the only solution for this roster is to balance it properly, something Monte McNair has yet to prove he's capable of in the last 15 months.
Will: If we had a group of dynamic forwards with varying skill sets, I'd be all-in on trying a big lineup and zigging where others are zagging. Sacramento just doesn't have the personnel able to do it. It worked to varying degrees when the Clippers went big against the Kings the other night, didn't it? Plain and simple, different guys on the roster? Yes. With the current group? I wouldn't expect anything good from it.
Brenden: I don't like the idea of a two-big lineup. Alvin Gentry has been that clear that he views speed as their best asset. I'd like them to fully buy into that, in an attempt at forming an actual identity — their style of play should not drastically change on a night-to-night basis.
Yes, defensive stops (which included rebounding) are the best way to play with pace, but having two bigs just does not fit that style. Also, I'm not sure any of the bigs on the roster can comfortably defend fours. So, I personally don't think playing two bigs is a good idea. It seems they believe they have found this roster's strength, so I'm hoping they fully commit to it.
From Kosta:
What do you think the season would have looked like if the Kuzma/Hield trade went through?
Tim: The roster would have been more balanced, but I would be surprised if Kuzma and Harrel looked as good in Sacramento as they have in Washington - a team that has a true star to lead them on a nightly basis. I'm guessing we're looking at one to two more wins, but nothing significant.
Will: I'm going to disagree with Tim here. I think we'd see the Kings sitting about the 6th seed at this current juncture, which is to say, they'd be playing .500 basketball. There are more than a couple of losses earlier in the season that the Kings could have gotten over the hump with just a bit more energy or had another forward other than Mo Harkless starting and scoring nothing. Kyle Kumza isn't perfect but I certainly think contributing 15 a game where Harkless and Metu have been playing would have led to more than one or two victories. Tossing in a Sixth Man of the Year candidate in Harrell with Davion would have helped take the scoring pressure off the rookie and kept the pressure on any opponent trying to relax with Richaun on the bench.
[Editors note: before grabbing your pitchforks, consider the Kings are currently just two games worse than the 6th seed in the West]
Brenden: Man… I think this team would have been better for sure. It's obviously hard to say just how much better, but Buddy Hield has struggled on this team and Montrezl Harrell plays such a similar style to Richaun Holmes that the guards would be able to have a more consistent playstyle.
Yes, there are games that the team would not have won without Buddy Hield this season. But, I also think there are a handful of games where Buddy has been a negative while on the floor. He's converted just six of 36 attempts from three throughout the last four games Sacramento has played. I think the team would be notably better and more balanced, but it's hard to guess if the inconsistencies would have remained no matter.
From mthai:
How far/long into the season, and what record will they need to hold, for the Kings to either make a decision to tank or make a push for the play-in?
Tim: Personally, I'm at that point right now, but Monte McNair will probably give these guys until after the trade deadline, which kind of defeats the entire purpose of making a decision before that key date hits. Monte wants to and needs to win, so he's going to do everything in his power to make this team do so.
Will: Monte is certainly going to all this team to go as is to the trade deadline. The West's lower seeds and play-in games are WIDE open right now. This is a season where a team could truly fart around until the deadline, have a decent stretch for 10 or 20 games are climb from outside-looking-in to the sixth seed. If the Kings had some unfortunate injuries... something like Fox being out for the season or a combo of missed time for Barnes and Holmes, maybe I could see the decree from on high to start playing the youth this year, but I wouldn't say the tank would be on. He'd certainly keep most of the vets, save for maybe Buddy Hield. They'd run it back the next year with the same group plus whatever Top-8 pick they got.
Brenden:I mean, at the earliest I would think we are talking about the December 15th mark when all free agents from this past offseason are eligible to be traded. Even then, McNair really pushing to make a move to sell would probably be met with subpar offers since the Kings would appear desperate.
In my mind, the team is middle of the pack enough that people will be able to comfortably side with either of the two options you presented all the way until the trade deadline when McNair will (probably) be forced to make a move in one way or another.
From outrider:
Find legit trades for Fox, Hield, Barnes, Holmes
Tim: I'm going to cop out on the Fox trade a little bit, and only because I don't think there is a legitimate trade out there for him right now. I can't really find a team that has the right mix of assets, expiring contracts, and desperate need for a point guard to surrender a significant package. Call me back on draft night, and we'll talk.
I would send Harrison Barnes to Minnesota in exchange for Leandro Bolmaro, Taurean Prince (expiring deal), Josh Okogie (solid young player, RFA), and their first round pick this season, top-8 protected.
Buddy Hield has been on the block for a year-plus, and the Kings haven't been able to land any deal of significance, so he's not garnering much return. It's really, really difficult to find a contender that has $20 million of salary to spare, as well as assets to surrender in a Buddy deal. That being said, the Bulls want to add more shooting and scoring off of their bench, so they sent us Derrick Jones Jr. (expiring), Troy Brown Jr. (expiring), and Coby White for Hield's services.
I could also see the Hawks sending Danilo Gallinari, who has been a complete bust for them, along with Cam Reddish, to acquire Hield. Gallo is partially guaranteed next year, so the Kings save around $16 million in 2022 and $18 million in 2023.
I'M NOT TRADING HOLMES. HE'S TOO VALUABLE FOR HALIBURTON'S DEVELOPMENT. FIGHT ME!
Will: I'm certainly with Tim on the Fox trade. I'm sure there are good guys that other teams would give up for Fox and I'm certain he has value in the league but with his value wildly depressed and any team I can think needing his services without a good-old-fashion swap... it would end up being a three teamer. Suffice to say I think the Knicks could have interest and they're within $193,000 of having a legal swap for Evan Fournier, Obi Toppin and like 2 or 3 firsts for Fox. It isn't a good swap necessarily but miiiight be able to be sold as continuing the middle ground? Mitchell, Haliburton, Fournier, Barnes, and Holmes for the now with a semi-resurgent Obi Toppin and the draft picks for the future. You'd be betting on a heavy Knicks collapse but... it's the Knicks. History says that's a good bet, at least.
Buddy is currently worth the same as Russell Westbrook, right? I think at this point Buddy is going to be swapped for another bad contract that the Kings can then drop at the end of the season for cap space and maybe a young asset with some upside. The Laker's trade was peak value for Buddy and I just don't see anything like that return moving forward. Maybe the Clippers would do Eric Bledsoe, Terrence Mann, and a few seconds. Twist their arm and try to get BJ Boston from them as well. Bledsoe isn't fully guaranteed next season, cut him this summer for added cap space to do another round of Monte's dance around the edges.
Richaun Holmes is cheap enough and productive enough I think he should absolutely be a part of whatever tank you have in mind here. He plays well above his contract and pretty much anyone else at that price is going to be unavailable or underwhelming. That being said, you asked and I'll give you something. But, I won't like it. Charlotte is in need of an impact big - they'd been rumored to be interested in Holmes prior to him signing with the Kings in the off-season. Going all-in on the season, they decide to trade for a difference-maker in Holmes and give up Kelly Oubre Jr. and PJ Washington for the pleasure of doing business. Oubre has a $12 mil option for next season and the Kings absolutely need forwards but could use the cap space too, I guess. Charlotte gets out of having to pay PJ Washington what he think's he's worth in the future. I'm assuming in this universe that Neemias Queta is a superstar to make it hurt less.
Brenden: I'm siding with Tim on this one. I don't know what sort of trade could involve De'Aaron Fox where the Kings are improving their current chances at the playoffs. So, unless the team is willing to reset around Tyrese Haliburton and embrace at least one season of poor results, I doubt we see Fox moved on. We've been given no reason to believe that ownership is willing to do that, so for now, I don't have a reasonable Fox trade.
For Buddy, who is the player from this list I see as most likely to be moved on from, it's tricky since we've heard that he's on the trading block for years now with minimal interest outside the reported Lakers deal (which was probably just LA being desperate rather than an example of potential deals down the line). What feels most likely, in my mind, is Hield being a part of a larger deal that includes significant draft assets to bring a starting-caliber wing/forward. Ben Simmons is the obvious one, but also players like Pascal Siakam, Myles Turner, or Jerami Grant.
Trading Barnes and Holmes only makes sense if the team is willing to be worse this season for the sake of bettering the future. For Barnes, something like sending him to Chicago for Patrick Williams and Derrick Jones Jr. is intriguing to me -- but the Bulls would have to continue to play well and feel like they need to capitalize on a potential championship window in order to comfortably move on from a promising player like Williams.
Holmes is not someone I would look to move, because he's on a phenomenal contract and there's no need to trade him. He feels more like a player who other teams will target and then approach McNair with a deal first rather than him being shopped around.
From Adamsite:
With Hali more recently running the offense and killing it with Holmes in the pick-and-roll, would Fox be better served in an off-ball role, much like Jrue Holiday or Devin Booker?
Tim: No, because he can't shoot, nor does he move off of the ball. Holiday and Booker are both at least average marksmen from deep - Fox is not. If you watch any Kings game, if Haliburton is running the offense, Fox does nothing but stand above the arc and watch the ball move around the court. Maybe a different coach could fix that habit, but frankly, I just don't think Fox and Haliburton work particularly well together on either end of the court.
Will: Yeah I think it could work in theory, I just don't think the Kings have the scheme to make it work properly and Fox doesn't have the shooting necessary to really ensure that success. Give Fox another year or so to recover his shooting progress and Hali to gain confidence and I can squint and see it. It just won't be happening this year.
Brenden: I will say, Fox does shoot well off-ball -- he's converted 35 percent of his catch-and-shoot threes this season after knocking those shots down at a 39 percent rate in the year prior. That being said, I still think this team is best served with De'Aaron Fox as the primary initiator on most possessions rather than Haliburton. The wording I often used last season for Tyrese is that he's amazing at capitalizing on advantageous situations but really struggles to create those advantages himself. I think that statement remains true throughout this season, even if there has been progress in his self-creation. Personally, I want to see more aggression from Tyrese (especially with his 3PAs) before I'd be willing to entertain the idea of him being the "number one option" over De'Aaron Fox.
From Melmoth:
As the trade deadline approaches, do you think Marvin Bagley's $11.3 million expiring contract will yield anything of value in a swap?
Tim: No - he's filler salary in a larger trade and nothing more. No one wants him or they would have traded for him by now.
Will: Do you value second round picks? Do you value cap space?
Brenden: As Tim said, his use is his contract. That salary is very useful for matching in deals, especially if you combine him with someone like Tristan Thompson, who is making just over $9-million, then you are able to inquire about starter caliber players making somewhere in the $20-million range. If you combine Bagley with Buddy, you can have conversations about max-salary players in return. But, the true value Sacramento can provide in those types of deals is draft capital, not the players themselves.
From Carl:
Do the Kings make any significant personnel changes at the deadline? If not, how much longer does the front office have before they're in trouble?
Tim: I think one of Buddy Hield and Harrison Barnes will be traded for multiple, worse pieces that better balance the roster. Will it help the Kings overall? Eh, we'll see.
Will: I probably should have photoshopped a Monte McNair version of The X-Files' "I Want to Believe" poster at some point before this season. I truly want to think that Monte sees that the team he inherited and kept around for multiple seasons now just isn't working out. But, I truly think that he's going to stay pat. He might swap out some bench guys for another, different forward. Maybe a Buddy trade has some likelihood of happening... but I really can't trust they'll do anything this year when we all thought this was happening LAST season.
I think they have till about 25 games into next season before they are truly in the hot seat. They'll get a chance to pick a coach and tinker in the off-season but if the Kings aren't ready to kick down doors come December of next year? They might be gone in the off-season.
Brenden: I'm expecting Buddy Hield to be moved by the deadline, but it feels like we've been saying that for years now. He just does not fit on this roster if you look past the idea that the team needs shooting, which Buddy is obviously elite at. Positionally, he's difficult to make fit, he remains a negative on the defensive end of the floor, and he's throwing up some ridiculous shot attempts.
If there is no reasonable deals for Hield at the deadline, McNair is probably going to feel pressured to make something happen anyway. At that point, I think my previously mentioned package of Marvin Bagley and Tristan Thompson could be shopped around often. I'd guess that Buddy Hield is traded, but I'd be straight-up shocked if Marvin Bagley is NOT traded. Barring a drastic change, there's little reason to believe Sacramento would push to retain him in free agency this offseason, so they might as well use his $11-million to bring in some other talent.
If the Kings do nothing this deadline, I think we will start to see some serious finger-pointing at Monte McNair. Unless the team is surprisingly better than we have seen so far, obviously.