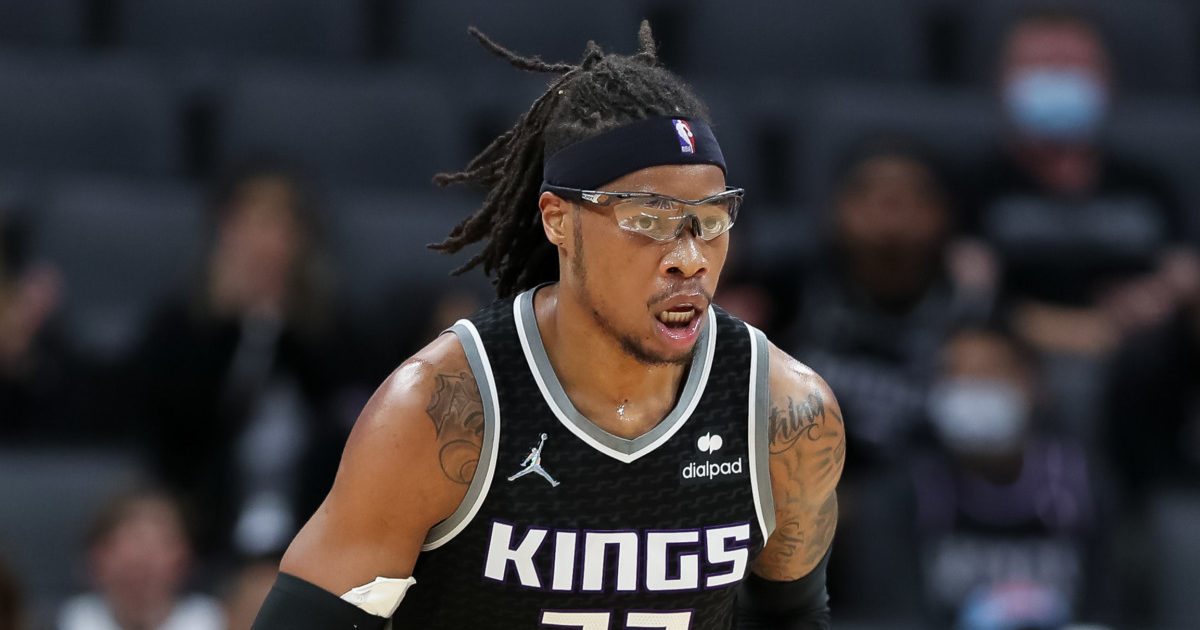 What an absolute disaster of a season for Richaun Holmes.
After an offseason that saw him sign the longest and the richest contract of his journeyman career, Holmes walked into the year as the roster's assumed starter and was considered a key piece of Sacramento's core moving forward. But personal issues, injuries, and a severely reduced role tanked what was expected to be the best season of Richaun's career.
The start of the 2021 campaign gave no indication that such disaster was waiting in the wings. The dual point guard combination of De'Aaron Fox and Tyrese Haliburton were godsends for Holmes' early season numbers, as the big man used his size, athleticism, and unique push shot to regularly dominate opposing teams in the pick-and-roll, mid-post game, and in transition. He scored 20+ points in four of the first nine games of the year, and over the first 20 games, Holmes put up 15 and 10 while shooting a league-leading 72% from the floor and 82% from the line. There were even some quiet whispers of fringe All-Star play if Sacramento's starting center could keep up that level of play for an entire season.
And then the injuries struck.
After playing in 22 of the first 25 games of the season for Sacramento, Holmes appeared in just 23 of the next 57 games, and those appearances did not go well. He scored double-digits seven times, his highest-scoring output was 17 points, and he managed to record as many or more fouls than points in five of those contests. Even before losing his starting role to Domantas Sabonis, Holmes looked out of sync and uncomfortable on the floor, and his minutes continued to decline as he was replaced in the rotation by guys like Chimezie Metu and Damian Jones, players who were perceived as end-of-the-bench cannon fodder heading into the season.
In addition to his on-court struggles, Holmes was also plagued by off-court distractions throughout the year. After having missed some time due to personal issues in early February, it was revealed that his cousin had passed away unexpectedly, an understandable reason for Richaun's seeming disconnect on the court, especially considering his injuries. The following month, the Sacramento Bee published an article detailing domestic violence allegations made by his ex-wife in an ongoing custody battle. Holmes did not appear in any additional games after those accusations were made known.
When considering individual expectations, salary, and goals of the team, this past season was easily the most disappointing of Richaun Holmes' career. After a hot start that saw him blossom under his two point guards, Holmes' injuries, replacement in the starting lineup, off-court distractions, and the jettisoning of his favorite pick-and-roll partner all served to make a tough situation even worse. Many believe his future in Sacramento has come to an end, as the likelihood of him regaining his previous value in a Kings uniform feels quite low. Sabonis and Holmes played just seven minutes together in the post-trade world, understandably considering their skill sets don't mesh particularly well. This means Richaun will be fighting Damian Jones (an unrestricted free agent) and Alex Len for whatever backup center minutes are available in 2022, and that's not even considering the small-ball lineups that the Kings will inevitably run.
Hopes were high for Richaun Holmes heading into this past season, but the myriad of battles that he was facing derailed his season to the point of potentially ending his time in Sacramento. It's entirely possible that Kings fans have seen their last of Richaun Holmes in a Sacramento Kings uniform.