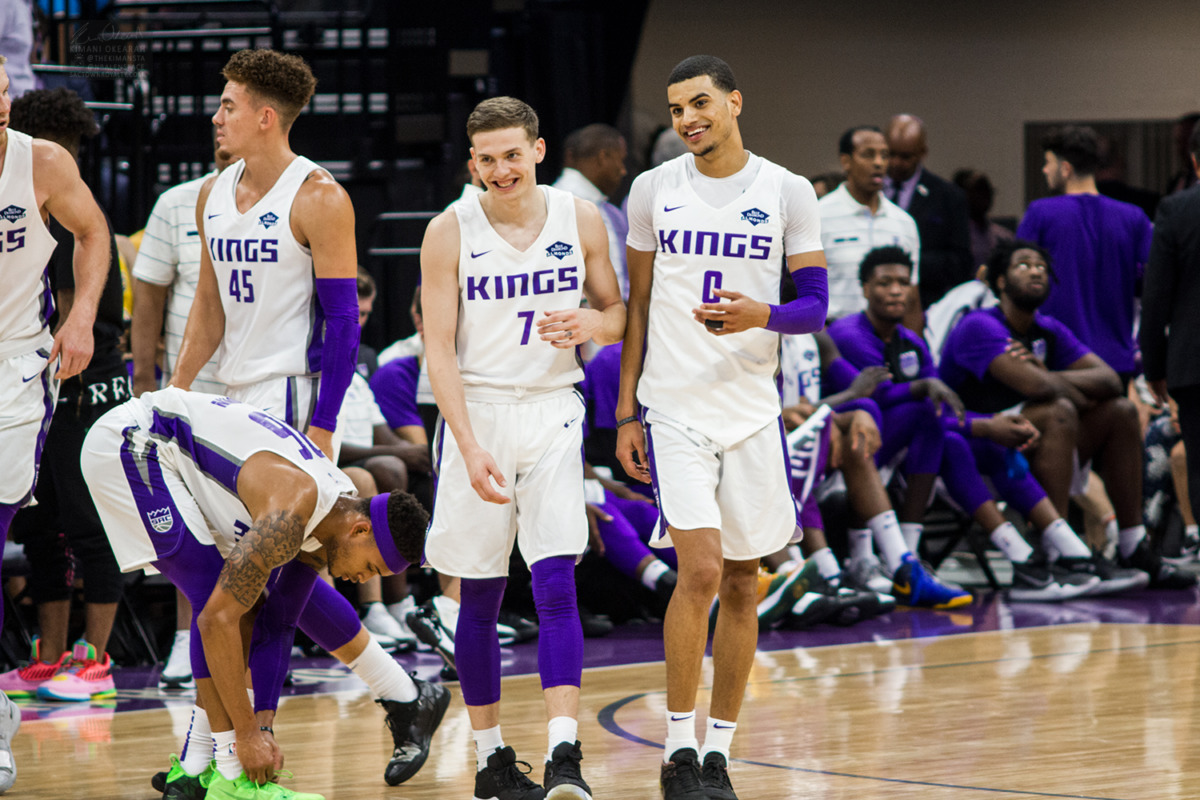 Orlando can't be categorized as anything but a pure disaster. The Sacramento Kings entered the bubble with a fighting chance, a team that could throw some punches and challenge for a play-in spot.
Five games in, the Kings have been knocked out by almost every opponent they've shared the hardwood with, the only exception being the New Orleans Pelicans, who somehow have managed to look even inferior to their Western Conference counterparts.
The analysis behind the losses is pretty simple: Luke Walton's coaching is highly ineffective and there's a massive lack of effort on both ends by the players. The Kings wanted all the smoke, and they've gotten exactly what they wished for.
Mathematically, the Kings are still standing in the playoff race. In reality, they're one knockout punch away from checking off Orlando as a wasted opportunity. With three games left against the Houston Rockets, Pelicans and Los Angeles Lakers, the Kings need to recognize that playoffs are out of the equation. They had their chance. They didn't take it. It's time to look forward to next season and see what young players can become a rotational piece.
Sure, Walton pulling the plug on the final games could be a sign of packing it in. But the head coach also said this following the loss to the Orlando Magic:
€œI'm still very confident we're going to start playing a lot better, but by the end of this whole thing it's going to be a great learning experience for us as a group.€
Three games after that quote, nothing has changed on the court. And if that last half of the quote means anything, the Kings didn't need to unpack their bags when they arrived in Orlando. That mentality sealed their fate.
Teams like the Phoenix Suns and the San Antonio Spurs didn't have strong chances to make a playoff run. If anything, they were the teams coming to Orlando looking for a learning experience. Now? They have better odds than the Kings to snag a play-in spot.
Sacramento needs literally everything to favor them if they want a chance but the last 13 years clearly indicate that won't happen, unless 2020 has another trick up its sleeve.
Just like the victory against the Pelicans, any win here on out is essentially meaningless - especially if they follow up a win with a performance like the one against the Brooklyn Nets.
Giving DaQuan Jeffries, Justin James, Kyle Guy and Jabari Parker some playing time may just be the best thing Walton can do at this point. Why? The Kings aren't the young team we all drooled about not that long ago. Harrison Barnes just turned 28, Bogdan Bogdanovic will turn 28 later in August and Buddy Hield will be 28 in December. Nemanja Bjelica isn't getting any younger, Harry Giles had his inexpensive option declined, Richaun Holmes may be too tough to keep from a financial standpoint and the list continues.
De'Aaron Fox is clearly the young star the Kings hoped he would become and yes, he has more to grow but he clearly needs assistance. It doesn't help that Marvin Bagley is consistently hurt, but it's time to see what the other youngsters available can do.
When given an opportunity, Jeffries was quick to take it and inserted himself into Walton's rotation. Jeffries will turn 23 at the end of August and he provides solid versatility on both ends of the floor. He can defend the one-four positions and has shown he can score at the rim and beyond the arc on offense. Sacramento can hold onto him longer as a restricted free agent and it's a no-brainer move to retain him.
Justin James, the 40th pick in the draft, looks promising on defense though he needs to find more offensive consistency. Still, at 23 and also someone that can guard multiple positions, James should get more minutes on the court. Talent can be found in the second round, just ask Bol Bol who was picked a few slots after James. But Bol actually sees the floor among other prominent differences (like the Kings drafting Bol). If James can see Jeffries-level minutes, who knows what could happen.
Guy, who put together a fantastic rookie season with the Stockton Kings, was arguably the most exciting rookie the Kings picked on paper. He can light up the floor from beyond the arc at any given moment and the Kings could use that shooting right now, especially with the cold hands of Buddy Hield and Fox from deep. There's a shortage of quality offense behind Fox on the point guard depth chart, but Guy's three point shooting could be a focal point to his game worth focusing and building on.
Parker, who turned 25 earlier this year, has a $6.5 million player option to decide on this offseason. No other team will offer him a similar figure, so Parker will likely remain in Sacramento. Parker's career is undoubtedly strange, but we've seen glimpses of what a healthy Parker can bring to the table. No, he's not the ideal big to watch on this team right now - we'd see a lot more of Giles if competency prevailed. Parker hasn't looked good since coming to Sacramento and though his numbers in Atlanta look adequate, it doesn't tell the full story. But, I'd rather be wrong about Parker than continue watching a lackadaisical on-court product that just lost to a Nets team that could've been mistaken for a G-League roster.
No, none of these players are game-changers and that shouldn't be expected from them if they get playing time. Sacramento needs to give Fox more help and some of these guys could provide that as developing role players. There's potential in Jeffries and James to be versatile defenders with athleticism on offense, potential in Guy to be a sharpshooter off the bench and Parker's inside scoring he's shown in the past could come into play for the future.
Much of this is looking at the most optimistic outcome possible, but there's not a lot of hope with what we're currently seeing on the floor. The main rotation is completely out of it. There's a serious lack of heart and effort. Maybe the players who don't have lengthy careers guaranteed will show otherwise. If Walton really wants a learning experience, then he should play the youngsters. There's not much else to lose.