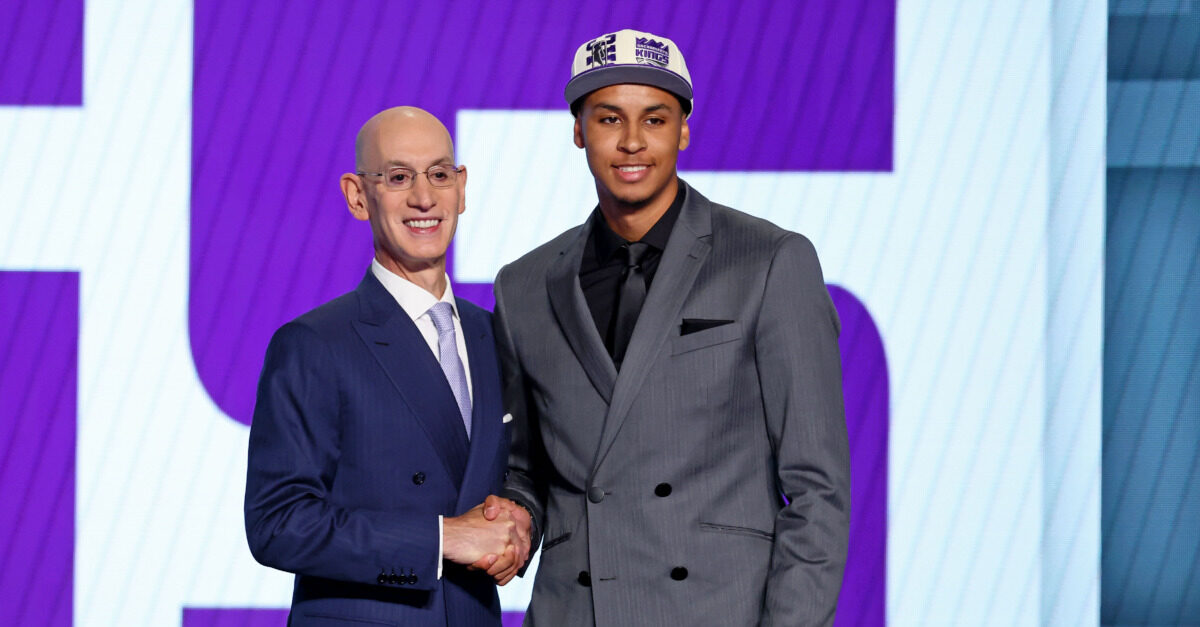 On Thursday, the Kings entered the NBA Draft armed with the 4th, 37th, and 49th picks. They exited with Keegan Murray, two future second rounders, the rights to Sasha Vezenkov, and a couple million in cash. Some members of the crew gathered together to share their thoughts, so let's dive right in!
Tim: Let's start with the good: Keegan Murray. As probably the first member of the local media to set my sights on Murray back in January, I can't help but be excited about what he'll be able to do for the Kings. I think he has a higher ceiling than most believe, as he can defend, score at three levels, and he also has some solid rim protection instincts as a weak-side defender. He's going to be a key cog for any NBA team he's on for the entirety of his career. I understand any and all frustration directed at the Kings for their draft night decisions, but I can't comprehend that frustration devolving into vitriol for Murray as a prospect. If he wasn't going 4th, he was going 5th. He's good.
Yet, my excitement for Murray is muted by Sacramento's nonsensical execution of their goal to make the playoffs next year. They needed to kill it on draft night, and they did anything but. Almost every other team in the Western Conference "We're hoping to be in the playoff/play-in conversation next year" race made several moves to leap ahead of their competitors, while Sacramento stayed stagnant outside of their lottery selection. I keep hearing about Monte McNair's aggressiveness in the trade market, and yet, outside of the Sabonis trade, nothing significant has been consummated in 2.5 years of management. We saw other teams move up, move back, add picks, and swap salaries, but the Kings were noticeably absent from all of those transactions, as their only moves were to punt their second round picks down the line.
And speaking of those moves, trading the 37th pick for future second rounders that Monte McNair will almost certainly never see felt backwards in and of itself, but then selling the later pick for cash and a soon-to-be 27-year old EuroLeague prospect no one had heard of until yesterday made me feel even worse. Add in the failed John Collins negotiations (for the second time) and passing on the consensus fourth-best player in the draft, and I can't help but think the Kings missed a huge opportunity last night. Teams like the Kings, with their history of losing and small market presence, rarely make significant talent additions in free agency, making the draft all that more important to leverage. Monte McNair's goal is to make the playoffs in 2022 and they don't feel much closer than they did three months ago. I'm underwhelmed.
Akis: Draft night was fine for the Sacramento Kings, if not a little boring. For weeks the debate had been largely over who the Kings would select at 4, Keegan Murray or Jaden Ivey. Many pundits, myself included, believed that Ivey was the higher upside pick, but the Kings clearly felt otherwise. I'm a little skeptical that the Kings would have taken the same tack if their best player wasn't De'Aaron Fox (who Ivey seems to have a lot of similarities with), but this wasn't a Luka/Bagley situation: Murray was clearly one of the best prospects available in this draft, and one of the most productive players in college basketball last season. He should be able to step in from Day 1, and I wouldn't be surprised if he does turn out to be the right pick in the long haul. If you told most Kings fans before the Draft Lottery jump that moved the Kings from 7 to 4 that they would be getting Keegan Murray, the excitement would probably be a lot more palpable.
The Kings are getting dinged by many for drafting for fit, and it's easy to see why: Jabari Smith Jr. might be the only other player in this entire draft who fits as well with what the Kings need as Murray. He's a switchable 3/4 who can play both ends of the court. He can shoot, he can rebound, he plays defense and he hardly ever turns the ball over. But what teams don't need someone like this? It's hard to find a situation in the NBA where a team doesn't need a guy like Murray.
Some had hoped that if the Kings truly liked Murray better than Ivey that they would be able to extract more assets from a team below them in order to draft him and get a little extra, and I'm sure they were working the phone to do so. I'm willing to bet that Adrian Wojnarowski's reports that the Kings viewed this as a 4 person draft with a drop-off after Ivey were simply the Kings trying to throw some smoke at Detroit to get them to cough up something to move up a spot. Either Detroit wasn't buying it, or they were just as happy to take Murray if Ivey wasn't there and weren't willing to offer anything of significance to move up one spot. The Kings clearly liked Murray enough over other options that they weren't willing to trade too far down and risk not getting him.
I'm a bit more disappointed in how the Kings handled the second round. Trading the 49th pick for cash and the rights to a solid European player is fine, especially if Veznekov can come over and be a rotation player sooner rather than later. But trading the 37th pick for future seconds when there were players still available that were seemingly first round talents like Jaden Hardy (who Dallas picked) or E.J. Liddell (who went 41 to the New Orleans) was disappointing. It's not the end of the world or anything, but I'm tired of the Kings seemingly ignoring opportunities in the 2nd round when we keep seeing other teams find diamonds in the rough every year, right in this range. Just last year, you had the Pelicans find Herb Jones at 35 and the Bulls get Ayo Dosunmu at 38, two All-Rookie selections for playoff teams. The Kings themselves have seen second round guys they sold for cash or future picks go on to be solid players in recent years: Xavier Tillman in 2020 and Gary Trent Jr. in 2018. A team like the Kings should be throwing as many darts at the board as they can. I like the Keon Ellis signing as a two-way contract, but they could have done that AND gotten another flier this year.
It was also a bit disappointing to not see a big trade of some sort after rumors seemed to indicate that the Kings were "leading the pack" in the pursuit of John Collins and were mentioned in other rumors as well. Nothing came of that, and the Kings watched other teams in their conference get better. The Trail Blazers were able to snag Jerami Grant for a likely late first rounder in 2025 from the Pistons. The Rockets saw the guy that many considered the best prospect in the draft fall to them at 3, and then added a high upside player in Tari Eason and a flier on TyTy Washington.
I'm excited to see Murray in Sacramento, and I think he's going to be a good player for a long time. But drafting one player, whether it was Keegan Murray or Jaden Ivey, wasn't going to fix the Kings. There's still a lot of work to be done, and given that free agency has never been Sacramento's strong suit, I'm a little worried to see how the Kings make the improvements they need to get over the hump. There's more pressure than ever on De'Aaron Fox to become the perennial All-Star franchise guy that this team needs, and for Monte McNair to surround him with the pieces to not only end this playoff drought, but to go beyond.
Tony: I like Keegan Murray a lot, but I think the Kings made the wrong pick yesterday. Think is the most important word there. Monte McNair and the Kings could be right. Murray could be better than Jaden Ivey. Murray could be just what the Kings need next to Domantas Sabonis and De'Aaron Fox to finally make a playoff run. But I think it's both fair and appropriate to seriously question any Kings basketball decision, especially one that goes against NBA consensus like this. The history speaks for itself.
The Kings weren't the only team that was high on Keegan Murray. The Spurs, an organization that has earned plenty of trust, are a good example. This isn't Marvin Bagley over Luka Doncic. And it's not saying much, but I have more faith in this front office than I did in Vlade Divac and his buddies. Monte McNair did a lot of work on this. We know Murray is an analytics darling, and McNair's draft history is solid. If he's right and Murray proves to be the better player, I'll be the first to give him his praise. But until then, I guess we just have to sit here and hope that the Kings finally got one of these we're smarter than everyone else decisions right.
Beyond the Murray selection, the Kings had a pretty uneventful draft. Yes, McNair has plenty of time to make trades and improve the roster before the season opener, but teams can and do get significantly better on draft night, and that wasn't what the Kings explicitly did this year. They drafted the guy they wanted, landed Sasha Vezenkov, a lower level European prospect that may or may not ever play in the NBA, and made some extra cash by selling 2nd round picks. It was a boring and uninspired night from a franchise that still has a lot of work to do before their playoff hopes become a reality.
Greg: I put my thoughts on record before the draft, just to make sure it wouldn't seem like I was simply making excuses after the fact:
Just to put it on record: I'd prefer the Kings take Ivey (assuming top 3 goes as expected), but I won't be mad if they take Murray. I think Ivey has higher upside but I think Murray will also be very good.

— Greg (@gwiss) June 23, 2022
I would have picked Ivey, but I don't think the difference between Ivey and Murray is big enough to be overly upset about today. Ivey seems to have the higher upside, and god knows I want the Kings to capitalize on lottery luck and land a true superstar. But Murray is also really, really good, and there's a path for him to become a superstar too. We can quibble about who we think is more or less likely to reach that highest level, but at the end of the day we're all guessing, and there's perfectly sound arguments to be made in favor of either player. But the Kings got a big man who is a good defender and can space the floor, which is exactly what every team in the NBA is looking for in a big man.
I wish the Kings had done more yesterday. I do. I feel like we've spent the last few years waiting for a big swing and instead we keep getting incremental improvement. But I also didn't think it would make sense to trade for John Collins once the Kings had drafted Murray. I still hope the Kings can make another trade, whether that involves Harrison Barnes, Richaun Holmes, or others, to bolster the overall talent level of this roster. I know the Kings aren't the masters of free agency, but there's still plenty of time for trades to happen. I'm disappointed right now, but I also know the opening day roster could still look very different.
I keep coming back to the idea of "time will tell". We can question a draft pick, but time will tell if this was the right decision or not. This isn't to suggest Monte McNair should get endless time because we always need to wait to evaluate the next moves. He can be judged based on the totality of his tenure. But I find it strange to rush to judgement on yesterday's pick. History hasn't been kind to Kings fans in the draft, but for now I'll hold onto hope that this time will be different, even if history tells me otherwise.