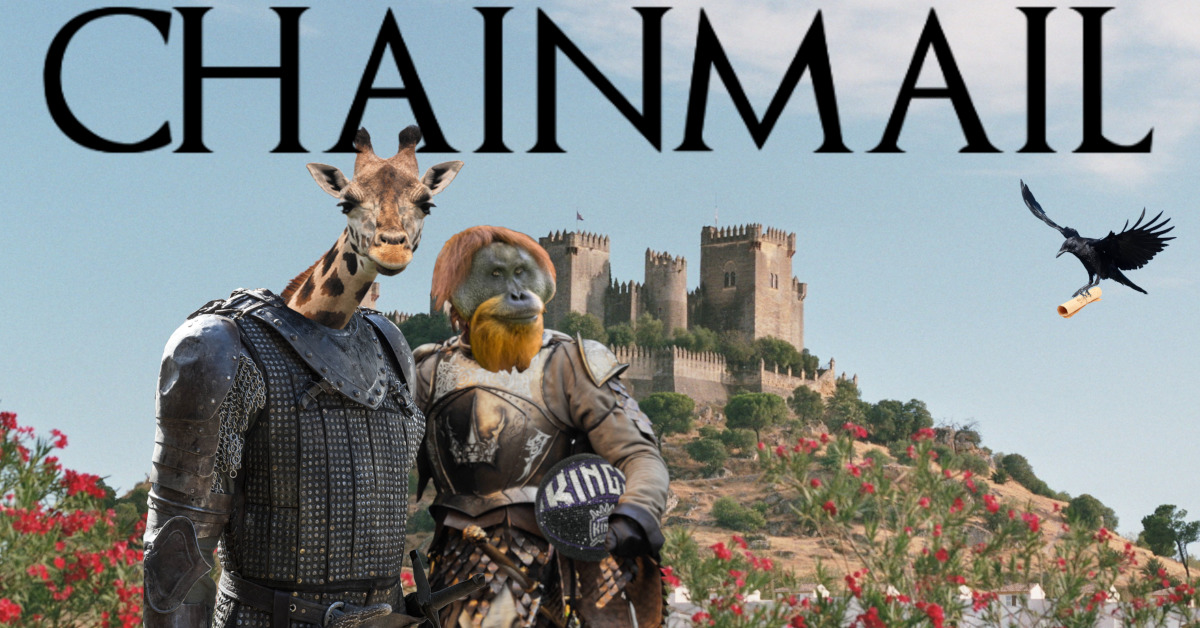 Welcome back to Chainmail! We had some great questions this week, so let's dive right in, shall we?
From 1951:
When the Kings hire Mark Jackson, what are you going to do with the time you used to spend on the Kings?
Tim: My fandom and willingness to watch bad basketball has really eroded over the last eight or nine months, but the Mark Jackson hire would essentially put the nail in the coffin for me actually caring about this team. There's no way I can invest the time or emotional energy into an organization that categorically refuses to do the sensible thing at any time.
As far as things that I'll do, spending time with my family, jumping on the trampoline, swimming, working on DIY projects, getting through another puzzle, and getting back to my two-books-per-week rule would all be wonderful consequences of the Mark Jackson decision.
Will: Man, I can't even fathom what life would be like free from the clutches of this team. To borrow from The Shawkshank Redemption, I've been institutionalized by the franchise and I'm not quite sure what remains of my time on the other side of the wall. I couldn't exactly quit all things Kings, but I'd certainly pull the ol' Tom Ziller and become a much more general fan of the NBA. I'd spend more time feeding my soul instead of depleting it - getting more use out of the Criterion Channel subscription, getting through the novels on my night table a bit quicker, prioritizing good basketball when I do watch. Hell, I've put off doing my own writing for a few years now in order to get through the endless slog of previews so maybe.... do... that?
I couldn't quit completely. I've got Tony and Jerry to look forward to and all of you I have to harass in these mailbags... but yeah. Just generally be happier, I guess?
From Rob Hessing:
Name the best player that the Kings can add to their roster this summer (excluding rookie picks), and how the Kings get him.
Tim: Are we including the ability to make trades in this scenario? If so, John Collins is probably the most reasonable answer. The Hawks weren't as good as they hoped this year and Collins has been unhappy in Atlanta for some time. He's also the sub All-Star level of player who isn't going to cost an arm and a leg or a Tyrese Haliburton. The Kings could probably snag him for some combination of Davion Mitchell or the pick and Harrison Barnes, although it would probably be a three-team deal since the Hawks want to win now.
Outside of trades, Kings General Manager Vivek Ranadive Monte McNair could consider a handful of guys with the MLE. Malik Monk would be an upgrade at the starting shooting guard position; however, the Kings already have a dozen near-starting caliber off-guards right now. TJ Warren represents a higher risk, higher reward signing, as he's a starting-caliber wing who has dealt with injuries for the majority of his career and he's coming off of another major one this summer. Otto Porter is an old Kings crush who played solidly for the Warriors this season, but I can't imagine that his play will hold up for this roster. Finally, Bobby Portis is the dream, but I just don't see it happening.
Will: I'm going to go ahead and say this one again in the hopes the universe hears it... Cam Johnson. I really think Robert Sarver is going to start feeling the pinch with all of these winning players wanting winning contracts and with Ayton due for a huge payday, I can see Sarver asking GM James Jones to get what he can get for Cam Johnson before that contract comes due. I'd say a future first round pick and matching salary like Mo Harkless could get it done under the right circumstances, but this is all predicated on Sarver being very Sarver-y. I agree with Tim on Malik Monk, disagree a bit on the attainability of Bobby Portis but generally, I think the Kings are going to have a tough time attracting any A or B level free agents this season... regardless of who they pick from these three meh-to-terrifying coaching finalists.
From jwalker1395:
Assuming we stick at #7, and the top 5 is Chet, Jabari, Paolo, Ivey, and Murray, what are you doing with the pick?

Trade up? Trade out? High upside swing on Sharpe/Mathurin/other, or a high-floor role-player like Agbaji?
Tim: I would shop the pick heavily for a guy like John Collins or someone else of that caliber who may be available, but assuming that doesn't happen, I'll probably take Benedict Mathurin. He's a wing who can knock down three-pointers with ease (38% from deep on 316 attempts over two seasons), and his motor/flashiness would be fun next to De'Aaron Fox and Domantas Sabonis.
Will: Since this is framed with what I would do with the pick, I'd absolutely keep it and be happy with a good number of forwards available in this range. Obviously Bryant and Brenden are going to have a deeper read on those potential guys at this point, but any of AJ Griffin, Bennedict Mathurin, Tari Eason would make me happy. I also wouldn't be surprised to see a trade down or a reaching pick for a guy like Jeremy Sochan. Maybe the Hornets would give up 13/15 and a cheap vet like Cody Martin for the #7 and the Kings could nab a Jalen Duren or Mark Williams big to go along with a player like Sochan. Bottom line is... keep the pick and maneuver from there.
From jlandweh:
With the draft lottery upcoming, who would be your dream additions to the Kings from the draft?

If we jumped to #1?

If we jumped into the top 4?

If we land in the dreaded 7-10 range?
Tim: I cannot decide between Chet Holmgren and Jabari Smith Jr. I can't do it. I know who Monte McNair would pick - Jabari Smith - as he's far more ready to contribute at this moment, but Chet could be incredibly special long-term. As of this moment, I lean 51% Chet and 49% Smith Jr.
If we have the fourth pick, and assuming Paolo, Chet, and Jabari are gone, I'll swing for the biggest homerun and take Jaden Ivey, especially since I'm not convinced that De'Aaron Fox is long for this roster. Ivey could work alongside Fox as another scoring option off of the ball, but his ceiling his high enough that he could take over as one of the primary options if/when De'Aaron is traded.
In the 7-10 range, I'm hoping and praying that Keegan Murray slides, and if not, Benedict Mathurin is my guy.
Will: I answered that last one in the question above so I'll just stick with that but as for the other three: If we jumped to the top spot, I'm absolutely not stressing about who the pick is between Holmgren and Smith Jr. I see the merits in each, I'd be tickled to death with either and while we all know I'm a sucker for the weird, multi-faceted noodle boys, I'd legitimately be happy with either. With the #4 I'm taking Ivey unless Paolo Banchero is jumped by someone unexpected and is available. Again, the Kings need talent plain-and-simple so I am happy with either of those two guys at the #4 spot should they be there. This draft doesn't have any obvious "hellllll no!" types in the top 4 and the Kings are so in need of a talent influx that I'm fine with nearly whatever we can get.
From deepshot22:
What current playoff team do you see the Kings emulating to get back into contention? I love seeing the successes of the Grizzlies. Are we capable of replicating what they have done/created? Is the Bulls route an option? Or could we more likely duplicate what the Cavs, Timberwolves or Pelicans have done?
Tim: I don't think the Kings can emulate any of those teams until they find a true star player. The Grizzlies have Ja Morant, the Bulls have Zach LaVine and DeMar DeRozan, the Cavs have Evan Mobley (and maybe Darius Garland and/or Jarrett Allen), the Timberwolves have both Karl-Anthony Towns and Anthony Edwards, and the Pelicans have Brandon Ingram and Zion Williamson.
I wouldn't rank De'Aaron Fox or Domantas Sabonis over any of those guys, and that's the true issue the Kings face, far more so than which blueprint to follow. Once they acquire said star player, they can start to think about how to build around him.
Will: The Grizzlies, Cavs, Timberwolves and Pelicans all bottomed out for a few years, so no, we aren't emulating any of them. The Bulls aren't really an option because we aren't a talent draw in the same way that Chicago is. If were doing it like anyone, it'll be either the Suns or, honestly, the Bucks. I mean, the Bucks refused to really commit to a tank, just stayed bad-adjacent for awhile and then after picking up decent players in their 7-12 range picks, just lucked out into an all-generational player in Giannis 9 years ago. The Kings are going through a similar phase so... hey all we gotta do is wait right?
But really it's the Suns. They have high draft picks like Ayton so it isn't perfect but they were bad until it suddenly clicked and they weren't. They made a savvy move in picking up Chris Paul, their young star in Booker was finally ready to make that sustained leap, their role players all stepped up. Sac is different in that their young stars are a point and a center but... if they can prove their mettle to others in the league next year, who knows what over the hill, ready-to-prove-them-wrong wing could show up on their doorstep to take them one level higher.
From SPTSJUNKIE:
There's plenty of negativity around here (for understandable reasons), so let's think positive. Imagine one year from now, we have just won 42 games and lost an exciting first round series and you are writing an article about what an instrumental role our new coach played in our successful season.

For each of the three coaching finalists (Brown, Clifford, and Jackson), what are the positives about their styles and approaches that would have led to such a successful season? In other, why is it each of these three might be the right choice?
Tim: Mike Brown: He provides a calm but disciplined atmosphere, and for the first time in his career, De'Aaron Fox feels the need to hold himself accountable to a coach. The Kings develop a defensive scheme that hides weaknesses and enhances strengths, and the Kings make a splashy trade on draft night that lands them a big upgrade at one of the starter positions. Sacramento wins just over half their games, and the chemistry between Fox-Sabonis-Brown is as clear as day.
Steve Clifford: The Kings play ugly, winning basketball. They get after every possession, dive for the loose balls, and are manic everywhere on the court. Clifford, like Dave Joerger, pushes Fox to push the ball down the floor on every possession, but he also teaches him to pull back and run the offense through Sabonis if things are dicey.
Mark Jackson: Jackson convinces the Kings that everyone hates them, no one believes in them but him, and they have to prove everyone wrong. Sacramento's defense clicks behind his schemes, the offense is good enough to get by, and Domantas Sabonis is selected to the All-Star team after putting up 20+, 13+, and 7+.
Will: Are you "What If Vlade's Right"-ing this mailbag, Sptsjunkie?! Okay, I can do this. Predicting how they ended up successful:
Mike Brown: Brown provides a methodical approach to the game, he's always well prepared and while he's known for his defensive acumen, his years on the bench of the Warriors has ended up shoring up his offense more than anyone had originally thought it would. His team is close knit, they play intelligent basketball on both ends of the court and while they aren't great at either offense or defense, they find a way to win close games and squeak by when they need to.
Steve Clifford: The Clifford Kings wreck havoc on opposing defensive with an aggressive front line that is always trying to put pressure on opposing guards. They aren't the prettiest offensive team in the world, but Fox and Sabonis put up big numbers every night and everyone else fills in as much as they can. While they're not very efficient on the offensive end, the steals and forced turnovers they average give the Kings enough extra possessions to make up for it.
Mark Jackson: The Jackson Kings play pissed off. They're close knit, trying to get put some edge and swagger back on the court in Sacramento and bust their asses for every loose ball. Moving a shot blocker into the starting center role and having Domas play from the key and high post as a power forward pays off for a season and while he'd prefer center, the Kings win enough based on his Webber like presence that he isn't complain too much one season in.
From Kingsguru21:
I'm going to assume for a moment that the Kings A) hire Mike Brown, B) draft and trade well, and C) get an useful player in FA.

Provided these things, what conditions do you think it would take for De'Aaron Fox to be a 1st time All Star?
Tim: For the ease of argument's sake, let's say no All-Star caliber players shift divisions this summer. If that's the case, De'Aaron Fox has to beat out all but five of the following Western Conference guards next season:
Steph Curry
Damian Lillard
Ja Morant
Chris Paul
Luka Doncic
Devin Booker
(See how hard this is already)
Dejounte Murray
Donovan Mitchell
Anthony Edwards
Klay Thompson
Shai Gilgeous-Alexander
(Where I have Fox ranked now)
Jordan Poole
CJ McCollum
Desmond Bane
All Fox needs to do is outplay several players who are clearly better than him, hope for multiple, catastrophic injuries, and hope that the Kings are somehow good next season. As our very own Rob Hessing once said, the league's guards are getting better faster than Fox is progressing, which is why I don't see an All-Star appearance in his future.
Will: Two of Ja Morant, Chris Paul, Steph Curry, Luka Doncic will have to suffer sever injuries to start the season.
I can see old farts like Paul or a young guy like Dejounte Murray not making it onto an All-Star squad next season but it is going to be incredibly difficult for Fox. The Kings will have to be a Top-6 team in the West for Fox to be considered and even then I could see them giving the nod to Sabonis instead.
From Marty:
Favorite childhood/sugary breakfast cereal you could still proudly eat an entire box when nobody is looking.
Tim: Cinnamon Toast Crunch is the GOAT cereal, but I can also smash a bag of RAISIN BRAN CRUNCH any day. Yeah, that's right. RAISIN Bran Crunch.
Will: It's probably gonna shock friends that know me when I say something other than Malt-o-Meal's Cocoa Dynobites (because I couldn't easy crush a bag of that in a day, in my prime) but I'll go with Cinnamon Toast Crunch. I'm in a soggy CTC mood right now and that sounds absolutely delicious.
From sonny:
Why do birds suddenly appear?
Tim: They aren't real. Have you ever seen a baby pigeon? Why don't we eat any eggs but chicken and occasionally quail? Some can fly and some can't? Not. A. Real. Thing.
Will: Just like me, they long to be close to you.