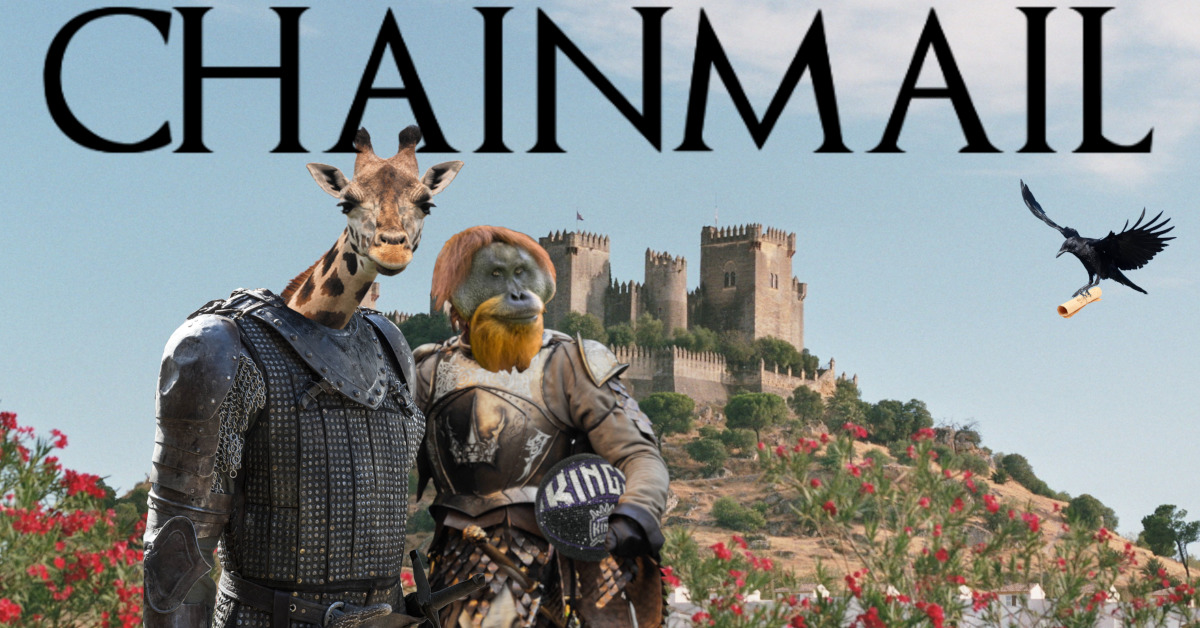 Welcome back to Chainmail! This week, Will is OUT: Getting fitted for a gold jersey, so the lovely Tony is joining us! Whatever you do, don't ask him about the origin of pizza.
Let's jump right in!
From jwalker1395:
Going into this season, I believed that this Kings roster was the most talented in quite a few years. Was I right? If so, then is this start to be blamed mostly on Walton or on execution from the players? If you disagree with that initial statement, is Monte the one to blame?
Tim: I think there are probably two teams up for debate for "most talented since the playoff drought began" (what a sad little contest, but I digress), and those teams would be this year's squad, and the Thomas-Gay-Cousins score from a half-decade ago. Whichever one of those you select, it's vital to make the distinction between "most talented among a group of awful teams" and "actually talented", and we're seeing that distinction right now. The Kings are a mediocre team; they're not great, they're not terrible, and they've played that way a dozen games into the season.
From the perspective of fault, the 5-7 record thus far is kind of on everyone. Luke Walton isn't particularly inspiring or effective at his job, the team doesn't seem to sport any on-court leaders that can force guys like Fox and Hield to play defense, and Monte McNair assembled an incomplete roster that has one starting-caliber wing in Harrison Barnes. All of that being said, I think the Kings probably make the play-in, although it'll be more by default than actual success found.
Tony: I agree with your assessment of the roster heading into the season, and I still believe that this is the most talented Kings roster in quite a few years, but your level of disappointment over how the Kings have performed thus far is likely tied to your expectations, so that might be where we differ on this.
My expectations for the Kings this season wasn't particularly high. I believe this roster is a Western Conference play-in game contender. Anything better than that would be a fun surprise, and anything worse than that would be pretty terrible. Is it disappointing that this can be the most talented Kings roster in years while also having fairly low expectations? Yeah. But if I look at how the Kings are performing vs. other Western Conference play-in contenders, they are basically where I expected them to be at this stage, right? They are 5-8 after one of the more disappointing losses of the season vs. OKC, and currently slotted 11th in the Western Conference with a ton of games left to go.
I still get very frustrated watching the day-to-day play and operations of this basketball team. The OKC loss was another low point, but when I zoom out a bit, they are sort of where I expected them to be. I guess maybe my answer to this question inherently places some amount of blame on Monte McNair for both retaining Luke Walton, a coach I don't particularly trust, and not upgrading the roster to a place where my expectations can be higher than a play-in berth. I think it's fair to criticize McNair, and I have, but I don't think we have enough information to arrive at the conclusion that he's bad at NBA general managing, so I'm trying to let things play out a bit longer before believing another basketball ops leadership change is necessary.
From AcroThunder:
What do you think about adding Metu to the starting lineup and sliding Barnes to the 3?
Tim: I'm a fan of moving Moe Harkless to the bench, but I do not like the idea of Metu in the rotation, much less in the starting lineup. I know he's shown some skills on the offensive end of the floor, but his defense is pretty atrocious. I would much rather start Davion Mitchell next to Hali and Fox and bring Hield's offense off of the bench.
Tony: This question was asked before we saw it happen against OKC, so good call by you, but I'll share a possibly-unpopular opinion here: I don't really see it with Chimezie Metu. He has some offensive skills and plays pretty hard, but his shot selection is often brutal, and I've rarely seen him not look lost defensively. He reminds me of Skal Labissière. I liked Skal, he showed some offensive skills, but I never saw a complete playable NBA player there.
Despite my Metu skepticism, I'd be fine giving him a shot in the starting lineup if the stakes were lower. If this were another developmental year, go for it. If it's late in the season and the Kings are out of the playoff race, go for it. But this is a team that is trying to win games, and I don't think starting Metu is going to help them do that.
From TheKingsGuard:
Mock Expansion Draft Scenario: You get to choose one of Fox or Dejounte Murray to be your point guard of the future, however, you have to decide now with all of each of the player contract obligations and Fox's current slump. Who do you choose?
Tim: Fox has the higher ceiling - I'll take him.
Tony: I'll take De'Aaron Fox. I don't think that's a lock to be the right call, but I can live with myself if I take Fox and get it wrong.
From HongKongKingsFan:
Why has Jahmi'us Ramsey gotten the call over Louis King?
Tim: This is an interesting decision by the organization, and these sorts of situations are always tough to decipher. Does Luke think Ramsey will provide more than King? Does the front office believe that Jahmi'us can be a piece moving forward, and that's why they're giving him the minutes? Is King considered more of a long-term project?
Personally, I would bring in King over Ramsey, but I would also play Kings over Harkless, Metu, Jones, and even Terence Davis, so maybe I'm not the best guy for this question.
Tony: I like both players about the same, so I don't have an issue with Luke Walton's decision here. To me, Jahmi'us Ramsey is a little bit more assertive than King, so maybe that is a factor for Walton. Ramsey plays with a confidence that you don't find all that often in later round picks. Justin Jackson comes to mind as a passive wing player who actually got a decent opportunity here, and just never did anything with his minutes. With Ramsey, and I think we saw this vs. the Spurs last week, when he's on the court, he's trying to make stuff happen. He'll aggressively look for his offense, he'll take it to the rim, he'll try to play some physical defense, etc.
I'm not saying that King is Justin Jackson level passive, but I can understand why Walton would give Ramsey an early look because of that aggressiveness. I wanted to see more Ramsey minutes coming out of the summer league he had, too.
From deepshot22:
If the Kings wheels continue to fall out, but Holmes continues his great play, should they consider trading him?
Tim: No, I don't think so, unless he's being moved in a much larger package, or if the other offer was simply astounding.
We know that the Kings have at least two core guards on the roster in Haliburton and Mitchell, and even if the Kings decided to blow things up (they won't, trust me) and they sent out Barnes and Hield and even Fox to restart, Holmes provides critical stability for those two young guards, especially Tyrese Haliburton. He's one of the best pick-and-roll players in the league, he just turned 28, and his contract is one of the highest values in the NBA. I don't think any of those factors (except for his age), are changing anytime soon, so I'll keep him around for at least a couple of years.
Tony: Richaun Holmes is awesome. I couldn't be more pleased with his development, and if he is the starting center in Sacramento for the entirety of his contract, great. But if the wheels fall off again, I'm taking nothing off the table with this roster. I'm picking up every call, listening to every offer, and if something gives the Kings a better shot at finding a legitimate star, I'm probably making the move.
From KangzFan18:
Thinking back to your win-loss prediction at the start of the year, whatever it was, would you change it now after 12 games have been played?
Tim: No, not really. I predicted 39 to 41 wins with a 10th seed finish, and that still feels pretty right to me.
Tony: Nope. I didn't think too hard about the final record heading into the season, but I predicted that this team was going to make the play-in, and I still think that is where this season ends.
From SMF-PDXConnection:
What are you thankful for in 2021 that helps keep you grounded and sane as fans of this team?
Tim: There are two things I'm extremely grateful for above and beyond just keeping me sane from this team. The first is the wonderful group of writers that we have at The Kings Herald. They are legitimately some of my best friends on this planet, even though I've met fewer than half of them in person. Lately, it seems there have been quite a few of us (myself included) that have been going through some trying times in our personal lives, and there is no group of people on this earth quicker to offer advice, empathy, a phone number to call, or simply general support. They are truly wonderful people, and I'm so, so grateful to have them in my life.
I'm also incredibly grateful for the family that I have at home. I have a wonderful wife of almost 10 years, as well as a 5-year old biological son and a 2-year old biological daughter. It may sound odd to refer to them as my biological children, but over the last year, my wife and I have also entered the chaotic, horrifying, and wonderful world of foster care. Currently, we have a nine-month-old with us who we received into our care at a little over three weeks old. He's since been hospitalized twice, but he's doing very well overall. Later this week, he'll be adopted by his biological grandparents, and we've gotten to watch and support them through that process, which has been both difficult emotionally and amazing to see.
There are many, many, many things irrevocably broken about the foster care system, from poor decisions made by judges to a lack of support for biological parents to awful foster parents to a lack of trauma-informed care training, and everything in between, but in the end, there is also a child who is traumatized, potentially abandoned, or at least feeling that way, and in need of a safe, loving home, and that's all we can try to provide, as well as helping get the child back with his biological family if that's the best path moving forward. It's likely the hardest thing my family has ever taken on, but it's been one of the most character-building journeys as well.
Tony: I am pretty good about not letting the performance of this basketball team impact my 'real' life in a negative way. In fact, I would say the opposite is true. The Kings have made my life objectively better. They didn't do it on purpose, but without the Kings, I don't know what I'd be doing with the chunk of time they occupy in my life. I'd be willing to bet that the alternative wouldn't be very healthy or productive.
I can say the same about friendships – if I didn't meet the people I've met through The Kings Herald, especially over this seemingly endless run of isolation and uncertainty, who would be filling that void? Who would I lean on for advice, kind words, a laugh, a distraction, if it weren't for the Kings? It wouldn't be anyone better than the people I have met because of this basketball team, that's for sure.
It may not always seem this way on twitter, but I have calmed down so much over the last… two? years. If the Kings blow another dumb game (Lu Dort, you asshole), what am I supposed to do about it? Why should I carry that with me after the final buzzer? I'll just fire off a few therapeutic shitty tweets, and call it a night.
I guess that perspective is what keeps me grounded. There are just so many things more important than Sacramento Kings wins and losses, and the positives that Kings fandom has given me shines so much brighter than the negatives. That makes the low moments very easy to shake off. So thank you, online Kings community.
I also got married this year, and there's a 10-15% chance she's reading this right now, so, yeah. I should probably say that I'm thankful for her, too.
In closing, thank you for having me on chainmail this week. Pizza is a Greek food, and anyone claiming otherwise clearly hasn't read this objective investigation from The Greek Reporter.