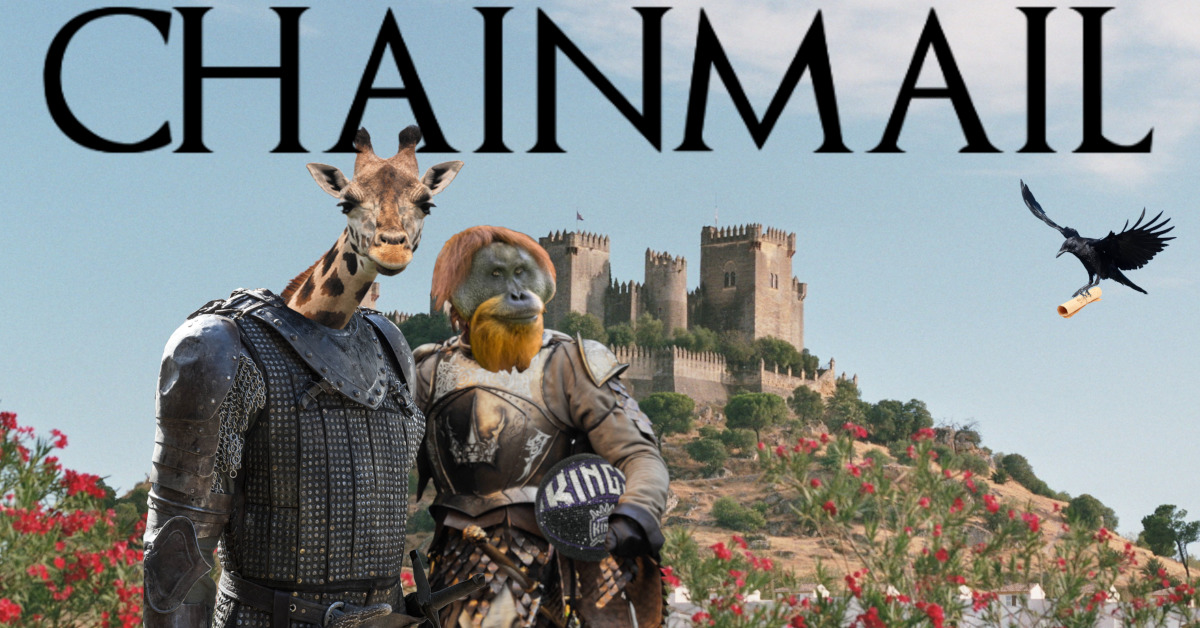 Welcome back to Chainmail! We had a ton of good questions this week, so let's jump right in!
From Hobby916:
What specific scheme/plays would you like Walton to integrate more often this season? And no snarky answers about wearing his mask, watching the tape, etc.
Tim: This question probably deserves an entire article's worth of response, but I'll respond with one thing I would like to see added and one scheme I would prefer to change.
As far as adding something goes, I don't understand, for the life of me, why Marvin Bagley isn't involved in more pick-and-rolls. He's one of the faster big men around the league, and he's athletic enough to grab just about any lob thrown around the rim. He's very Willie Cauley-Stein-like in that respect. Yet, despite those natural-born assets, Bagley was targeted in fewer than two pick-and-rolls per game last season. Of course, part of that is due to the fact that he's a soft player who doesn't roll hard and avoids contact at all costs, but Walton needs to force him into that situation until he's more comfortable. The Kings are leaving points on the table by refusing to put Bagley in the screening game.
I would also like to see the Kings stay away from constantly switching on defense as they did last season. Even with more competent defensive players on the roster, there still aren't enough versatile stoppers available to make a switch-only scheme work. There's a time and a place for switching, and there's a time and a place for fighting through screens and sticking with your man.
Will: I'm 100% with Tim on both of these, especially the latter of the two. The Kalamian tenure was, and I guess still is, a bit of an enigma to me. A well thought of defensive assistant, with success nearly everywhere he's gone, who had a knack for getting good defense out of squads with shuffling rosters and starting line-up - I'd expected the Kings to be below the average in his tenure, but never historically trash. Was the all-switching scheme something that took multiple off-seasons to full settle into mentally? Was the Kings personnel so off-kilter that the match was doomed to fail from the start? Was it a secret tank job that I should actually commend for both its audacity and subtlety???
Whichever, the all-switch-everything defense wasn't right for the Kings and outside of certain spot line-ups, I don't want to see it for a long, long time. Run a box-and-1 for all I care, just try literally anything else.
From RobHessing:
Who are (in order) your three favorite, current Kings?
Tim: Tyrese Haliburton times three. I love him with all of my heart, soul, and mind. I would leave my wife for him.
Will: Tyrese is absolutely my favorite player to watch on this team and the gap widens seemingly every time he's on the court. I'm lower than consensus on what I see his ceiling as and I still absolutely love the kid and his feel for the game. The hitch in his shot, the extra flair on a pass through traffic - he's incredibly unique and really easy viewing.
Fox is a reliable #2 for me. He's a shush-the-background-conversation to watch level guy when he's on the floor - if you're distracted and look away for a even split second, you could miss the highlight of the night. The one thing I was nervous about with Fox coming into camp and packing on those pounds was that he might lose the edge on his incredible speed and its a relief that the kid still seems fast as ever in pre-season.
My third guy is currently up for bid. I love Richaun's energy, I love Harrison Barnes' steadying presence and as the kid in high school who was the Mr. Hustle and lockdown defensive guy, I know Davion Mitchell is probably going to end up being that guy here after like three games of regular season action... but it's open for now. Someone sweep me off my feet.
From Brown.says.Good.or.Bad.
Given how the current roster looks, is holding onto Buddy Hield this season good or bad?
Tim: Buddy Hield is still kind of the odd man out in Sacramento, as they have one too many guards and they're one short of a forward/wing. Thinking back to the Kuzma trade, the roster would have a much better balance if the guard rotation was Fox/Hali/Mitchell/Davis and the starting forwards were Barnes and Kuzma. Monte McNair doesn't necessarily need to dump Buddy at the first sign of interest, but swapping him for a bigger perimeter player, even one with a slightly lower talent level, would do wonders for the rotation.
Will: It's... fine. Media Day saw Buddy a bit snarky after being a Vlade-Divac-tipped-rebound away from being a member of the Los Angeles Lakers, but he also seemed to have an understanding of where the Kings wanted to use him and for how long and the fact that he's accepted it, means that I trust what the Kings are doing right now. Buddy is never not 100% himself and if he was livid about what was going on, we'd know. He is also probably their starting small forward and that's not ideal. It should be a priority to move him but if we have to wait until the deadline to do so, ugh, okay.
Now, the Kings start out 1-8... that might be a different story.
From jwalker1395:
Is Holmes the long-term solution at center? Can he be the guy that makes the Kings a regular playoff contender? If not, what's your solution for the front-court long-term?
Tim: Last year, the following players were starting centers for a majority of the games on a playoff team: DeAndre Jordan, Serge Ibaka/Ivica Zubac, Marc Gasol, Enes Kanter, Alex Len, and Tristan Thompson. Richaun Holmes is better than any of those guys at the current stage of their individual careers. Holmes is probably an average starting center in the league as a whole, but his talent level at his position isn't the thing holding the Kings out of the playoffs. Sacramento doesn't even have a fifth starter, either at the 3 or the 4 spot, and their bench, while improved, isn't wildly strong either. The Kings need top-end talent additions at the wing/forward, not a better center.
Will: Holmes is the long-term solution at center if you invest in the right reserves behind him. Sure, he's a bit undersized and limited in his range, but getting a guy like Alex Len, who can give opponents a different look on both ends, goes a long ways. That being said, Richaun isn't going to make or break this teams ceiling. He'll continue to provide energy, be ultra-switchable, rebound and score a bit. Basically, he'll hold down his position fine. The Kings need an influx of talent in one or both forward spots if you ever want a chance to see Kings playoff games for more than a season or two. Barnes is a good starter and will be for awhile. Wherever he isn't slotted on that lineup card, that's the Achille's heel for all Kings dreams. Get an average starting SF/PF there (and no, don't try to say that Mo Harkless is that guy) and the Kings can hope for 7th seeds for 4 or 5 years.
From markdog333:
John Hollinger's Expected Extension Value (EEV) for Marvin Bagley is 4 years, $20 million. If that was the price to keep Marvin, would you re-sign him?
Tim: Not if it was for that many years. If you're offering me two years, $10 million, with maybe a second-year team option, I'm in. I haven't seen Marvin Bagley contribute to positive basketball or prove that he can stay healthy enough to show any significant changes to his on-court game. Add in the factor that he doesn't want to be here, and I would rather him just sign a small contract elsewhere next season.
Will: I can squint incredibly hard and see a "Steph Curry's 1st extension" if the Kings decided to go more than two years on whatever they might offer Bagley. I'm not saying it'll pay off in anyway close to the way it did for the Warriors, nor do I think Bagley would take a contract of that value regardless of how poorly he plays this season. 3 years, 21 mil with a team option could be the very bottom of what Bagley could accept and the roof of what the Kings could offer the once promising, now middling kid.
From SMF-PDXConnection:
If a hot dog is a sandwich, is cereal soup?
Tim: Yes, soup can be cold. Not all soups are cooked. It's soup.
Will: Why do I have to keep answering this question?! First on the Patreon episode for The Kings Herald Show and now here?!
Cereal is in no way a soup. Cereal is cereal. The Gazpacho argument is bad. The dessert soup argument is bad. It terrifies me that Tim is a father of real human children and trying to say that "not all soups are cooked". You drop raw ingredients into room temperature broth and eat that? The ingredients are cooked either separately then into the cooked broth or cooked together within the broth at the same time and that ain't happening in cereal. If cereal + milk = soup than any form of chicken + any temperature water = soup. Soup specifically has an interplay between it's ingredients and amalgamates into a soup. Cereal is a processed grain with milk over the top.
Sharing common elements with a particular group or class of things does not necessarily make it part of that group or class. Tim isn't a giraffe just because he also has a long neck and legs underneath that meat and marrow hot pocket he calls a head!