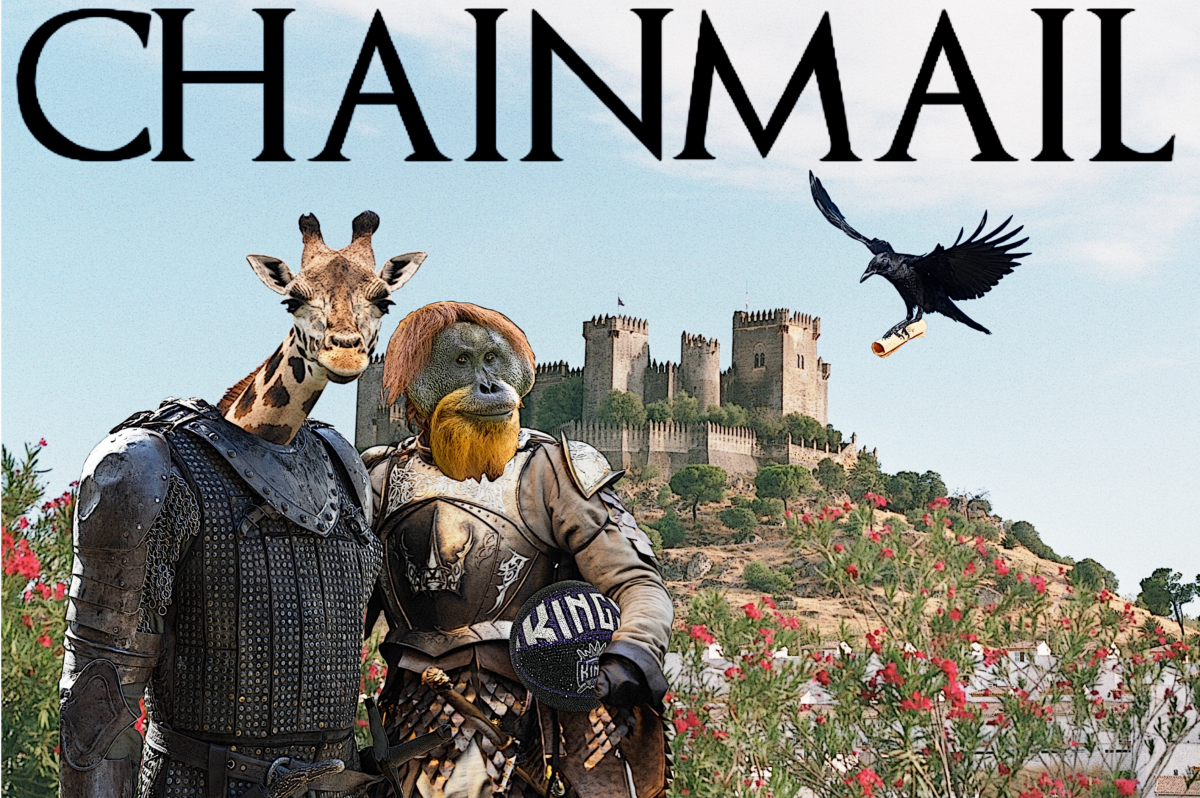 Welcome back to the Chainmail mailbag! We had some fabulous questions this week, so thanks to everyone who submitted a query. Let's hop right in!
From Kosta: Without sports, what do you entertain yourself with? How do you fill the void?
Tim: As any other parent out there knows, my kids take up most of my freetime when I'm not working my full-time job. I have an 18 month old who's starting to speak, as well as a 4 year old who demands that he battle Bowser (that's me) as Mario (that's him, wearing a legit Mario hat) every spare second of every day. Aside from that, helping to run the site and publishing 3-4 articles per week takes up another good portion of my time. Once my wife goes to bed around 9:00pm, I pick up the old PS4 controller and play Warzone or The Last of Us 2 until it's far too late into the night.
Will: Before quarantine I had this list in my head of books and movies and shows that I needed to watch before I died, the ones that I would get around to when the time was right. I took COVID-19 as a sign that I should probably start going down that list. I invested in a projector a few years back, so every night I pick a film I've never seen and wished I had and I throw it up across 200 inches on my wall. I take walks a few times a day, rearranged my home a couple of times and am slowly bribing the dog I adopted a year ago into liking me. I'm also in the middle of editing and adding to a collection of my writing for a novel that has a very soft deadline of this winter at some point, but that is moving at a much slower and less entertaining pace than everything else.
From RORDOG: If you had a time machine and could send college Boogie back in time to get drafted by the Kings in 1997. His skillset is the same, but the environment in which he develops as a pro are obviously different. This also sets off a chain reaction in which Vlade never signs with the Kings, but everything else roster-wise stays the same. Do the early 2000 era Kings win a championship with Back to the Future Boogie at Center?
Tim: I don't really see how you can argue against the Kings winning a championship that season. Taking Vlade's 2001-2002 season and comparing it to Cousins' fifth year, which would be his adjusted season if he were drafted in 1997, isn't particularly fair in most areas. Using a per possession calculation to account for the differences in pace, DeMarcus averaged 26.6 points, 14 rebounds, and 4 assists per 75 possessions, compared to just 13.8 points, 10.4 rebounds, and 4.7 assists for Divac. An argument might be made in Vlade's favor because of the ability to run the offense through him in the high post, but Boogie actually recorded the higher assist percentage as well, 20.4% to 14.8%. A glance through the other assorted numbers gives DeMarcus the advantage in almost every other area, from PER to TS% to Box Plus-Minus to Value Over Replacement Player. As legendary as Vlade was in his playing days, there's not really any debate that Cousins was the more talented contributor in his time in Sacramento.
Of course, most of those numbers have to do with one side of the court, and Vlade Divac was one of the stalwarts to take on Shaquille O'Neal, but DeMarcus wasn't exactly afraid of contact on the defensive end of the floor either. He likely would struggle with foul trouble in a series against the Lakers, and that's exactly why you have a guy like Scot Pollard on the team to absorb some of that physicality and those infractions. And finally, DeMarcus Cousins likely would have never tipped that ball to Robert Horry.
Will: I'm a little confused here when you say there is a chain reaction in which Vlade never signs but that everything else roster-wise remains the same? Do the Kings trade for Chris Webber in 1998 if they have young Boogie on the roster? Do they see Webber and Cousins as different enough to justify having them both? If we are simply switching the Vladefather for Boogie, I think the Kings win 73 games at some point during that run. Demarcus picked up a ton of ticky-tack fouls in his run with the Kings and the NBA allowed more of that stuff to slide in the late 90's and early 2000's. Boogie was certain not afraid of big bodies and I could see him being mouthy enough to get into Shaq's head a bit. Pete Carrill and Rick Adelman working with C-Webb and DMC in the high-low game would have been the stuff of legends, if those two were willing to share the limelight. However, if we're talking chain reactions here, I don't know if the Kings trade Richmond and Otis Thorpe for Webber if they have Demarcus waiting in the wings. Maybe Webber throws an even bigger fit of going to the Kings so Sacramento tries to swing for Shawn Kemp, Antonio McDyess or get in on the Jerry Stackhouse trade; all guys who were sent packing in the €˜97-'98 season.They've already drafted Peja by €˜97 and when Peja finally gets his NBA legs under him in 2000, it would be Boogie's 4th year in the league at that point, which means those two go into their prime together. Depending on the other moves of prime Geoff Petrie, I bet the Kings still end up contenders, with less of a peak and a longer window for success.
From MaybeNextYear: How do you define "success" in Orlando? Is it simply playoffs or bust?
Tim: From a team perspective, yes. While it won't be an easy path to the postseason by any means, this will be the best opportunity that the Kings have had to break the playoff drought in 13 years. If you can't get it done, you failed. It's really as simple as that to me. The only exception I'll make to the standard is if the Kings have multiple key guys get hurt or contract COVID-19 and have to sit out games.
From a less rigid approach, outside of making the playoffs, the most important thing that could happen is Marvin Bagley playing well and proving himself worthy of starter-type minutes. In many ways, I would rather the Kings miss out on the final playoff spot if it means Bagley looks like a potential All-Star.
Will: I'm more than happy calling a .500 record in Orlando a success for this season's Kings squad. They were barely in the playoff hunt before this stuff and coming back to win half of their games after this much time off is nothing to sneer at. The real measure of success is having everyone go into the off-season healthy. Having anyone go down with COVID-19 or a major injury would be devastating and a blight on any record the Kings have to finish off the season. This season probably shouldn't be happening and if the Kings are a team that willfully participated in it and subjected their players to a bubble/reverse bubble environment without a legitimate shot at a title, players and potential free agents might not ever forget that. Certain teams could brush that reputation away eventually, but I don't think the Kings are one of those teams.
From AmateurNerd: IF (the mother of all ifs) the Kings squeak into the playoffs under this year's modified format, does it really count as breaking the streak? Compressing the entire regular season into an 8-game play-in is drastic; would a playoff berth in 2020 come with a huge asterisk and SSS (small sample size) warning? Or do we just not give a rat's ass at this point?
Tim: Yes, it absolutely counts as breaking the streak to me. All in all, they'll have played 74 total games (64 regular, regular season games, 8 non-regular, regular season games, and 2 play-in games) if they make the playoffs, and that's about as close to fulfilling a season as you can come without actually playing the entire thing out. I don't want any asterisks or "well actuallys" or "the ninth seed doesn't count" nonsense thrown my way. The NBA provided a reasonable path to the postseason, and if the Kings follow that path and complete the journey, they made the playoffs. End of story.
Will: If the Kings can find a way to get the 8th seed, I think we should all be comfortable accepting that the streak has been broken, while also maintaining a healthy dose of €œwho gives a shit?€... The Kings being an 8th seed doesn't mean that much even in a regular context, aside from extra revenue for the Kings. Once the streak is off the Kings back are they suddenly left with extra clarity on a path to a championship? Do free agents see Sacramento as a destination after an 8th seed in Orlando? The streak should be considered broken, one-hundred percent, as long as we understand that this is one solid rock in the foundation. Not a cornerstone, not some keystone, just a nice flat rock in a pile of dust and pebbles.
From rcubed37: You have been gifted with the ability to eliminate one Kings transaction in the Sacramento era (hiring, firing, signing, trade, etc) from the history books. What do you choose?
Tim: There's no doubt that I'm drafting one of the current or future superstars that the Kings have missed out over the last decade-plus. The question is, who's the most likely to turn into that superstar in the chaos that is Sacramento? Kawhi Leonard almost certainly doesn't transform into a top-5 NBA player, Steph Curry may not get his ankles fixed, and Klay Thompson wouldn't have had a second star to transform him into one of the greatest shooters of all time. That leaves me to choose between Damian Lillard and Luka Doncic, both guards who the Kings passed on for questionable power forwards. In the end, I'm taking Doncic, who is quite possibly the most impressive young player the league has seen in decades. As a second-year 20-year old, he averaged 28.7 points, 8.7 assists, and 9.3 rebounds - only the third player in NBA history to do that in any season. For comparison's sake, LeBron James averaged 27.2 points, 7.2 assists, and 7.9 rebounds in his sophomore year. Once in a generation talents are almost impossible to come by, and Doncic looks and feels like that sort of player.
Will: Having not looked at Tim's answers on this one, I'm going to assume he wrote about Doncic, which is the right decision. As much as I hate Pete D and a million other moves, correcting that one would make up for all the crap that has transpired in the last 15 years. *peeks at Tim's answers right before publishing* Oh thank goodness.
From MichaelMack: What players out there, regardless if they are going to be a FA or not, that you think should be on the Kings radar if they become available or that the Kings should inquire about, whether it be young players with upside, decent players who don't fit with their current team, or veteran specialists/role players?
Tim: Well, thanks for all of the options to choose from, Mike. Can I call you Mike? I guess so, since you can't respond. Anyway, from a free agent perspective, there are a few guys this fall (how weird does it sound to say fall instead of sumer?) who could fit in well with the Kings. Backup or third-string point guard could use an upgrade, as Yogi Ferrell hasn't been particularly effective in that role, and a couple of guys could fill that role. Kris Dunn would be my number one target, and also the most expense. He's a non-shooter who's extremely effective as a perimeter defender: essentially a younger version of Cory Joseph. Even if Kent Bazemore resigns, this roster also needs some additional size on the wing, although the options aren't going to be fantastic. If he plays well in July and August, the Kings could elect to bring Corey Brewer back on a minimum deal. Outside of Brewer, names like James Ennis, Thabo Sefolosha, Solomon Hill, and DeMarre Carroll will likely be the best that the front office can do.
From a non-free agent perspective, a couple of big men could improve the talent level of this roster, all of whom were rumored to be on the trade block at the deadline. Myles Turner may be reaching an end to his career in Indiana, and his ability to both space the floor and protect the rim would solve quite a few problems for Marvin Bagley. He won't come cheap, so the Kings would have to ask themselves if losing a player like Buddy Hield would be worth that acquisition. Aaron Gordon was also reported to be available in February, and his speed and athleticism in transition would look fantastic next to De'Aaron Fox. Gordon was also a highly versatile defender in college, but he's constantly played out of position in Orlando, so if his defensive chops could return, Luke Walton could gain another stopper in his lineup. Of course, Gordon and Bagley are a horrible pairing on both ends of the floor, but I would surrender Bagley and salary filler, likely Cory Joseph, if that was satisfactory for the Magic.
Will: The two men our team should be built around, who will eventually be the focus of everything the Kings do are just old enough to legally drink in the United States. My focus would be on finding as many young guys with talent as I can get my hands on. The Kings are intent on replicating the Timberwolves' Jimmy Butler seasons, with a more horny, less psychotic head coach and a far more amenable, less talented, well-paid small forward. This early on into the millionth iteration of a rebuild and they are dead set of aiming for the middle of the pack as their ultimate success. I understand the eight hundred pound gorilla in the room that making the playoffs can be, but the goal is and should always be doing what it takes to have the longest championship window possible. Hypothetically Fox and Bagley's talents should have cracked that window open and more players that fit their timeline and their strengths and weakness will be the ticket to letting that breeze in.
From MaybeNextYear: If this Kings team were in a larger market (Like LA, for instance), which player would be grossly overvalued?
Tim: Probably Harry Giles. His highlight reel passes are perfect for SportsCenter and his charisma would also go over well with the Los Angeles and national media. Giles is already pretty heavily overrated by the Sacramento fan base due to his relationship with the city and passing skills, so I imagine that would only be amplified in a place like LA or New York.
Will: I'm so glad that Willie Cauley-Stein isn't on this version of the squad because he would have easily been the answer. I shudder to think of the Caruso type hype that would follow WCS every time he played five seconds of defense or caught a lob. I honestly think I would probably be Bogi. They'd find a way to try to get some beef or rivalry going against Doncic or compare him constantly to a Petrovic or Ginobli. An LA or NYC media would certainly push him into a max contract discussion where he didn't belong.