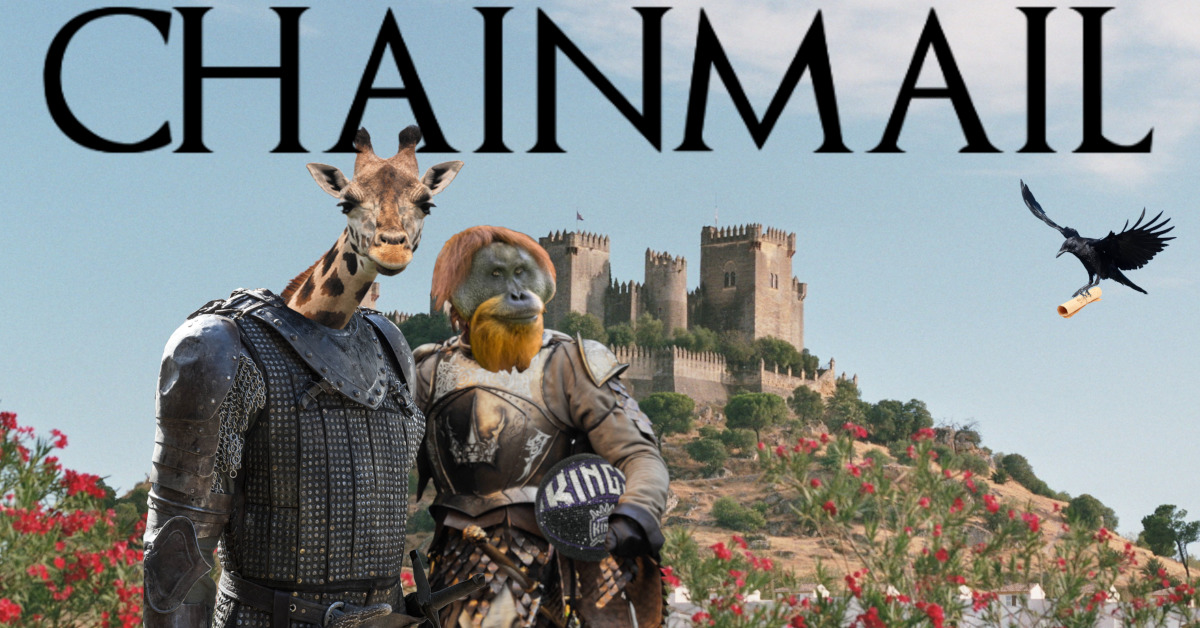 Welcome back to Chainmail! Will is out this week (a tarp fell from the ceiling of Golden 1 Center and fell on him, straining his left pinky, which is his primary photoshop finger), so it's the giraffe or bust! Let's dive right in!
From Kosta:
Why do you stick around?

Yes, for some it's probably more about the TKH community at this point than the actual basketball team, but I'm sure there are other places for folks to find friendship and/or forums to talk about interests/hobbies. We make fun of our €œLucy pulling the football away from Charlie Brown€ tradition of always coming back to see if things change, but 15 years is a big chunk of your life, and is there even a light at the end of the tunnel?
Tim: Man, how many times have I asked myself that question over the last six months or so? I stick around for a few reasons, one of which is the responsibilities of this site. I know in my heart of hearts that the Kings aren't going to provide a quality product on an night-to-night basis, so I'm determined that we'll provide a quality product here.
Beyond that, I do enjoy the ridiculousness of this organization. There's drama to be had, and drama is fun. The Kings literally do nothing right as a franchise, hence their historic playoff drought, and it's sometimes fun to watch the disaster unfold, especially when you know a certain amount of what's going on in the background. And no, I have no faith that things will get better.
Finally, there's the community. That's the community here at The Kings Herald, as well as (most) of the larger community of Kings fans on social media. We have fun, we argue, and we go too far sometimes, but (almost) everyone also knows that we all have what's best for the team in mind. No Leo, you still can't have my number.
Notice how I didn't mention my fandom? I'm honestly not sure of how much of that is left after this year. Whatever's there is certainly hanging on by a thread. Maybe Ziller had it right?
From mthal:
Is there a way for the Kings to shift the chairman/CEO/oversight of the team from Vivek to one of the other owners through some internal voting mechanism? Or is Vivek an outright owner of the team and here to stay unless he sells his share of the team?
Tim: Unfortunately, no. Interestingly enough, Vivek isn't even the majority shareholder of the team. While I don't know exactly how much he owns, it's been reported as less than 20%. So why does Vivek hold complete and total power over this organization?
When the relocation saga was occurring, the Sacramento contingent was desperate to garner approval from David Stern and the NBA Board of Goveronors, hence their famous search for a "whale", preferably one who already had ownership ties. Enter Vivek Ranadive.
As part of his benefits package for joining the ownership group and surrendering his minority stake in the Golden State Warriors, Ranadive was granted the title of controlling governor, which gives him complete control of the franchise, even if a majority of the shareholders disagree with his decision-making. There is one vote that matters in any Sacramento Kings meeting, and that is Ranadive's vote. The only way that Vivek can be removed from power is through some sort of financial misdeed or incompetence, but paying multiple coaches and GMs every season doesn't come close to qualifying. Vivek is here to stay.
From Kangz_Landing:
What is TKH's honest reason why this team has two separate 7-1 stretches, but also is 8-30 outside of those two stretches? I don't believe in the early season reason of €œwe caught injured teams€ because this was the same narrative last year as well. Why has this team been the epitome of Jekyll and Hyde the past 2 seasons? I say this is a coach thing, what say you?
Tim: I wouldn't necessarily say this team has been Jekyll and Hyde. They're just not very good, and not very good teams sometimes find stretches of good basketball. For both of those runs of wins, the Kings played about league average defense, compared to the atrocious play that is typical for this squad. They did, in fact, catch some injury/health and safety protocols luck, but it's also important to keep in mind that just like we get frustrated when the Kings overlook bad teams, good teams sometimes overlook the Kings. We're an easy win on most nights, so on occasion, a couple of solid teams will coast and let the guys get some confidence.
From TheBufferZone:
Which players on our current roster do you expect to still be on the team come Game 1 of the €˜21-€˜22 season?
Tim: De'Aaron Fox, Tyrese Haliburton, Harrison Barnes, Buddy Hield (untradeable), Delon Wright, Terence Davis (unfortunately), Jahmi'us Ramsey, Robert Woodard, and Chimezie Metu.
Marvin Bagley is dumped for little to no value on draft night, Richaun Holmes takes a big offer in free agency, and Justin James is cut, while Hassan Whiteside, Moe Harkless, Damian Jones, Chris Silva, and Kyle Guy are all allowed to walk in free agency.
From eddie41:
Is there something more important for this team than showing up for a game?
Tim: I think it's safe to say that this roster is incredibly immature when it comes to basketball discipline. There are no vocal leaders, no one is willing to get in somebody's face and yell at them for poor play, no one backs each other up, and that's an issue with both the players and the coaching staff. It sounds lame, but this crew doesn't know how to win and they don't understand what it takes to win.
Buddy Hield has been with a losing organization for his entire career, De'Aaron Fox has been with a losing organization for his entire career, Richaun Holmes has been on losing organizations for his entire career, Marvin Bagley has been with a losing organization for his entire career, and Tyrese Haliburton has been with a losing organization for his (very short) entire career. Sure, some of the veterans have been on winners and with champions, but those veterans also don't have the personality to snap these guys out of their habits.
Until we get both players who are willing to show some personality, and a qualified coaching staff, these guys aren't going to develop winning habits, and they're not going to know how to win games.
From Peja:
Right now the only hope I can find is in a fox/haliburton backcourt and luck in the lottery€¦where else can I find hope?
Tim: Luke Walton is probably getting fired in the offseason? That's about all I've got.
From TyrekeFan18
How many games will the Kings win this year, and assuming it's a full season in 2021, how many games will they win next year. Will they make the playoffs?
Tim: My original prediction was 29 wins this year (33-win pace in an 82-game season), but that needs some adjustment with the Fox news. I'm guessing a 1-7 stretch while he's out, followed by a 2-3 finish, putting us at 27 victories and 45 losses, a 30-win pace in a normal season. Great job, Luke!
As far as 2021-2022 is concerned, I think we're 2-3 years away from the playoffs, so I'll roll with 36 wins, assuming they play a full season. The only thing that'll really change that prediction is if Monte cashed out some high-value assets for a major upgrade, which I strongly believe is his goal. If there's a star available this summer, expect the Kings to be linked to those conversations.
From SMF-PDXConnection:
If you were to introduce movies to someone who had never seen a movie before and you had to pick:

A comedy guaranteed to make them laugh

A movie guaranteed to scare them

A movie guaranteed to blow their mind
Tim: Full disclosure - I am not a big movie guy. If you read one of those random lists on social media about the 'Top 100 movies of all-time!", I've probably seen like six of them. I turned off The Godfather, thought Pulp Fiction was just okay, haven't seen Braveheart or Gladiator...you get the point. So, my list is probably going to be lame.
Comedy guaranteed to make them laugh: Stepbrothers
Movie guaranteed to scare them: Quarantine
Movie guaranteed to blow their mind: I don't know if it would blow their mind, but I really enjoyed the twists and turns throughout Knives Out.