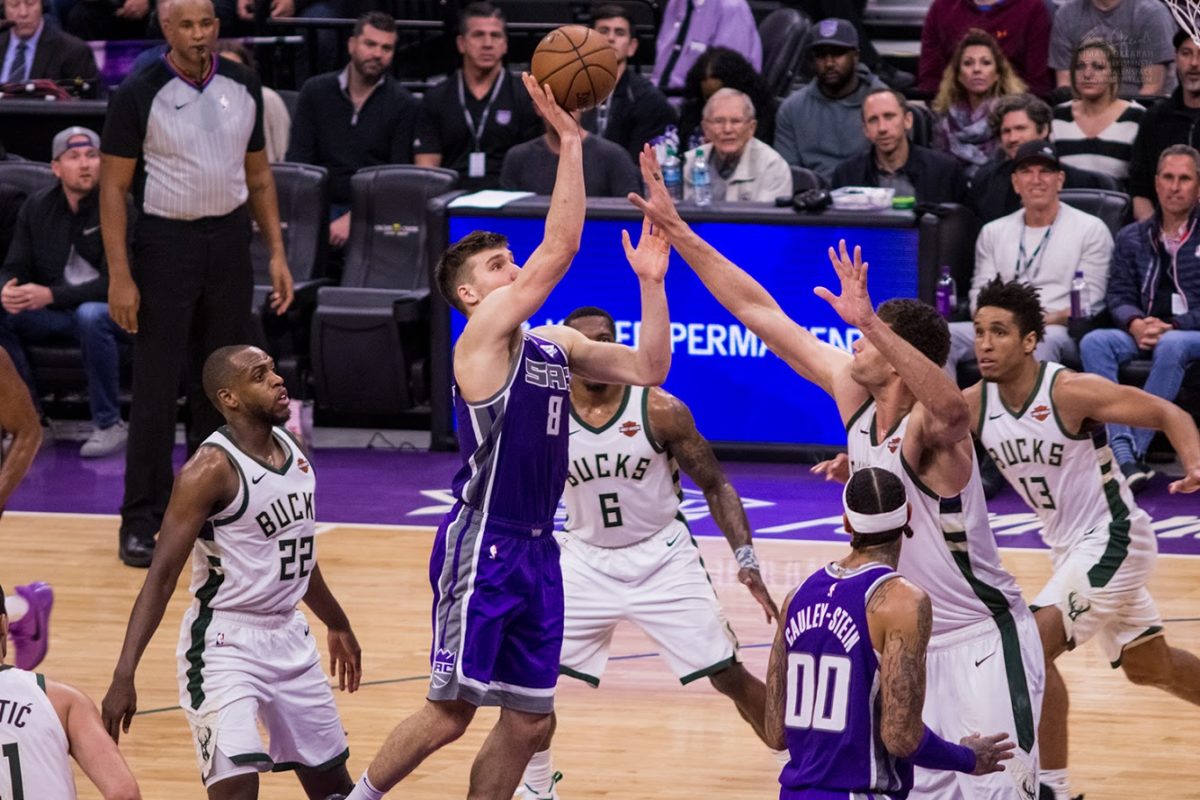 The Athletic's Shams Charania kicked Kings free agency rumors off with the littlest of reports, but considering how quiet the basketball news has been around here since Sacramento left the bubble, it's probably worth talking about.
An expected strong suitor for Kings restricted free agent Bogdan Bogdanovic: The Milwaukee Bucks, sources said. Milwaukee will pursue additional playmaking and shooting this offseason to bolster the roster around their two-time MVP, Antetokounmpo, and All-Star Khris Middleton.
If we're being honest, "expected strong suitor" is about as weak as a rumor gets, but it's something? The Bucks should want Bogdanovic. He's a win-now player, and a perfect secondary playmaker/shooter to put around high-usage Giannis Antetokounmpo. Pursuing Bogi makes sense for Milwaukee.
One of the biggest decisions facing Monte McNair and his new front office over the next several weeks is Bogdan Bogdanovic's future with the organization. Bogdanovic is set to enter restricted free agency following the 2020 NBA Draft, which grants McNair and the Kings the ability to match any offer he receives from competing teams in the offseason. The Kings, for the most part, control Bogdanovic's immediate destiny.
Bogdanovic will hit restricted free agency coming off the best season of his career. In 2019-20, Bogi averaged 15.1 points, 3.4 rebounds, and 3.4 assists on .372 shooting from 3, and .440 from the field. He also secured a consistent starting role next to De'Aaron Fox that inadvertently placed Buddy Hield into a sixth man role that he wasn't particularly happy with. What the Kings decide to do with Bogi in free agency could seriously impact Buddy Hield's future in Sacramento. No pressure, Monte.
The problem for Milwaukee is that the most the Bucks could offer Bogdanovic in free agency is the mid-level exception, roughly $9 million, a figure the Kings would be foolish not to match, and a contract Bogi would be foolish to sign. He's worth more than that.
The Bucks and the Kings could, in theory, negotiate a sign + trade for Bogdanvoic, but with both teams operating above the salary cap, it would be pretty difficult to pull this off in a way that fairly compensates both sides without a third team getting involved. A sign + trade is possible, yes, but complicated.
The Bucks have a few young assets where this theoretical sign + trade could make some sense for the Kings, too. The Bucks own the Indiana Pacers' 2020 first round pick, and Donte DiVincenzo is a compelling, younger, cheaper Bogi replacement if Monte McNair views this season as an opportunity to perform a miniature reset, clear some cap space, and get younger. But ultimately, the complicated nature of this transaction makes any real Bogi-to-Milwaukee speculation seem unlikely.
There you have it -- the first of many Bogdan Bogdanovic free agency rumors we're going to read about this offseason. Buckle up.