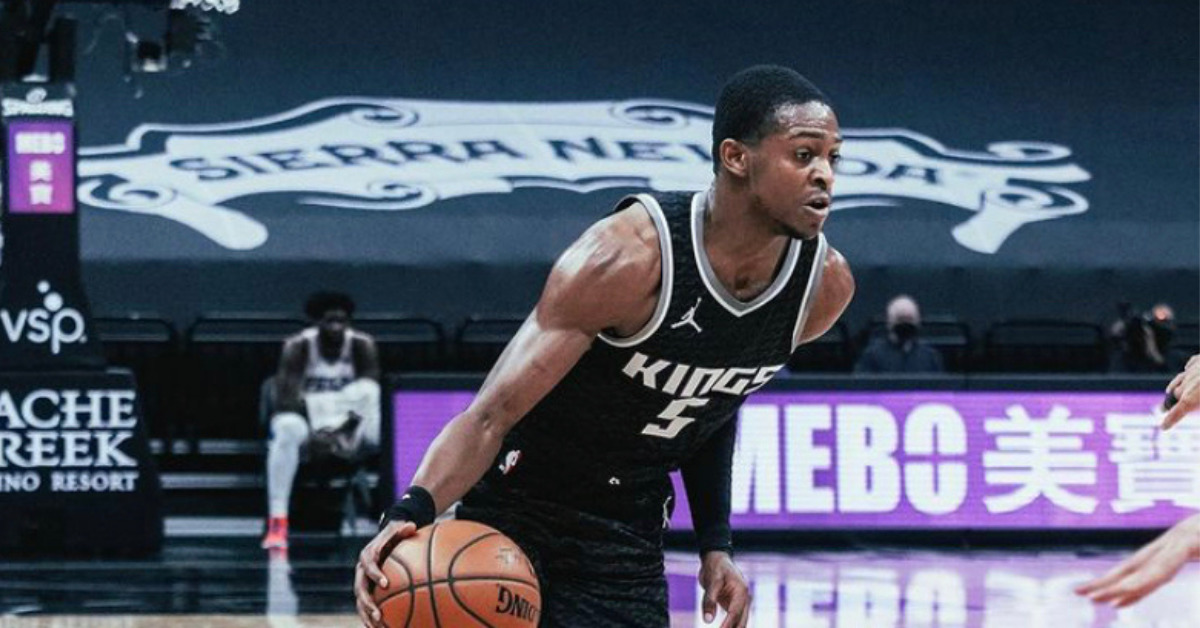 The Sacramento Kings have maintained a .500 record in their last five games, going 3-2.
However, the usually beaming .500 rate has concluded on a sour note, with Sacramento falling to an Orlando Magic squad ravaged by injuries. Sacramento suffered some late scratches, as both De'Aaron Fox (banged knees in practice) and Marvin Bagley (calf soreness) didn't play, and Sacramento desperately needed their leader.
We'll commence this 5 on 5 on that note:
Five-game slate: W vs. Boston Celtics, W vs. Denver Nuggets, W vs. Los Angeles Clippers, L vs. Philadelphia 76ers, L vs. Orlando Magic
IS IT CLEAR NOW?
Anyone who has paid the slightest ounce of attention will know De'Aaron Fox is making serious noise this season. And not the noise of former Kings stars who carried a relatively weak squad. Fox is lifting a team into relevance while garnering wins against reputable opponents.
After the loss to Orlando, the Kings sit at 12-13. Just two games ago, that was 12-11. *The* Sacramento Kings were above .500 23 games into the season. Fox -- who is currently averaging 23.4/3.4/6.7 on 47.7/35.7/68.4 shooting splits -- couldn't have made his All-Star case any clearer by not playing in Orlando's loss.
I've been critical of Sacramento's playmaking entering the season, and in the game where their best playmaker didn't play, they notably struggled to create open looks despite playing a team missing everyone not named Nikola Vucevic.
Luke Walton tapped Tyrese Haliburton to start in Fox's place, but it's evident he needs Fox to be optimized. Cory Joseph started positively in the first half knocking down jumpers, but regressed rapidly in the second half. Kyle Guy obtained minimal playmaking opportunities, but not enough. Harrison Barnes churned downhill occasionally, but he's hit a wall the last few games.
At one point, Nemanja Bjelica, who we'll discuss later, was running side pick-and-rolls with Richaun Holmes. The Kings definitely lost the game on the defensive end -- allowing Michael Carter-Williams, who hadn't played since Jan. 6, to score 21 points is atrocious -- but they could've benefited from a healthy Fox.
Whether or not he's officially one, Fox is playing like an All-Star, and not playing in one game exemplified that.
#EYEBALLEMOJISZN
Sam Amick of The Athletic dropped a new story providing some details about where the Kings stand in terms of trades. Chief among those details: Nemanja Bjelica.
The 76ers reportedly have interest in the 32-year-old stretch big, and after not playing since Jan. 9, Walton revived Bjelica for a 28-minute run against Orlando.
In a boon-or-bane scenario, Bjelica emerged a boon -- at the right time. Bjelica finished his shift with 15 points, nine rebounds and six assists, going 5-8 (1-3 3P) from the floor. He deserves credit for staying prepared in a precarious situation, displaying value as an on-and-off-ball presence on offense.
Bjelica makes plenty of sense for a 76er squad deprived of three-point attempts; he couldn't have had a better performance in this circumstance.
WELCOME BACK, DAQUAN
Boy, the Kings bench has been a rollercoaster this season. The Kings as a whole have operated as a rollercoaster, but the bench is comprised of multiple "no, no, yes"-and-vice-versa players: Cory Joseph, Hassan Whiteside and Glenn Robinson III.
But against Orlando, Sacramento welcomed the return of their bubble breakout player. DaQuan Jeffries, who returned to Sacramento on a two-year, $3 million deal in the offseason, made his first appearance after suffering multiple injuries.
To this point, rookie Tyrese Haliburton has served as the lone consistent spark plug off the bench. Now, he has his Robin.
It took until the latter half of the third quarter, but Jeffries made his debut and brought an instant impact. He hounded Terrence Ross and forced him into tough looks, while moving the ball well on offense and scoring 3-5 from inside the arc.
The biggest aspect of Jeffries' game that must materialize is his three-point shot. He missed both of his attempts against Orlando, and it was a struggle in the bubble too.
Still, Robinson hasn't provided the deep threat Sacramento would've liked, and he's been a colossal negative defensively. Jeffries is still developing an offensive game, but the defense is already a positive.
MARVIN BAGLEY'S INCONSISTENCY 
Bagley's 24-game playing streak concluded with a late scratch against Orlando, right off the heels of an encouraging performance against Philadelphia where he most notably played center and supplied a two-way spark.
In that game, Bagley ended with 17 points (6-11 FG, 2-5 3P, 3-5 FT), 6 rebounds, one assist and one steal. He had a pivotal third quarter that led to rare fourth-quarter minutes. It was his best game in this stretch, as the other three were enmeshed in inconsistency.
Against Boston, Denver and Los Angeles, Bagley shot 9-22 (40.9%) from the field and 3-6 from deep. He failed to hit double-digit point totals in any contest and averaged just six rebounds per game. And in those matches, he never once eclipsed 21 minutes.
Bagley's had multiple instances this season where he showcases his potential and how good the Kings could be when he's at his current best. However, he's failed to generate any sort of consistency to follow those games up.
The health, for now, has been auspicious. The same goes for his potential when he's knocking down threes, scoring near the rim and showing optimistic flashes on defense. Now it's about maintaining that level of play.
BUDDY ASSISTS AND REBOUNDS 
In the last 5 on 5 article, I wrote about Hield's resurgence from deep, as he went 25-54 (46.2%) in the last five games. But in this stretch, buckets are evading Buddy.
Hield is currently 17-56 (30.3%) from deep in this five-game slate. He fared much better against Orlando, but going 0-9 against Denver will leave a blemish.
Fortunately, Hield's been playable. When his shot isn't effective, he's usually a negative in many other facets of the game: individual and team defense, attacking the basket, creating for others on isolation or coming off pin pindowns, running pick-and-rolls and more.
That surprisingly hasn't been the case. He's always been a sneakily good rebounder, averaging 7.0 a game during this stretch. And in the last four games, he's averaging 4.25 assists a game. His season average is only 3.0.
Hield's had a rosy two-man game with Holmes and his patented push shot, he lifts his head on drives to the rim to find shooters roaming the perimeter, and, in general, he's been someone you want out there, even when his best asset isn't functioning. That's not something we've said about Buddy before.
The next five-game slate will include: vs. Memphis, vs. Brooklyn, vs. Miami, at Chicago, at Milwaukee.