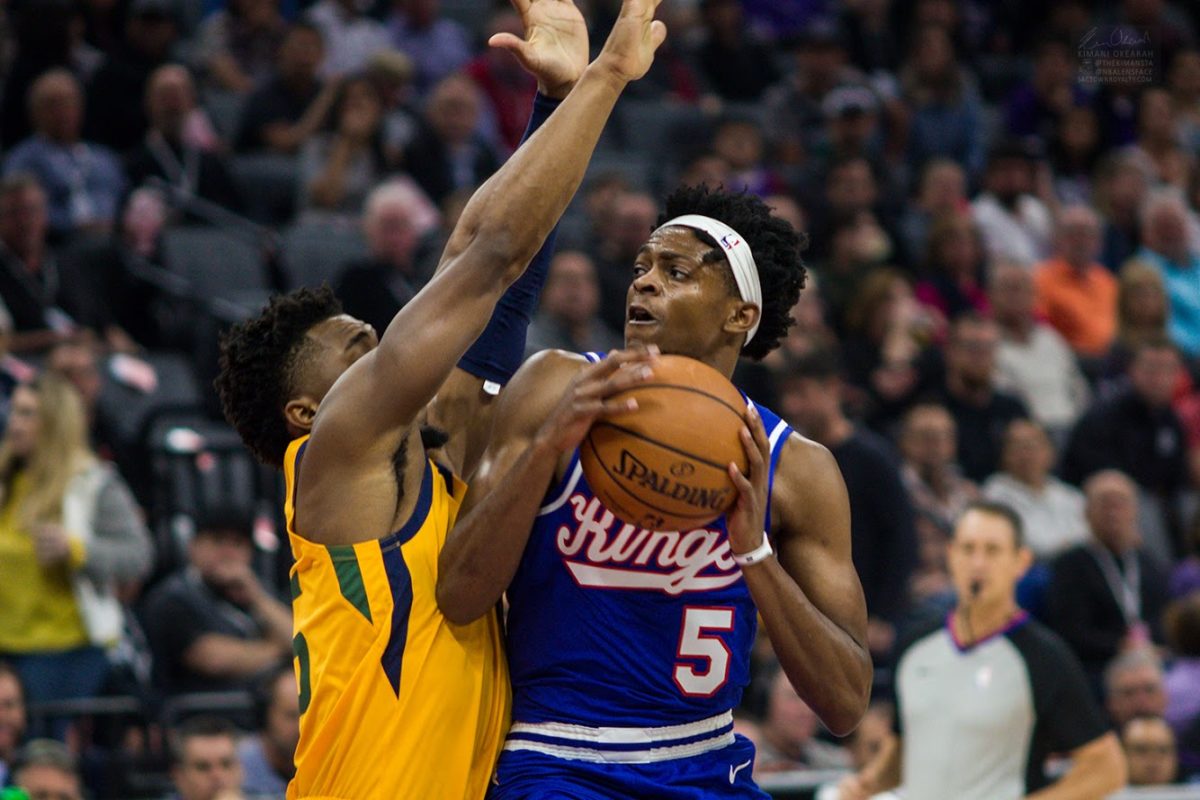 According to Adrian Wojnarowski of ESPN, several young NBA stars are looking to protect their financial security heading into the league's return to play in Orlando, Florida come July 30th. Bam Adebayo of the Miami Heat, Kyle Kuzma of the Los Angeles Lakers, Donovan Mitchell of the Utah Jazz, Jayson Tatum of the Boston Celtics, and Sacramento's very own De'Aaron Fox are working with National Basketball Players Association Executive Director Michelle Roberts and Senior Counsel Ron Klemper to negotiate league-sponsored injury insurance for the best players from the 2017 NBA Draft.
Those five players, along with every other member of the 2017 class, are eligible to sign rookie extensions whenever free agency begins, which is currently scheduled for the middle of October. Four of those players, with Kyle Kuzma being the lone, Laker-promoted exception, will almost certainly sign maximum rookie extensions, valued anywhere from $140 million to over $180 million, depending on the length of the contract and what happens with the league's cap situation next year. In a normal season, such insurance policies wouldn't ever be partially or fully funded by the league itself, but with such an extended break, followed by a shortened training camp, a truncated schedule, and a unique setting in Orlando, players in line for life-changing money are understandably hesitant about risking quite literally hundreds of millions of dollars in combined salary for a shortened end to the year.
Speaking to Fox's situation specifically, he's highly unlikely to meet the strict requirements for the largest salary possible (30% of the salary cap), as there's very little chance that he makes an All-NBA team, is named the Defensive Player of the Year, or wins the NBA MVP award this season, but Fox is still very much eligible for the Designated Rookie Extension, and the Kings will undoubtedly pursue that option. Under the Designated Rookie Extension rules, Vlade Divac can grant Fox an additional year on his extension, equaling six total years (one on his current rookie-scale deal + five on the extension), with 8% annual, non-compounding raises. Although no one knows what will happen with the salary cap over the next couple of years, here's the projection using the previously predicted cap numbers:
| | |
| --- | --- |
| Season | Salary |
| 2021-2022 | $31,250,000 |
| 2022-2023 | $33,750,000 |
| 2023-2024 | $36,250,000 |
| 2024-2025 | $38,750,000 |
| 2025-2026 | $41,250,000 |
If that agreement can be reached, and there seems to be no incentive for either side to not reach an understanding, the Kings would guarantee themselves Fox's services through age 28, or the 2025-2026 season, assuming the world is still in existence and hasn't entered a Fallout: New Vegas, post-apocalyptic society at some point in the next few years.
When considering the kind of long-term financial impact and multi-generational security for each of these young stars, it would behoove both the league and the players to reach a middle ground on the cost of these insurance policies, which can run in the half-million dollar range. If a compromise cannot be found, the NBA could see one, or more than one, of its up-and-coming highlight reels sit out the return to play in order to guarantee their families an immense amount of wealth, an understandable position for anyone being asked to risk hundreds of millions of dollars in future income.