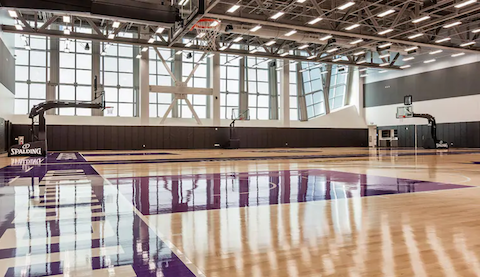 The narrative surrounding the NBA's Orlando Bubble League return seems to shift on a near-hourly basis depending on who you listen to, but according to ESPN's Ramona Shelburne and Adrian Wojnarowski, professional basketball will be played on July 30th.
NBA owners and team representatives approved the NBA's return plan weeks ago despite the fact that most of the key details were still up in the air. Those unanswered questions coupled with a legitimate worry that returning to the court could overshadow the Black Lives Matter movement had seemingly put the NBA's scheduled return in jeopardy.
Kyrie Irving was the driving force behind several important conversations between the NBPA and its players, and according to Wojnarowski and Shelburne, "several players on the call Friday said they were considering sitting out the remainder of the season in order to focus on social justice issues, or because they were uncomfortable with the proposed plans to resume the season with 22 teams in a campus-like environment in Orlando."
There isn't one singular issue preventing the NBA's return. It's a lot more complicated than that.
The NBA and the NBPA still have several problems to resolve, but latest reports suggest none of those problems will actually prevent the league from returning with a structure strongly resembling what both sides previously agreed to.
ESPN's reporting with players, agents, the NBPA and league officials over the weekend found no indication that the NBA's return is in jeopardy -- or that there's even a significant group of players ready to sit out.

There are expected to be some players who decide not to play, sources said, but so far there's no indication that it's enough to compromise the league's plans to return, which have already been approved by the owners (29-1) and team representatives (28-0).
I expect the narrative to continue shifting as we approach some sort of a resolution between all parties, but as Wojnarowski and Shelburne noted in their report on Monday, each player will have the freedom to decide for themselves if they would like to participate in the Orlando Bubble League.
In the NBA and NBPA agreement, players choosing not to join their teams in the bubble will not be penalized by teams, but they will lose payment on games missed -- 1/92nd of the money owed them, sources said.

For players who believe they have a medical reason that elevates them into a higher-risk COVID-19 category and want to be excused with pay, the NBA and NBPA have set up an independent doctors panel to evaluate the players and make a determination, sources said.

Even if a player is pronounced healthy enough to play without a heightened risk, he is still able to stay home -- only without pay, sources said.
Stay tuned for the next edition of "is this actually going to happen or what?"