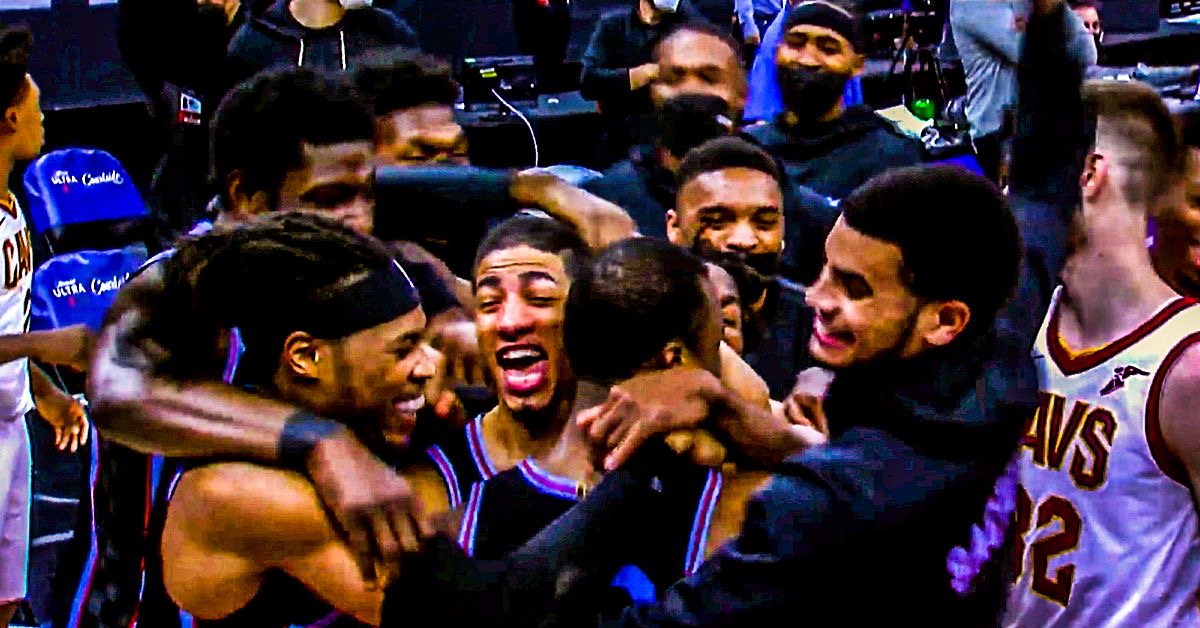 The tank train was steadily chugging along and then the Kings decided to win three games in a row, the trade deadline happened, and the Kings' bench got a bit of a makeover. These things all put the play-in train in motion on a fast track charging right past the tank train. So what did you do? Did you remain angrily seated on the tank train? Or did you make the leap onto the play-in train heading back towards the playoffs? Let's see what the Kings chose tonight:
Quick Stats:
Outcome: Kings win, 100-98
Sacramento Kings: 100 PTS, 51.3% FG, 23.3% 3 PT, 78.6% FT, 16 AST, 18 TO
Cleveland Cavaliers: 98 PTS, 44.0% FG, 34.6% 3 PT, 65.2% FT, 20 AST, 7 TO
PLAY-IN HERE WE COME. Despite the Cavaliers' and replay technology's best efforts, the Kings refused to lose this game. After the usual 4th quarter heroics from De'Aaron Fox, followed by a heartbreaking goaltending call against Richaun Holmes to give the Cavs a 1-point lead with 1.6 seconds left, it felt like this was going to be a new ending to put on the list of 'most Kangz ways to lose a basketball game'. But a full-court football pass by De'Aaron Fox and a fadeaway elbow 3-point dagger with two Cavs in his face from Harrison Barnes means the Kings extend their winning streak to four games.
One of the best game winners you'll ever see!

Fox with an awesome full-court baseball pass and Harrison going full Black Falcon to secure the win.

— The Kings Herald (@thekingsherald) March 28, 2021
The Good, The Bad, & The Ugly:
The Good:
New Bench: Monte McNair's newest acquisitions had their first showing tonight as we got our first looks at Delon Wright, Maurice Harkless, and Terence Davis. Things were expectedly chaotic at times, as the entire team is trying to establish chemistry with the new guys. But if we can look beyond the miscues from tonight, we see a bench unit that is longer, bigger, and more athletic. Cleveland played small for a lot of the game and so the Kings were able to hold them to just seven offensive boards, but I think part of this can also be attributed to the added size from the new bench. With their new and more productive starting five, paired with this bigger and more athletic bench, the Kings just might find themselves sliding into that 10th seed.
De'Aaron Fox: Where would any of us be without this man? I, personally, would likely be in a dark corner of my house sobbing as the Kings lose every single time they step on the court. De'Aaron Fox continued his exceptional play tonight with 36 points and six assists. And of course, 20 of his points came in the fourth quarter when the Kings needed them the most. Not only that, he put on his quarterback helmet and completed the perfect full-court pass to Harrison Barnes for the game winner. This is De'Aaron's fourth game in a row scoring 30+ points and it only seems to be getting easier for him to do so. I can't wait until he gets to 50 points in a game, and neither can my dog, since I promised him a 50-piece from McDonald's once De'Aaron reaches this inevitable milestone.
The Bad:
Dying by the 3: The Kings had a rough shooting night, going 7-30 from behind the arc, with Buddy Hield hitting just 2 of his 7 attempts. This was especially highlighted when they failed to connect on any of their six attempts in the second quarter. But more disappointing than their unusually poor shooting was their insistence on continuing it. It became clear early on that the long ball was not connecting, but instead of adjusting by looking to attack the paint, the Kings continued to force up 3-point looks. As a team that relies on significant point production near the rim, the Kings have to realize when to get back to their bread and butter. If they can get back to punishing in the paint, this will open up better 3-point looks and then they can try to make a more complete meal.
The Ugly:
Individual Defense: Cleveland's 'Sexland' duo of Collin Sexton and Darius Garland made it look like there were three De'Aaron Foxes on the floor tonight. Just as easily as Fox does, Sexton and Garland were able to get inside the paint at will, both in transition and in the half court setting. Part of this was due to sloppy turnovers by the Kings (18 in total, yikes) that gave the Cavs the downhill push they needed to get easy transition points. But the ugly part came in the half court setting as we saw Sexton and Garland get multiple uncontested layups at the rim by simply blowing by their defenders, both with and without the ball. Hard attacks and back door cuts were enough to break down the Kings' defense. Team defense is always important, but it becomes increasingly difficult to execute without a strong foundation of individual defense. The Kings have to start taking more individual pride and responsibility in their personal coverage. Tonight, this lack of individual coverage also had consequences for Richaun Holmes as he found himself in early foul trouble when trying to provide help defense on the quicker Cavs' guards. The Kings can't expect Richaun to be able to stay on the floor if he is constantly trying to defend downhill guards without fouling.
The King of Kings
Following in the trend of it being a historic night, tonight's King of Kings title will, for the first time, be equally shared by six different individuals tonight. Crowns go out to Kayte Christensen-Hunter, Krista Blunk, Laura Britt, Layshia Clarendon, and Morgan Ragan for absolutely CRUSHING it as the first ever all-female, non-binary Kings' broadcast crew. Their coverage could not have been more thorough, professional, or knowledgable. It was inspiring to see such wonderful representation by such smart, eloquent, and entertaining people. I hope every little girl in Sacramento was watching them tonight and felt the acceptance and normalcy of women in sports.
But, Mirann, you said six individuals and you only listed five, you idiot. Cool it, I can count, and I'm not done yet. The final crown goes to Sophia Jones, who made her debut appearance during the pregame coverage. She demonstrated her natural proclivity for broadcasting, which makes sense, since her dad has some experience in it. You may have heard of him - his name is Mark Jones. As a freshmen point guard at San Jose State, Sophia hopes to find a career in sports broadcasting after finishing her basketball career.
Up Next
Monday, March 29th @ San Antonio Spurs - 5:30 P.M. (PT)