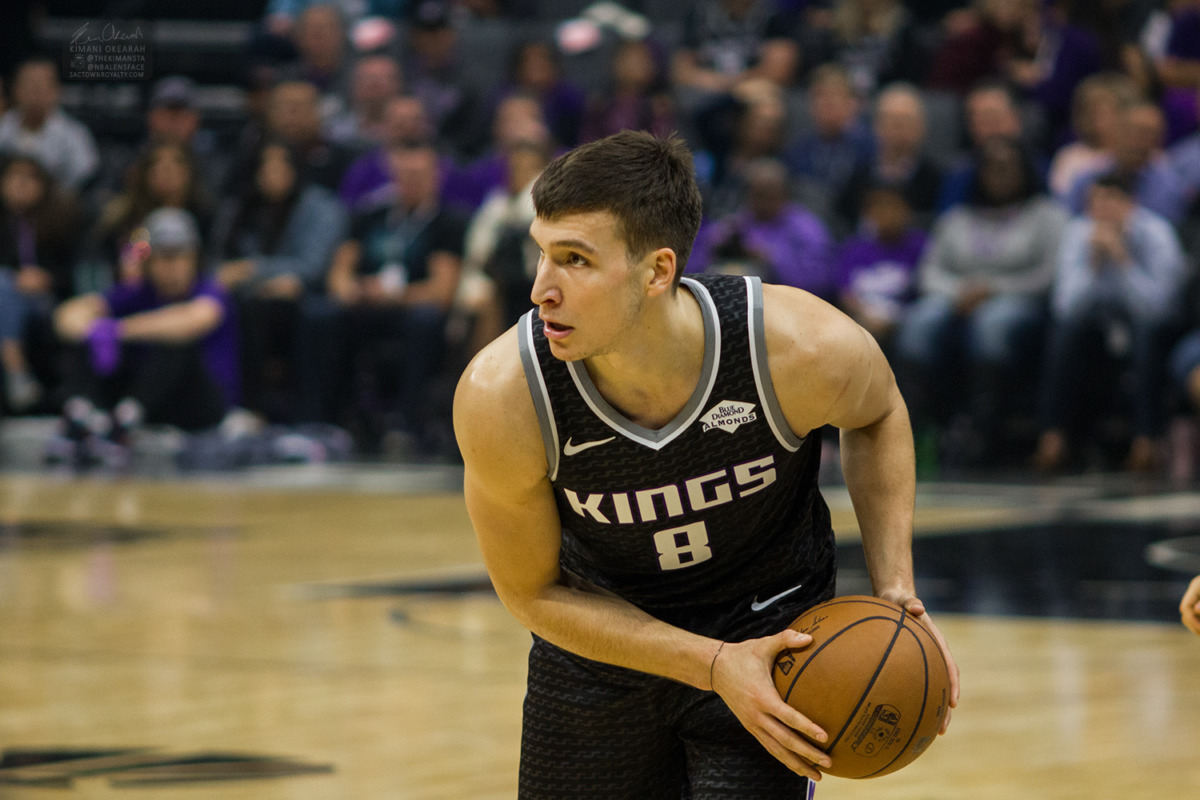 As Monte McNair kicks off his tenure in Sacramento, many important decisions await him. An entirely new front office must be hired, De'Aaron Fox is eligible and deserving of a five-year max extension soon, Buddy Hield is displeased with his current role despite his expensive new contract, and Luke Walton is a floundering head coach who should probably be removed for basketball reasons, although he may be safe for financial ones. All of those, and many more choices are undoubtedly sitting somewhere on McNair's to-do list and will be resolved in the coming weeks and months, but one decision must be made sooner than almost any other: Bogdan Bogdanovic's future in Sacramento.
When Vlade Divac was in command, there was almost no doubt as to Bogdanovic's status with the organization. The team rebuffed trade offers at the deadline in February, and again touted support for Bogi back in April by committing to match any offer made in the offseason. Of course, those claims were made by folks no longer in charge, and a new man with a new plan is at the helm.
Even with Divac out of the picture, in a normal situation with a normal player entering restricted free agency with a normal roster, Bogdanovic would likely be retained. He's a talented shooting guard who raises the floor of those around him, but nothing about the current climate is normal. Bogi isn't a typical restricted free agent, nor are the Kings a typical team, nor has this been a typical season in the NBA.
Bogdanovic signed a non-rookie scale deal with Sacramento three years ago, the highest-paid rookie contract in NBA history at the time, which means he's seen some significant cash in his career. Bogi also joined the league later in life, as he recently turned 28, which is relatively unusual for a restricted free agent. He'll actually be the third-oldest RFA on the market this year, younger only than Brad Wanamaker and Torrey Craig.
In addition to Bogdanovic's personal history, there's also the disappointing nature of Sacramento's roster to take into account. In his efforts to build a playoff contender as quickly as possible, Vlade Divac assembled a bad, not very young, and very expensive group of players. The Kings already owe another shooting guard, Buddy Hield, over $80 million over the next four years, along with Harrison Barnes' remaining  three years, $60 million. Add in De'Aaron Fox's upcoming five-year, $170 million extension, plus whatever Bogdanovic will be paid in the next month or two, and things get very costly, very quickly. It'll be up to Monte McNair to build a sleeker, less expensive, more successful depth chart, and that may require sacrificing expensive or soon-to-be expensive contributors.
Adding to the seven-layer dip of complication that is this offseason is the financial state of the Kings. Almost every franchise has been severely impacted by the economical devastation of COVID-19, and Vivek Ranadive has been no exception. The team has laid off and furloughed both business and basketball operations personnel over the last few months, and relief is nowhere in sight. It's not outside the realm of possibility that the organization will be forced to make sacrifices on the court to keep things afloat off of the hardwood.
The league's status as a whole adds fogginess to an already unclear situation. From a free agent perspective, the quality of player this summer ranges somewhere between awful and putrid, and that may be putting it kindly. Bogdanovic, a solid player in his own right, would normally land in the middle tier of available targets for any given team, but the lack of talent in this class vaults him comfortably in the top-10 when the obvious options and extension are dismissed. A vacuum of starting caliber players would seem to favor Bogdanovic's camp when contemplating his potential payday, but the poor quality of his fellow free agents is quickly offset by the scarcity of cash in the open market. Very few teams were ever projected to possess cap space in the offseason, and that was before the pandemic and the possibility of a cap freeze or decrease. It's a terrible time to be a free agent in the NBA.
All of these complicated, layered factors combine to create a fascinating situation for both Monte McNair and Bogdan Bogdanovic. The two sides must negotiate against the Kings own financial and roster-based restrictions, the lack of quality players available in free agency, and the limited cap market, while also keeping in mind the team's previous offer that was made to Bogdanovic back in October. Each camp has multiple options in front of them to find the best deal for their own interests.
Internal Negotiations
At the start of the 2019-2020 season, the Kings offered Bogdanovic an extension in the range four years, $51.4 million. At the time, it seemed like an oddly specific amount, but it was the maximum the Kings could offer based off of the league's veteran extension rules, which dictate that a non-rookie scale player can sign an extension for 120% of the league average salary or 120% of the final year of the player's contract, whichever is greater. Assuming that offer is still on the table, the two sides can agree to the deal anytime prior to the end of this season, although the league remains in a transactional hiatus for the time being. There will likely be a window prior to the start of next year's free agency, but those details are currently up in the air.
If the Kings and Bogdanovic fail to come to terms on an extension, either due to a league restriction or a lack of agreement, all hope is not lost. Once the 2020-2021 season officially begins, negotiations can continue using Bogi's Bird Rights, which were earned once he completed his third season in Sacramento. Under that provision, the Kings can sign Bogdanovic to a five-year contract worth up to 25% of the salary cap, no matter how far above the cap that contract takes them, although neither the length nor the amount would be nearly that exorbitant. If Bogdanovic does return to the organization, agreeing to a new contract will likely be the most viable option, as it allows for far more flexibility than the original extension offer.
Offer Sheet
While the Kings and Bogdanovic are free to negotiate a new deal once the 2019-2020 season officially comes to a close, Bogi will not be forced to merely entertain Sacramento's offers. As a restricted free agent, he can approach or be approached by a team and sign an offer sheet. Technically, any organization with an exception or cap space can send a contract Bogi's way, although it's implausible that a team sporting only the mid-level exception, worth a maximum of $9 million, would have a chance at obtaining his services.
That leaves six teams with significant cap space as the main rivals for Sacramento to keep Bogdanovic. According to Keith Smith, here's how much cash each team will have on hand to spend, assuming the league flattens the cap threshold from last year:
| | |
| --- | --- |
| Team | Cap Space |
| Atlanta Hawks | $47.8 million |
| New York Knicks | $46.7 million |
| Detroit Pistons | $34.3 million |
| Charlotte Hornets | $27.2 million |
| Miami Heat | $26.5 million |
| Phoenix Suns | $23.6 million |
Each one of those teams can offer a deal far higher than Sacramento's original extension offer, but the threat of a matched offer sheet can create an intense game of chicken between organizations. The Kings can put out the word that they'll be matching any offer for Bogdanovic, which can chase teams away for the fear of locking up their own cap space for multiple days and missing out on other, more available players, or it can even cause opposing General Managers to bid against themselves in the hopes that Sacramento won't shell out unreasonable cash for an above-average role player.
Conversely, if one of the above teams is daring enough to sign Bogdanovic to an offer sheet, the Kings will be granted 48 hours to match the exact terms of the deal, including any specific payment dates, annual salary increases or decreases, and any incentives. If the Kings choose to accept the offer, Bogi would remain in Sacramento and would automatically be granted a one-year no-trade clause. If the Kings decline to match, they'll lose one of their better, more complete players for nothing. It's important to note that once an offer sheet is formally signed, the possibility of a sign-and-trade is eliminated. McNair would have to choose between matching a contract offer or letting Bogi walk without any sort of compensation.
Qualifying Offer
Although Bogdan Bogdanovic is typically referred to as a restricted free agent when discussing his contract situation, from a purely technical standpoint, he has yet to be converted to that moniker. In order for that to occur, the Kings must first tender a qualifying offer to Bogdanovic, which is a one-year contract calculated using several factors, equaling $10.6 million for Bogdan. Once that QO is tendered, Sacramento will have offered Bogdanovic a contract prior to anyone else, granting the Kings the right of first refusal, allowing the organization to match any offer sheet this fall.
That one-year deal, while typically a formality, actually grants Bogdanovic some power in a scenario that seems to offer him none. It's entirely plausible that Monte McNair sticks close to, or even drops, Sacramento's original offer of around $13 million per year, and if Bogi doesn't find a more attractive deal from another team, he can choose to accept the qualifying offer of $10.6 million. In that situation, Bogdanovic would stick with the Kings for the 2020-2021 season, automatically be granted a no-trade clause for the entire year, and he would enter the 2021 offseason as an unrestricted free agent in a market more flush with cash, at least in theory.
Signing the qualifying offer may seem like a sensible plan for Bogdanovic if offers are somewhat disappointing, but there's a reason this option is so rarely taken. Bogi would be risking tens of millions of dollars in guaranteed income, and a poor season or significant injury could cause that cash to vanish. Typically, the wisest path for a player of Bogdanovic's age and minor injury history is to take the money sitting in front of them, rather than gambling on themselves in the hopes of gaining a few million more per year. And there is perhaps no better example of a qualifying offer backfiring than Nerlens Noel.
After the Dallas Mavericks acquired Noel at the trade deadline in 2017, he was offered a contract in the range of four years, $70 million the following summer. Noel declined the upfront cash and demanded a max deal, which Mark Cuban immediately rejected, along with pulling his original offer, forcing Noel to sign the qualifying offer for $4.2 million. Over the following two seasons, Noel's market value crashed, and he was offered just two minimum contracts from the Oklahoma City Thunder, totaling a measly $3.8 million. In all, his decision has cost him at least $45 million over the last three years. For Bogdanovic, it would probably be in his best interest to learn from Noel's mistake and sign any sort of acceptable offer this summer, whether that be from the Kings or another team.
Sign-and-Trade
One final option remains for the Kings and Bogdanovic: a sign-and-trade. While this is often touted as a way for Monte McNair to cash out on Bogi if he doesn't want to pay another shooting guard big money, the likelihood of finding a palatable partner is low at best, hence the rarity of this sort of transaction.
The easiest path to a sign-and-trade is always to find a partner with plenty of cap space, as the other team can simply absorb the new contract without having to worry about matching salaries in a deal. A good illustration of that sort of deal would be the Indiana Pacers acquisition of Malcolm Brogdon last summer. The Pacers used their cap space to take on Brogdon's deal, allowing the Milwaukee Bucks to be compensated for letting a key player walk without having to take back significant salary.
Unfortunately, only six teams will have the cap space to take on Bogdnaovic's potential deal in the coming months, and there's no guarantee that any of those organizations will want to open their wallets for Bogi, nor is there any guarantee that Bogdanovic holds any desire to join any of those teams. However, if the stars do align for all of the involved parties, the compensation headed Sacramento's way will probably be paltry at best, likely a second rounder or two or a middling player. The Kings certainly won't enjoy the return that Brogdon commanded: a 2020 first round pick, as well as a pair of second rounders.
Things will grow exponentially more complex if the Kings attempt a sign-and-trade with a franchise that cannot absorb Bogdanovic's new salary. If a non-cap space team is interested in signing Bogi, Base Year Compensation will come into play, which will greatly complicate matters. Under those rules, the team acquiring Bogdanovic will be required to send out approximately the same amount of salary as Bogdanovic, as is typically the case in a trade, but for the Kings, Bogi's outgoing salary will only account for 50% of his new deal or the final year of his previous contract, whichever is greater.
For example, if the New Orleans Pelicans thought Bogi could help with their playoff run next year and offered him a deal starting in the $15 million range, they would need to shed approximately the same amount of salary in the transaction. In this scenario, the Pelicans could send Lonzo Ball and Nicolo Melli back to Sacramento, whose salaries combine for about $15 million. However, under Base Year Compensation, Bogi's outgoing salary from Sacramento would only be counted as half of his new salary or the final year of his old contract (in this case, the latter), which would equal $8.5 million, causing a $6.5 million gap between the two teams. From there, a third team with cap space, of which there are only six in the league, would need to be compensated heavily enough to take on salary from the Kings, whether that compensation came from the Kings, the Pelicans, or both. This theory and these numbers can be applied to any team, but here's what an actual trade may look like in the given scenario:
| | | |
| --- | --- | --- |
| Team | Receiving | Sending |
| New Orleans | Bogdanovic ($16M) | Ball ($11M), Melli ($4M) |
| Sacramento | Ball ($11M), Melli ($4M) | Bogdanovic ($8.5M), Bjelica ($7.2M) |
| Atlanta | Bjelica ($7.2M), Compensation | None |
To recap, Bogdanovic would need to be interested in joining the Pelicans, the Pelicans would need to be interested in signing Bogdanovic and willing to pay him, New Orleans would need to offer the right compensation to Sacramento to convince them not to match an upcoming deal, a team with cap space would need to be found, and that team would need to be provided enough compensation to take on a contract they may not want. It's a lot of moving pieces to assemble in a very short amount of time.
A good demonstration of the required complexity of a non-cap room sign-and-trade can be found in the Jimmy Butler trade of 2019, which saw the Miami Heat, the Philadelphia 76ers, and the Portland Trail Blazers exchange multiple players, while the Los Angeles Clippers acted as the Atlanta Hawks in the example above, taking on Moe Harkless' salary in exchange for a first round pick. While such a deal can be extraordinarily difficult to pull off, Monte McNair is also the exact sort of front office executive with the experience to put together transactions of the Jimmy Butler caliber. The Kings just need the right windows to open at the right time with the right teams.
***
As the Sacramento Kings and Bogdan Bogdanovic approach perhaps the most unique free agency period in league history, their priorities will undoubtedly clash, at least to a certain extent. The Kings must prioritize positional and financial flexibility this fall, while Bogdanovic's representation will be seeking a well-defined, high-paying role with a competent, professional organization. Those contradictory goals may very well be put aside in order for the two sides to quickly agree on a new contract, or each camp may look elsewhere to fill their individual needs, although even that path may lead to eventual reunification. No matter what the final result may be, it's clear that both the Kings and Bogdan Bogdanovic are headed for an extremely complicated offseason.