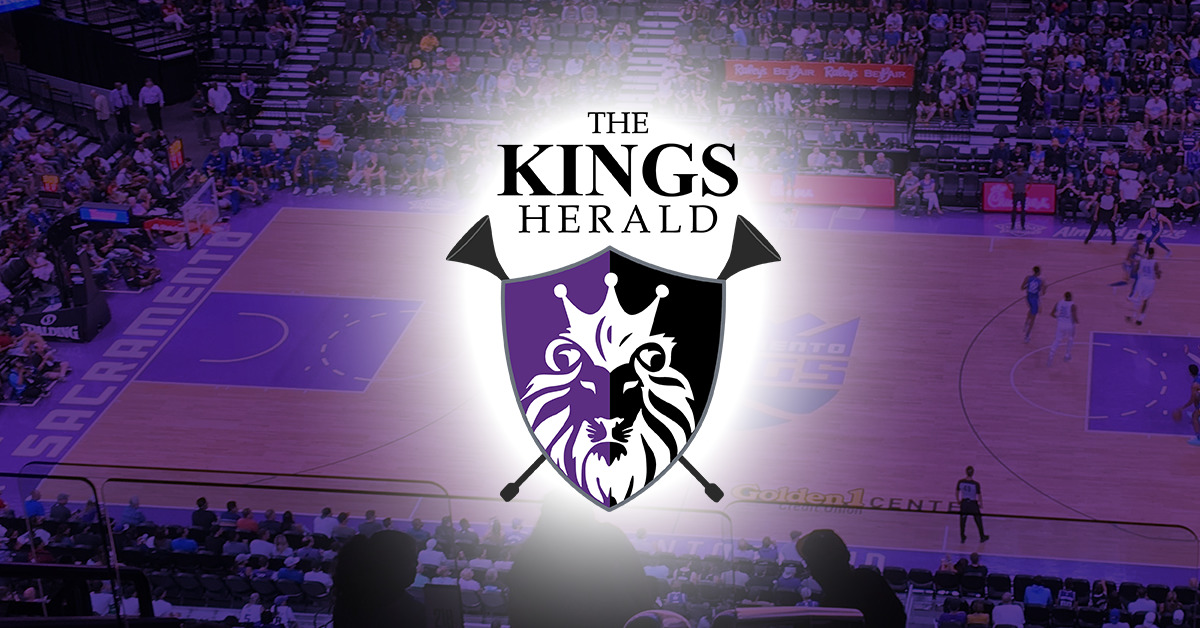 One year ago today, The Kings Herald launched. We certainly never expected the insane level of support that we've received, and the crew wanted to get together and offer a letter of thanks.
Akis: Wow, has it been a year already?
This has been one of the strangest and most difficult years in my entire life, and I know I'm not alone in that. But it has also been one of the most rewarding, in large part thanks to this site.
When we were let go by SB Nation back in December of 2019, a part of me wanted to give up. After 10 years of spending so much time and energy writing and covering a bad team, maybe this was my sign to let go. But that feeling didn't last long, especially with how determined the rest of the staff became in ensuring that the spirit of StR lived on, even if the site itself would be out of our hands.
We spent days, weeks and months developing this site from the ground up. We set up our own business entity, we visited lawyers, we even sent requests to an old lady in Ohio to see if they might be willing to sell us a URL. It was a lot of work, and there were some bumps in the road, but in the end we were able to make the site and bring it live.
And yet, all that work wouldn't have meant anything without your support. You don't know how amazing it was for us to see just how many people came over with us and have helped us out financially as well through merch and Patreon subscriptions. Without you, this site wouldn't have meant anything, and without you, we wouldn't have wanted to do it in the first place.
The Kings Herald may have only been around for a year, but this community has been together for over a decade. Let's keep it going as long as we can. One day the Kings will be good again (don't hold me to this), and we want to be there for it, to celebrate together. Thank you.
Tim: One year ago today, we launched The Kings Herald in the midst of a global pandemic, while the NBA season was indefinitely suspended. What a start, huh?
No one on staff really knew how things would go, or if anyone would care about a new/old Kings blog, but you all have overwhelmed us with your support, from those who regularly read articles and comment, to those subscribed to the Patreon, to those who have purchased merchandise. All of those actions enable us to produce the best Kings-centric coverage in the world, while hosting the most loyal and dedicated Kings-centric community in one place. Like many of you, I don't know that I would still be a Kings fan without this incredible group, so thank you from the bottom of my cold, curmudgeony, giraffe heart for all that you've done over the past 12 months, and that all you'll do over the next 12 years.
Sanjesh: It's wild to see the one-year anniversary of TKH manifest. I don't know if it's because time has passed both fast and slow during the pandemic or if it's because the Kings have repeated the same storylines every year that you forget what an amazing accomplishment this is. Every single member of the TKH staff dedicated hours upon hours to create this site, but most importantly you, the readers, are what keeps this community churning. I've been on a new venture over the past few months, but I check in when I can and seeing everyone continue to discuss the evergreen Kings we've come to know makes me happy, even though I know the team does not produce the same emotions for many. Also, I just want to shoutout Will for his extraordinary previews. His writing is purely exquisite and reading his new words is always something I tune into with joy. Here's to the first of many!
Rob: Thank you from the bottom of my pants. You (staff and community members) make the good moments great, and the bad moments tolerable. You are intelligent, sharp and hilarious. This community is you, and you rock.
Mirann: I have only joined the TKH team in the past few months, but to see what the TKH staff and community have built in just one year is incredible and inspiring. Thank you all for welcoming me into this wonderful community of celebration and commiseration. Kings fans truly are one of a kind and I can't wait to celebrate with all of you at the championship parade one day!
Tony: I can't believe that it's already been a year. I'm sure everyone on staff will highlight different aspects of our launch, so I wanted to take this time to thank anyone who checked out The Kings Herald Show with Will, Jerry, and I over the last year. I thought we needed the SB Nation bump to do cool Kings things online, but adding Jerry to the mix this year showed me that I was wrong, and if anything, our association with SBN was starting to hold us back more than help us out. I won't lie, having StR removed from my life was a bummer, but seeing TKH grow in its place has been so much more rewarding. Thank you for making the trip with us.
Thank you for being so receptive to our new site, new projects, new writers, new merch, and all future new things. So much has happened in year one that I cannot wait to see where things go over the next 12 months.
Blake: Thank you for making The Kings Herald what it is. We knew we had to maintain the community that had been built up over the years and I am thankful you all came with us. On launch day, I remember seeing everyone in the comments re-connecting with great joy. That was probably one of the best moments for me as a Kings fan, and it had nothing to do with the team. And that is an example of how this community largely makes being a Kings fan, at least for me.
I also appreciate everyone being helpful and patient when we experience glitches with the site like we had a few weeks ago in the comments. (Even the comments in a test post are enjoyable!) So again, thank you - we will keep building this site and improving it and we couldn't do that without your support.
Kevin: Wow, one year? I want to echo the sentiments of the rest of the staff in saying thank you so much for your continued support and patience as we grow and learn, for continuing to entrust us with a slice of your Kings coverage and for making this community your home. The difference between this site and the many other places you could go for your Kings news, is you all. The daily conversation, the diversity of opinion, the good faith discussion, and the shared passion of this community, are what make The Kings Herald what it is, and we could have accomplished none of this without all of YOU. Thank you so much. I love you all. (Also, follow us on social if you can.)
TJ: I would like to thank everyone who has ever sent the giraffe an aggressive comment about his insanely atrocious taste. I would also like to preemptively thank Akis and Greg for handing him his future walking papers. In all seriousness...that guy sucks. But to the fans of the site: you're welcome for me only putting out maybe two publications this year so your dictionaries gather dust. Also, I love you. And I'm saying that sober, so you know it's true. Maybe.
Greg: When we decided to do our site in the wake of Vox's decision to let us all go, I was nervous. I wasn't expecting so many of you to join us here and continue the community that we started so many years ago. The only reason I've kept caring about this godforsaken team is because I get to go through everything with all of you. Thank you for supporting us and allowing us to be able to keep doing this thing we love. From the staff to the readers to the lurkers, I say thank you.