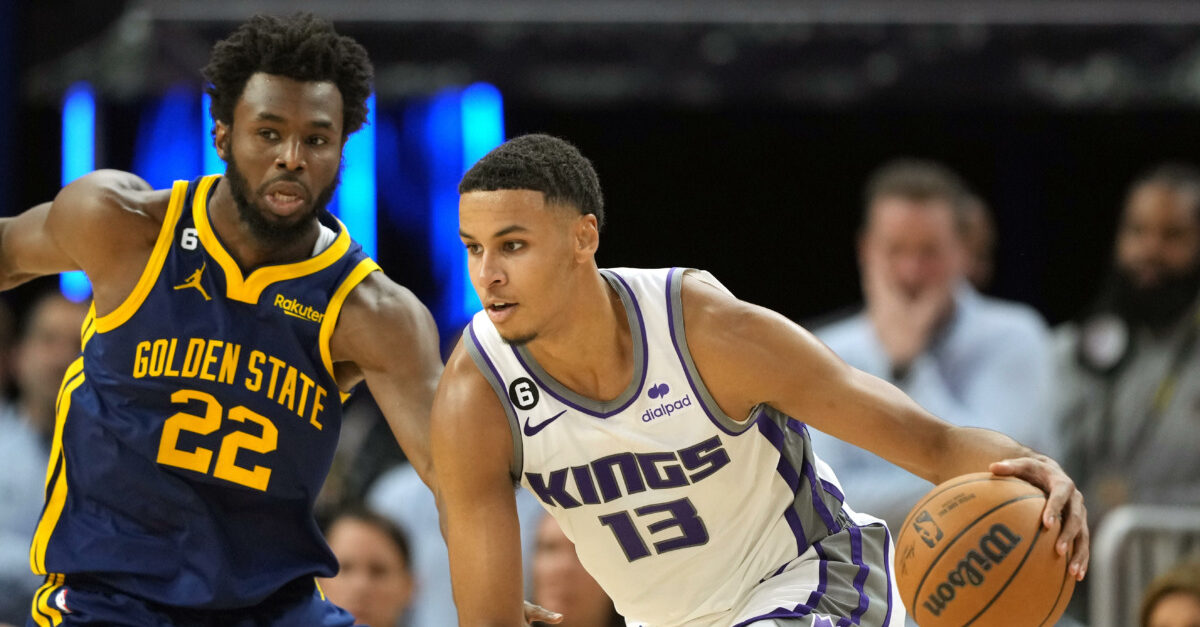 Easy matchups are a rare sight in the Western Conference, but the Sacramento Kings just played about as tough of a back-to-back as there is against two title favorites.
The Los Angeles Clippers came to Golden 1 Center to flex their lineup versatility and switch everything capabilities. Nobody on Sacramento's roster successfully slowed down Paul George, who ended the night with 40 points on 16/31 from the field.
A few of the buckets from George were a case of good defense but better offense, but wing defense isn't exactly a strong suit for the Kings. Harrison Barnes is a questionable candidate at this point in his career. KZ Okpala has length, versatility, and effort but he's often found himself in early foul trouble and has offensive shortcomings.
Keegan Murray, who was making his NBA debut, turned out to be the best option for containing George. "Just try and make it as difficult for him as possible," Murray said postgame. "He's a guy who makes tough shots, so the more tough shots that I can have him take the better for our team... make him earn his buckets."
Murray wasn't putting the clamps on George, but holding his own in game one is an impressive sight for the Iowa product -- especially when you take a look at what he did on the other end of the floor.
19 points on 7/10 shooting, five rebounds, and two assists is a stellar debut statline. "I think that's gonna be a classic Keegan Murray game. He does things quietly and I think the fans feel it," Fox said. "He did a hell of a job and he's out there guarding one of the best players in the NBA. That's a tough matchup for anybody. I think he had a great debut, I wish we capitalized on that and got a win but we have a game tomorrow."
On a night where Fox contributed 36 points and four assists, the Clippers won by two largely due to the Kings missing 11 of their 26 free-throw attempts. That was the clear point of needed improvement headed into Golden State the day after.
Head Coach Mike Brown and Assistant Leandro Barbosa received their championship rings at Chase Center prior to tipoff and were quickly reminded just how good the Warriors are offensively. The defending champs managed 89 points in the first half of play, including a single-quarter franchise-record 50 points in the second.
Chasing Stephen Curry, Klay Thompson, and Jordan Poole through screens proved to be a daunting task and Sacramento found themselves in a mess of foul trouble. Prior to the halftime buzzer, Davion Mitchell registered four personal fouls, Terence Davis and Okpala each had three of their own, and a few others had a couple as well.
"Most of those guys in the starting lineup are Hall of Famers and they've been together for a long time," Coach Brown said following the loss. "But, the things that disappointed me the most in that first half, defensively, is the amount of times that we scored and then they scored in transition. That was really bothersome to me."
If there's a silver lining in that game, it's the fact that Sacramento's offense looked stellar and somewhat kept them from getting blown out. De'Aaron Fox secured a double-double with 26 points and 10 assists on 11/20 from the field. Sabonis had a "quiet" 19 points, 11 rebounds, and four assists in 22 minutes of play. Murray added 16 points on 4/10 from beyond the arc in his game-high 38 minutes of playing time.
"I felt good throughout the 38 minutes. Conditioning is something that I take to heart, so if I'm on the floor I feel like good things will happen," Murray said. "I've never done a back-to-back before since high-school, AAU, so it's definitely a challenge but it's a good challenge."
After missing the season opener due to an illness, Murray played 70 total minutes in back-to-back nights against some of the best teams in the Western Conference. With his ridiculously efficient offense within the flow of the game and surprisingly NBA-ready defense, Keegan Murray is now poised to enter the starting lineup.
Three losses in three games is frightening for Kings fans who are hungry as ever for the playoffs, but don't freak out just yet. Fox looks like a star who is confident as ever letting it fly from beyond the arc. Murray is turning heads. There should have been a somewhat expected adjustment period to a largely changed coaching staff and roster.
"Because of the lack of playoffs in 16 years, there's a little bit of anxiety around here. I would caution everybody, there's a time to overreact and a time not to," Coach Brown said. "And after three games, for me, and I hope everybody takes my lead, is not time to…"
The Portland loss came down to the Blazers' 33 free-throw attempts and 11 offensive rebounds. That team also might be better than most people assumed, as they sit undefeated through four games.
Against the Clippers, Sacramento missed 11 free-throws and lost by two. There's no excuse for the Warriors' game, but their greatness is well-known and undeniable.
For Sacramento, it's about putting together a full 48-minutes of attention to detail, or as close to it as humanly possible. The schedule remains tough moving forward as the Memphis Grizzlies come into Sactown on Thursday night.