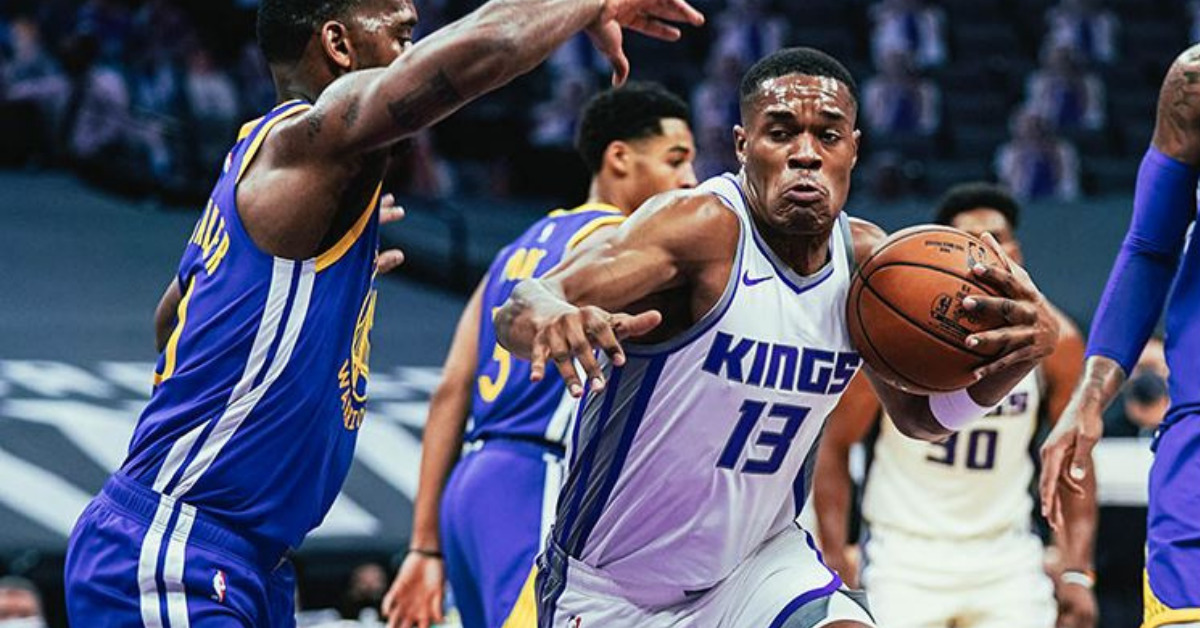 While Jonathan Kuminga and Jalen Green's Ignite roster were in the spotlight on ESPN2, Robert Woodard II was simultaneously putting on a show during his debut with the Austin Spurs taking on the Memphis Hustle.
Sacramento's 40th overall selection in the 2020 NBA Draft did not start for Austin but quickly ensured a spot in the closing rotation with his stellar play from the jump.
The Mississippi State product is recognized for his defense, yet secured a game-high 25 points and was crucial to the Spurs eventual victory. Woodard projects as a role player with 3&D upside who does most of his work off-ball, but he played the star for the first half.
His explosiveness was on full display as he strived to dunk seemingly every time he drove the lane.
Notice how these all take place within the flow of the offense. He is not one to take four or five dribbles and lull defenders to sleep with his shake. The 6'6" wing is a smart player who makes his living by being in the right spot, executing ideal cuts to catch the defense sleeping, and capitalizing on his high understanding of the game.
Prospects who are high-usage at lower levels usually find trouble translating their talents to the NBA game, where they are guaranteed to see fewer touches unless they're a lottery talent. This is the least of anyone's concerns with Woodard.
The Austin Spurs played a very high paced offense, that primarily ran through Tre Jones in the open court or Luka Samanic if they were slowed into a halfcourt situation.
Imagine Woodard catching lobs from the association's fastest player in De'Aaron Fox rather than Jones. He even displayed his promising shooting stroke that intrigued scouts going into the draft, knocking down a shot from deep in transition.
Aside from a few heat checks, which were justified, Woodard's shot selection was ideal for a player that can fill a Glenn Robinson-esque role in the league.
As the whistle blew for halftime, Sacramento's second-rounder had a stat line of 17 points on 8/11 shooting, four rebounds, and one assist.
For most of the second half, he was more of the quiet role player that was expected going into his debut. While offense makes the highlight reels and gets fans blood pumping, defense is where consistency lies and Woodard did not disappoint there.
He was assigned wings to start, but saw minutes as the primary cover for Stanford's shifty Tyrell Terry who stands at 6'2". He banged with previous Baylor center Freddie Gillespie. Woodard remained active and aware on the defensive end of the floor, and his one logged steal is a thing of beauty that highlights those instincts.
As the Hustle closed the gap, Woodard took advantage of his famous strength to post up smaller opponents and finish with a soft touch. Diving onto the floor to secure an offensive rebound and with the game on the line for his new team shows the energy level that Woodard provides on a nightly basis.
Many Sacramento fans have been envious while watching Xavier Tillman, who was selected by Sacramento at pick 35 before being traded to Memphis in exchange for pick 40 and a future second. While Tillman has been undoubtedly impressive during his rookie season for the Grizzlies, Woodard fits one of the most valuable prototypes in the modern NBA of a switchable wing who can contribute on the offensive end of the floor without the ball in his hands.
At the moment, trading down and acquiring Robert Woodard II along with an additional asset is looking like good business from new general manager Monte McNair.
But it is far too early to sing praises, and we will see how Woodard continues to perform during his time in the G-League bubble.
The Austin Spurs' next matchup is on February 11th, at 4:30 pm PST against the Lakeland Magic which features old friend Frank Mason.