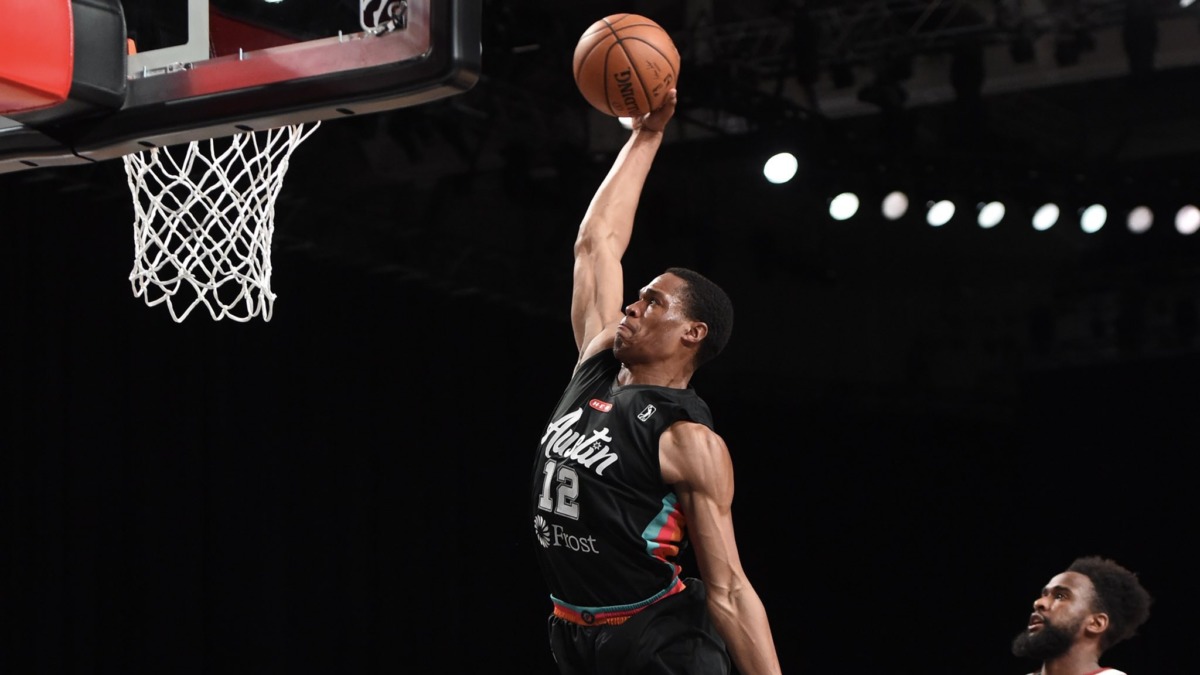 The Sacramento Kings have had a notorious lack of wings who can play defense for years. This is exactly why Harrison Barnes has been so refreshing during his time in Sactown.
Monte McNair seems to have found another player of that archetype in Robert Woodard II. Since the Stockton Kings are not participating in the G-League bubble, the 40th overall selection was assigned to the Austin Spurs.
He was touted as a high-floor player who could fill the typical 3&D role, but his level of athleticism, an impressive understanding of the game on both ends, and incessant energy have been remarkable.
In his first six games with Austin he averaged 15.8 points, 10.5 rebounds, 1.8 assists, 0.8 blocks, and 1.5 steals. Of those rebounds, 4.2 are offensive, the 6th highest total of any player in the bubble which is representative of his often ideal positioning and energy.
There is never a moment that Woodard merely is standing in the corner stagnant on offense. He is an active cutter, screener, a willing shooter from range, and good for at least one putback dunk per game.
His vertical bounce pops off the screen and the Sacramento crowd is sure to be enamored by the flexes and smiles that follow these highlight plays. If NBA rosters are unaware of the regularity that Woodard crashes the boards with, he is certainly going to create second-chance opportunities.
Being active on the offensive glass frequently leads to absence on the following defense possession, (see: Buddy Hield) but Woodard is assured to sprint back and remain impactful.
While his offense has been surprisingly impressive, defense is Woodard's calling card. There are certain players that simply understand the game at a high level and he shares that trait with another Kings rookie. He is rarely in the wrong spot and puts his 7'1" wingspan to good use with proper weakside rotations.
The Sacramento Kings have a major shortage of players that offer rim protection while remaining mobile when pulled out of the paint. Richaun Holmes is the only current member of the roster that qualifies.
Robert Woodard has made game-winning defensive plays on multiple occasions throughout the six games he has played for the Austin Spurs - a difference-maker on that end.
Decisions are lightning quick at the NBA level, and there will be a learning curve for the Mississippi State product but the best way to learn is getting reps.
He's had some struggles containing quicker players on-ball, but effectively lurks off-ball and intelligently rotates. The worst defense of all time would undoubtedly benefit from having Woodard on the floor.
As for the all-important three-point shooting, Woodard has only made them at a 27.8 percent clip so far. The good news is that he's not hesitant to get them up and therefore has a reasonable path to gaining the respect of defenses needed to space the floor. In his latest college season, the 6'7" wing converted 42.9 percent from beyond the arc with a consistent and smooth form.
Robert Woodard gaining minutes would be more beneficial to the Sacramento Kings long-term than Glenn Robinson III. He may even be a more impactful player in his current stage.
Woodard is not likely to develop into a player who creates off the dribble due to a shaky handle and lack of creativity and burst. I'm not sure that posting up smaller players and breaking down unathletic, poor defenders off-the-dribble with a slow and unconvincing move is aiding his long-term development.
He projects as a low-usage offensive player who makes the smart, simple play on that end while making his money on defense. There is an argument to be made that 10 minutes a night in the NBA could be more useful than 30 minutes in the bubble.
The G-League concludes on March 6th, so there is no harm in letting him finish his run there and gain confidence, but he could help the Sacramento roster today.
Jordan Nwora, Malachi Flynn, and Sam Merrill have all been recalled from the bubble to their respective main roster. Malachi Flynn even played in an NBA game the same day after performing for 33 minutes for the Raptors 905.
The Sacramento Kings should consider doing the same with Robert Woodard II.