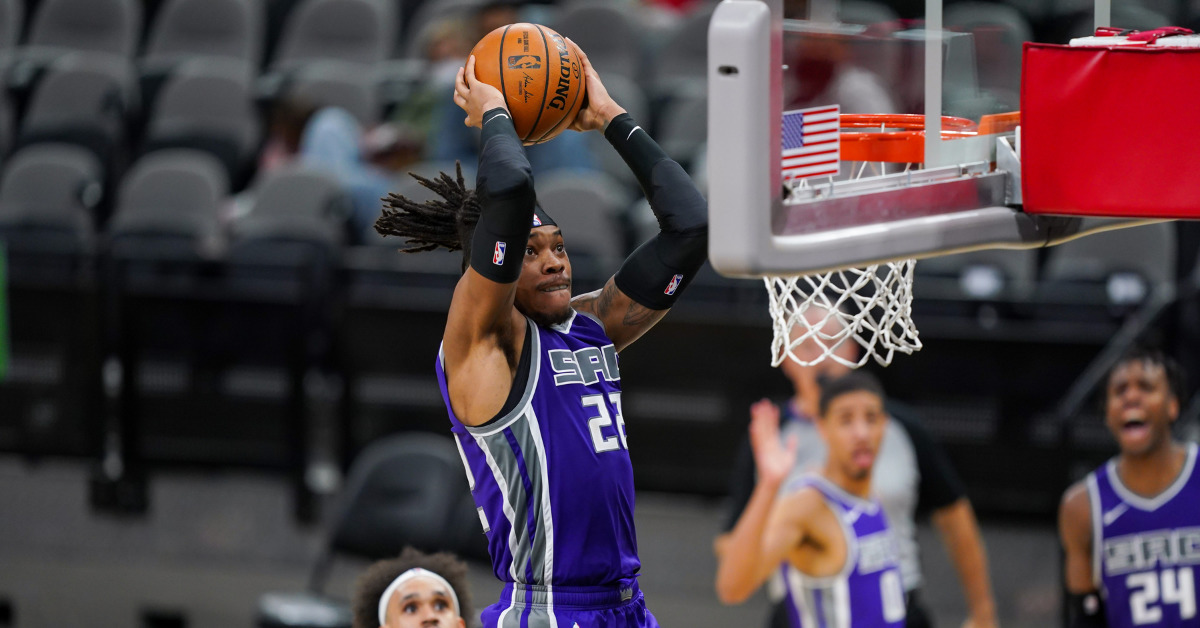 Sacramento Kings center Richaun Holmes recently sat down for an interview with Alex Kennedy of basketballnews.com. They cover a wide variety of topics, including Holmes' defensive play, how he's developed his game over the course of his career, what it was like being on the Process 76ers, and what it would mean to end the Kings playoff drought.
There were two sections of the interview that really stood out to me. The first was Richaun talking about how he feels about Sacramento:
€œAh man, it's been great since the moment I got here, really. Everybody, from the front office to the fans on the street, has shown so much love and shown their appreciation for the way I play and just gave me an opportunity to really grow here. Sacramento is a place where I've really grown as a basketball player, but as a man as well. I just have some great memories from these last two years and I really can't say anything negative about the whole situation in Sacramento. Everything has been so positive and I've grown so much and everybody has shown so much love and the atmosphere was crazy when the fans were in the arena, so there have just been so many positive things about playing in Sacramento.€
Nothing too surprising there. Holmes has spoken glowingly about Sacramento ever since he arrived. But that, combined with his answers to a few later questions, got me thinking. Kennedy asked about Holmes' upcoming free agency and what he learned from his last free agency experience.
€œI think during my last free agency, I just learned how to gauge the situations that are best for me and my family. Just understanding the situations that I'm going to put myself in as far as living conditions and things of that sort, just understanding everything about choosing where you're going to play next, understanding the impact that it's going to have and how big of a decision it is and how much thought you really want to put into it -- not just for yourself but for your family as well."
Kennedy followed that up with a question about how important family situations and off-court factors are in free agency. Holmes responded:
€œWell, I think a lot of people don't realize that we have personal lives and are humans too. The location and where you are, it's very hard to leave certain places when you have roots there and your kids are in school and things of that sort. It's hard to pick up and leave. That's a component that goes into it, and it's something that a lot of players think about. You have to think about how your family is going to take the decision and [consider], €˜What's best for my family? What does the family want to do? What do they think?' It's very important and it weighs heavily on players [and it impacts] a lot of decisions that are made by players. How the wife or your brothers or your parents may feel about it -- that's always something to think about.€
Obviously we don't know what Holmes or his family want the next stage of their lives to look like, and we all know that money matters in free agency. But these quotes paint a picture of a guy who might consider more than just money when making his final free agency decision.
Jerry Reynolds has discussed the idea of the home town discount on a recent episode of The Kings Herald Show, and I think his take is probably the most accurate. Jerry has said that he thinks Holmes would give Sacramento a hometown discount, but that discount would likely be limited to around $1 million per year. That's a lot of money to most of us, but a modest discount by NBA standards.
I believe that if the money between Sacramento and another city was equal, Holmes would probably be inclined to stay. If the money was close, I think Sacramento would still have a chance even if they were slightly lower than the other offer. I don't believe Holmes would take a huge underpay to stay in Sacramento.
Of course, this is all speculation at this point. We don't know what cap machinations Monte McNair will do and how much money the Kings will be able to offer Holmes. And we don't know what the market will look like for Holmes. Actually, we don't even know when free agency will start this summer, we only know that the Finals will be over by July 22nd.
Stay tuned.