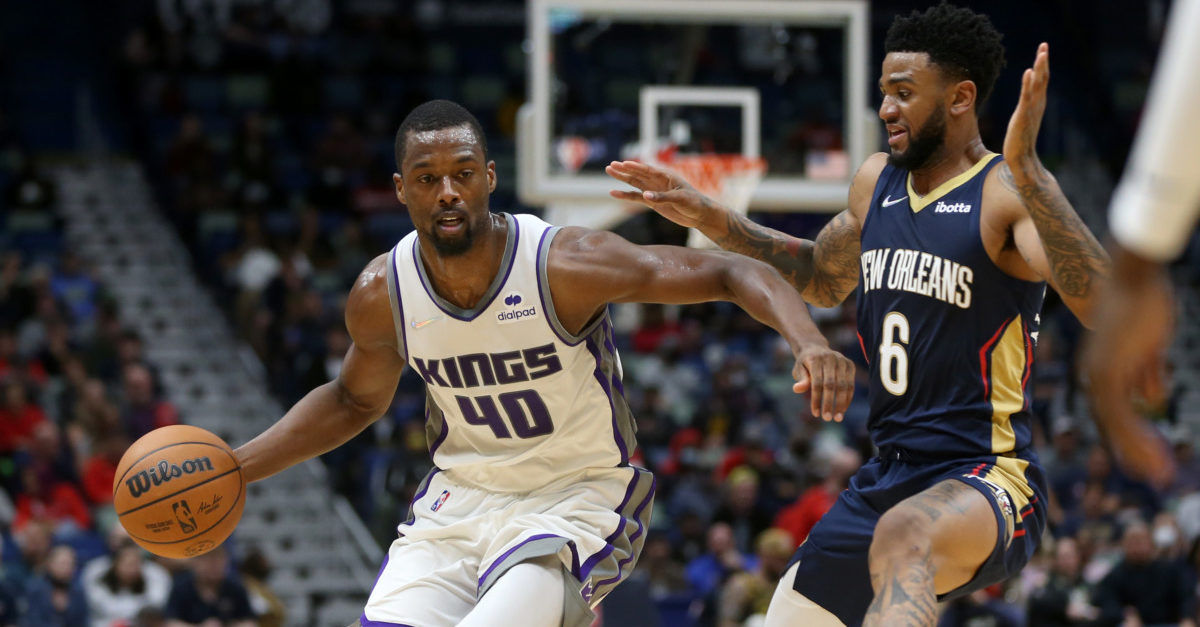 The Sacramento Kings defeated the New Orleans Pelican Friday night 113-109. Following the game, Luke Walton, Tyrese Haliburton and Richaun Holmes spoke to media.
Here are some key quotables from the postgame.
On the Kings Going 24-25 On Free Throws
Tyrese Haliburton: "We hit a lot of big free throws down the stretch – Buddy [Hield], HB [Harrison Barnes] and Rich [Holmes]. That helps us a lot. It's going to be important as these games ramp up, the closer they are a lot of time you look at things like rebounding, free throws and turnovers and stats like that are key indicators to winning or losing."
Luke Walton: "Good teams normally shoot, no one is going to shoot 96[%] for the season, but good teams shoot good percentages from the foul line. You take care of your business, and making free throws is something that we talk a lot about as a team and guys work on. Really, it was a big part of how we were able to keep that lead in the fourth quarter was every time we got fouled, knocking down free throws. To me, that's one of those winning habits we talk about that we're continuing to try to build on."
The Connection On The Court With Haliburton and Holmes
Tyrese Haliburton: "From the moment I got here, a special relationship between us grew to where we play off each other. To be honest, I didn't know much about Rich before I got here, and I quickly figured out that if I wanted an assist, it was easy to play with Rich [laughs]. It worked for us a lot last year and down the stretch I think our teammates trust us in the two-man game to make the right play."
Richaun Holmes: "With Ty, he's just so creative with the ball, especially when he gets downhill in the pick and roll. So, for me, it's about just making sure I get space for him and giving him room to operate. It's very, very simple for me. He knows how to make the right pass, he always makes the right decisions and he's just very, very tough to guard in the pick and roll so when he's coming downhill, I try to get to the front of the rim and let him make the decision and he always makes the right one."
Tyrese Haliburton on De'Aaron Fox Struggling From The Field
"It's basketball and you have times where you miss shots, have times where you make shots. He's just missing some jumpers right now, but he was huge for us tonight. I don't have a stat sheet in front of me or anything, but I thought he was really good tonight, making a lot of plays for others, getting downhill. It's just a game, you're going to miss shots, you're going to make shots, that's whatever, but for us it's just about winning and he's our leader and he's helping us do that."
Things That Are Different This Season
Richaun Holmes: "We wanted to make sure we're communicating with each other, we had each other's backs at every moment to start the season and that's something we wanted to build on as we go, and I think these first few games we've gone a great job and we've just got to continue getting better."
"I think just the communication and effort, it goes a long way. Making sure we understand as bigs to call out screens early for our guards so they can get into positions they need to be in. ... The guards fixing their feet to get into positions they need to be in. Go along with our defensive game plan. So, I just think the focus level in that area this year has been much improved."
Luke Walton: "You hear them talking in timeouts at the end of these games, and then they get to do it again the next night. You come in the locker room and you hear them in there, not celebrating, but talking about what we could have done different and that's how you get growth from a group. So being in every game against the type of teams we're playing is exciting, but it's also what we expect, and we know it's hard. What we really like is that we won three of the five, so we know we put a lot of hard work in coming into the season, it's a small sample size and it's early, but we like where our team is at."
"With our team this year that's what we're trying to build toward is knowing that we don't have to just rely on one person. We know that De'Aaron is an incredible talent and there's times when it's tough for anyone to keep him in front. Harrison has been incredible for us this year, I feel like I should have done a better job of trying to get Harrison more involved as the game went, but he was very solid again tonight. Tyrese made some big plays, Richaun, so that's who we want to be as a team. We don't have one megastar, but we have some really good players on our team and that's how we're going to be at our best."
Tyrese Haliburton: "I think we really had a great first five games. We let two slip at home, but I think we've been playing well all year. Right now, we're just figuring out how to close games."
A Few Takeaways
Let's unpack a few things from all of this.
First, I named that last section "Things That Are Different This Season" because it appears most of the things discussed there are things that the team has been talking about for years now, but actually might be making progress in: communication, effort, closing games, accountability. The team is talking to each other on and off the court about how to get better, playing hard and learning how to close out games. The things that just require a team to want to do (accountability, effort and communication), and have nothing to do with basketball skill, are things that have been strangely absent from this team for way too long. Now, we are only five games into the season, and this could all go south, but these things, coupled with signs of life on defense and winning games they should win, like this one against the Pelicans, are good signs.
Additionally, they have traditionally had to rely on one guy, their main player. As Walton mentioned there, they have multiple guys who can get the job done and are learning how to operate that way.
The pick and roll between Haliburton and Holmes is a thing of beauty and something we need even more of on a consistent basis.
Fox going 4-4 and Holmes going 7-7 from the line was great to see.
Fox was a +2 on the night with 23 points, 7 rebounds, 5 assists. He was 1-7 from three and had 4 turnovers, but other than that he was good. Nice to hear Tyrese's support for him.
Barnes only took nine shots and he is averaging 15.8 per game this season, so it was good to hear Walton mention he needed to get him more involved, especially with the way he has been playing this season.
On Sunday, the 5th seed Sacramento Kings take on the 4th seed Dallas Mavericks.