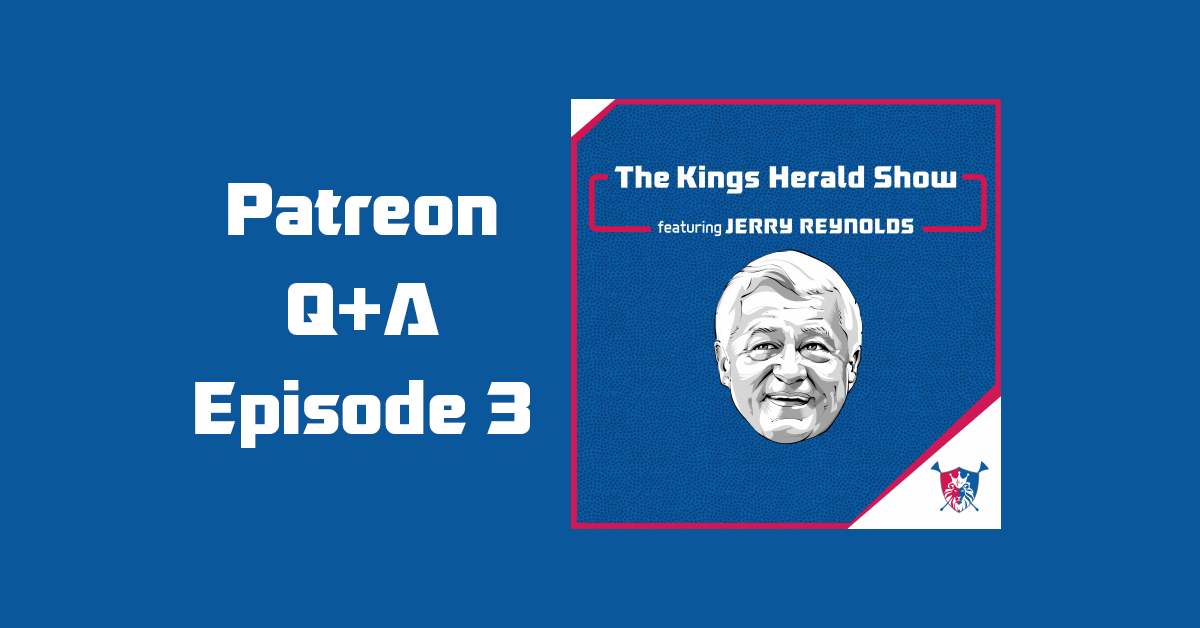 Our monthly Patreon exclusive Q+A with Jerry Reynolds featuring questions from The Kings Herald community is live on our Patreon, right here: Patreon.com/KingsHerald
The Kings Herald's own Kevin Fippin joined us on the bonus Q+A podcast this month! It was great to have Kevin on the show, and I blame him exclusively for the way this episode derailed into a 40 minute conversation about the Kings' decision to max De'Aaron Fox, and the concept of paying young NBA players big money before the stats necessarily back that decision up. I kid. It was actually adennis55's fault for asking the question:
Which would have a bigger positive impact on this franchise moving forward: making the playoffs as an #8 seed or getting a top 3 pick?
That resulted in what I thought was a really good discussion with Jerry Reynolds about the reality of running an NBA organization vs. some Kings fans (myself included) desire to 'tank' for draft position and (hopefully) more long-term success.
If you are a Kings Herald Patron with a question for Jerry, you can submit your questions in a few different locations. You can write it in the comment section of this post below, you can send us a DM on Patreon, or you can post it in the comments of the show on Patreon. We like to ask Jerry one question from our Patrons on every episode of The Kings Herald Show, and any questions that don't get used on the main show will appear in this monthly Patreon bonus episode, so if you submit a question, it will get answered!
These have been some of my favorite episodes to record because the questions are all over the place, and involve topics outside of the regular NBA news cycle that drives the main show, so thank you to everyone for submitting interesting questions, and thank you for supporting The Kings Herald on Patreon.
You can find full episodes of The Kings Herald Show wherever you listen to podcasts, but if we're missing a platform that you use, please leave us a note in the comments we'll try to set that up for you.
Apple.
Spotify.
Google.
Stitcher.
Thanks for listening, and thanks for supporting independent Kings coverage at The Kings Herald.