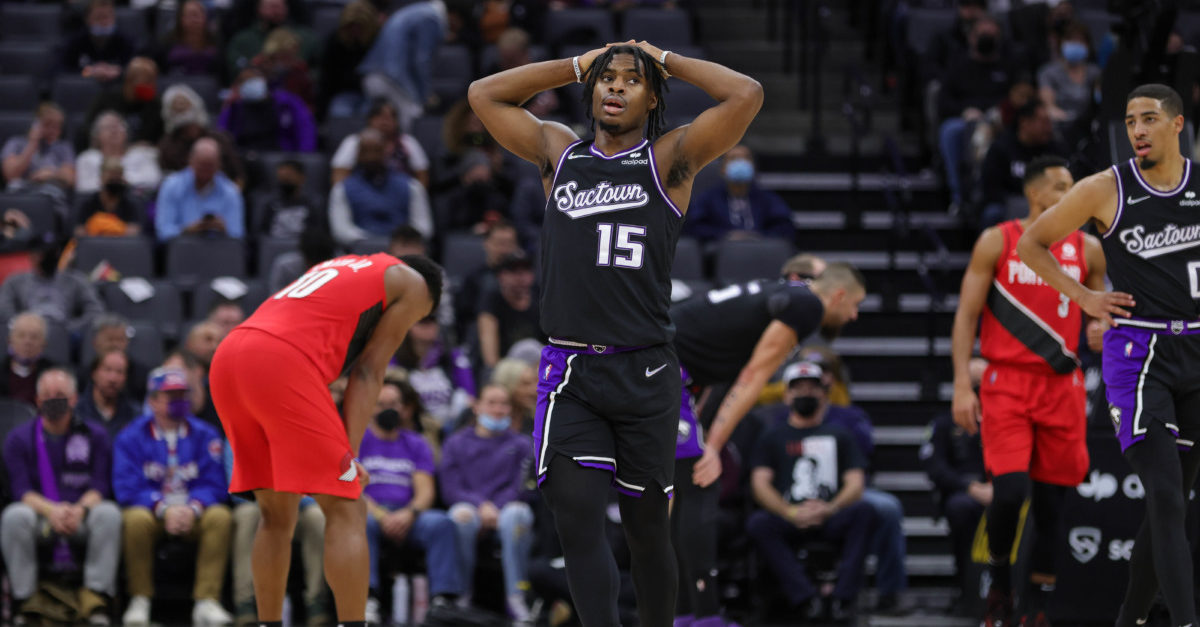 The Kings sit at 10-14, and have won 4 of their last 7 games since Alvin Gentry took over for the fired Luke Walton. Games are happening as I write this, so standings could shift, but right now the Kings are 11th in the West, one game back of the 10th seed. They're well within striking distance of the play-in berth that the franchise so desperately craves and hopes to pass off as a sign of growth. It feels not just possible, but likely that the Kings could make the play-in the year as the West is as weak as it's been in years.
And yet, despite all of this, I struggle to care.
I display my apathy in an unconventional way. I still watch at least part of every game. I still actively work on this site. I argue with fellow Kings fans in comments and on twitter. I watch everything this team does. But I do it out of obligation not to the team but to this site and this community.
If it wasn't for this site and all of you, I can't imagine that I'd still be paying attention to this team.
I still want this team to succeed. God do I want them to finally succeed. I'm just tired of being let down. I watch the games, even the wins, waiting for the collapse to come. I still enjoy the good plays. I still react to the mistakes. But at the end of the game I no longer care. A win doesn't boost my spirits for the next day or two. A loss doesn't bring me down.
I bought in at the start of the season. I really did. The team felt different. The depth felt real. I thought that maybe, despite keeping a coach I thought they should have replaced this summer and despite minimal roster changes to what I thought was a flawed roster, I thought that maybe I was wrong and this year was different.
I am forever Charlie Brown lining up to kick the football.
But a different thing happened when the Kings reverted back to the Kangz this season. Normally I'd get mad. Normally I'd rant and rave and demand changes. But this year I just felt tired. I realized I was no longer mad. I was just accepting that the Kings were once again a joke and that nothing was going to change.
When the Kings fired Walton I wasn't excited. I was relieved I no longer had to endure Walton coaching my team, but I just felt sad and annoyed that the Kings didn't make the obvious change over the summer. I didn't even bother writing about it, because there was nothing left to be said. We'd written about it all before.
And that's the problem. We've been through all of this so many times already that's it hard to care when you're seeing the same old scene play out once again. And so I find myself caring less and less.
Based on the attendance at home games, it doesn't seem like I'm alone.
This feeling, apathy instead of anger, is what the Kings should truly fear. I have a website to help run and a community I love to talk basketball with. I'm as die-hard as they come and I'm just going through the motions right now. I'm writing this now, during a multi-day break from games, because I feel like we should have something up on the site but I don't have it in me to write "what if Bagley has figured it out" yet again. So instead of forcing a haphazard analysis I'm just going to write what I actually feel about this team.
I feel tired.
I'm tired of caring about a team that can't clear the lowest thresholds of success. I'm tired of a team that constantly talks about needing to be better but never walks the walk. I'm tired of hearing about the moves that the team almost made.
I have a 49ers t-shirt that dates back to the Mike Singletary Head Coach era. He was a bad coach but a great quote machine. The shirt is a Singletary-ism. "Don't tell me, show me". Stop telling me you'll be better. Just be better. Stop telling me you care about success, just go be successful. Kings fans have such a low standard of success and this franchise has failed us for 15 years, and as I write this there's no real reason to think it won't be 16 seasons.
So, to the Sacramento Kings, I beg you to give me a reason to believe again.