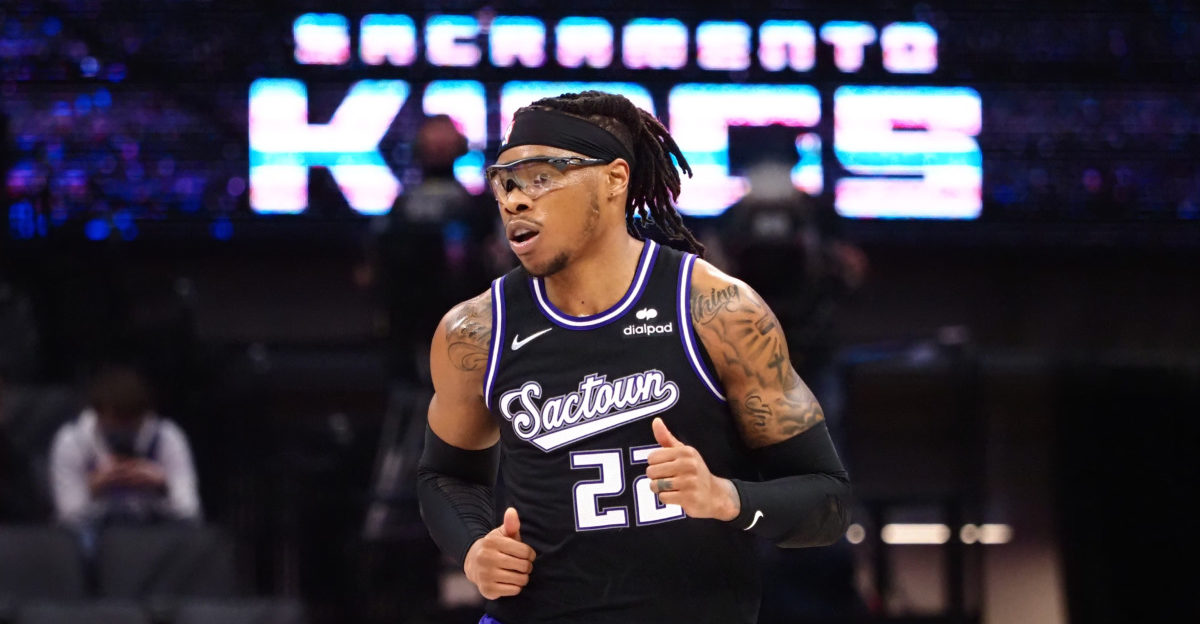 Over the last few days, the rumor mill in Sacramento has been in overdrive, and then some. De'Aaron Fox has been put on the block and immediately removed, Tyrese Haliburton and seven million picks were apparently offered for Ben Simmons, Daryl Morey has been negotiating with the Kings through radio interviews, and just about any name currently being shopped has been linked to Sacramento. With so much information sprouting from both reliable and unreliable sources, a couple of faithful Kings reporters have stepped up with updates in the last 24 hours.
Sam Amick of The Athletic, undoubtedly the most well-connected national source for the Kings, shared some updates on the Carmichael Dave show on 1140 KHTK. While the interview wasn't the bomb-dropping sort filled with juicy tidbits and gossip, Amick did clarify some potentially conflicting reports between coworker Shams Charania and himself. Previously, Sam had reported that the Kings had placed guard De'Aaron Fox on the block, with Jason Anderson of The Sacramento Bee confirming that report by sharing a potential swap of Fox for Indiana Pacers big man Domantas Sabonis, but Shams shot down those rumors on Thursday afternoon with an interestingly worded report:
"The Sacramento Kings organization has a current mindset: They are not trading guard De'Aaron Fox, sources tell The Athletic."
Later in the report, he specifically refuted the Sabonis conversations:
"Team sources said any potential deal around Fox for Pacers center Domantas Sabonis will not happen."
Although those reports seem very definitive, there is some key information missing. Amick clarified why Shams' report conflicted with the information that had been shared by multiple individuals in the previous 24 hours:
"The Kings are saying these things while knowing exactly what Philly has told them, while knowing exactly what Indiana has told them. I think they're reacting to the current market and what they've been told by these teams."
Amick later went on to confirm that the very specific phrase of "current mindset" was extremely reflective of what the Kings were feeling in response to potentially rejected offers by both the Sixers and the Pacers. Essentially, De'Aaron Fox isn't being shopped at the moment because the return hasn't been as expected or hoped for, rather than an altruistic reason of wanting to keep the band of Fox and Haliburton together for as long as possible. The Sabonis deal is certainly off of the table at the moment, but that was not necessarily initiated by Sacramento. If the Kings get a call that interests them, or if the Pacers or Sixers drop their price for their incumbent, on-the-block All-Stars, De'Aaron could immediately become available.
Richaun Holmes on the block
The other update from Wednesday came through KHTK's rival, ESPN 1320. James Ham confirmed the phrasing that the Kings weren't shopping De'Aaron Fox or Tyrese Haliburton at the moment, and he threw in an extra, mildly surprising piece of information. In addition to putting veterans Harrison Barnes and Buddy Hield on the block, as well as the eternally available Marvin Bagley, Sacramento's front office has also included recently re-signed starting center Richaun Holmes in trade conversations:
"That is the hope, they will be able to make changes starting with guys like Harrison Barnes, Buddy Hield, and Richaun Holmes. All of these guys are available, from what I know."
Holmes being shopped signals a potentially interesting shift in Monte McNair's mindset heading into the deadline. Previously, only players that had been signed by Vlade Divac had been shopped, but Holmes is a guy that management chose to pay and keep around this past summer. It's clear that the front office understands that their playoff hopes for this roster were far too optimistic and that this team needs a massive shakeup.
As one of the best pick-and-roll rim runners in the league, Holmes offers perhaps the best value of any of Sacramento's veterans, depending on league-wide team needs. Although the center position isn't historically as valuable as a wing such as Harrison Barnes, Richaun's friendly contract of just four years, $46 million is easy to match salary-wise and is much easy to absorb for tax-paying teams, especially when compared with Barnes' average salary of $19 million per year over the next two seasons. Teams like the Portland Trail Blazers, Dallas Mavericks, Charlotte Hornets, Golden State Warriors, and many others will likely be calling about the availability of Holmes' services.
The willingness to put all of these veterans on the trade block may be an encouraging sign for this front office, as they refused to do so last deadline with the Kings in a similarly hopeless situation, but the sought after return for Barnes, Holmes, and Hield is still unknown, and a bit of a concern. In the same interview with Damien Barling and Kenny Caraway, Ham shared that the Kings are seeking young-ish players, in the 24-27 range, to help win now and also build around Fox and Haliburton; however, there is a far cry from a 24-year old developing player and overpaying for a solid, if an uninspiring 27-year old veteran like Jerami Grant who wants to score and get paid for scoring.
The Sacramento Kings are clearly open for business, and it seems as though just about everyone is being shopped, as should be the case for a team sitting 11 games under .500 and acting as if they want to escape the gym and just get home every night. It remains to be seen if management and ownership are willing to accept how far gone the season truly is, or if they're going to push for a 10th place finish, the future be damned.