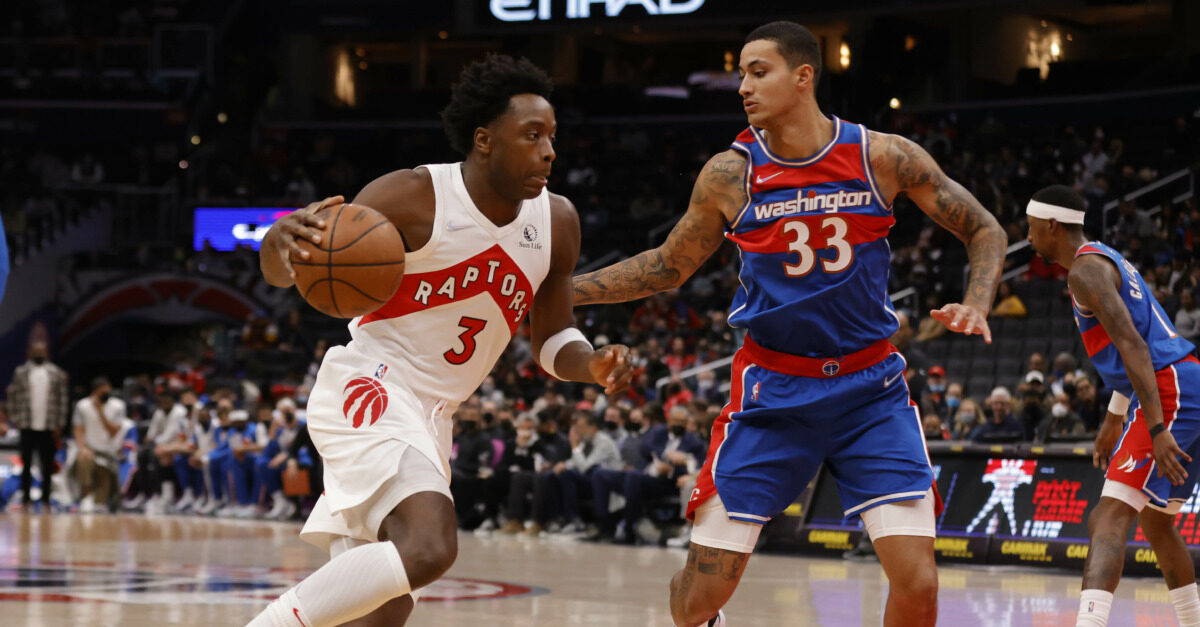 December 15th is a key date for the NBA trade market, as 74 additional players who signed extensions this summer become trade eligible. This makes it easier for teams to match salaries in deals, and since it aligns with teams being a third of the way through the season and teams are figuring out whether they're buyers or sellers, it often marks the beginning of the NBA trade season.
With that, we've got some new NBA trade chatter courtesy of Bleacher Report's Eric Pincus, and there are a few notable names mentioned in connection with the Kings.
Kyle Kuzma
Pincus says of Kuzma and the Kings:
Kuzma is believed to still be on the Sacramento Kings' radar after they missed out on him in 2021 when the Los Angeles Lakers traded him to Washington instead of Sacramento.
Kuzma could make sense for the Kings as a versatile scoring forward, but Kuzma is a downgrade in terms of floor spacing. He's shooting just 33.3% from deep this season, after shooting 34.1% last season. The upside would be that Kuzma would be a solid cutting threat to receive passes from Domantas Sabonis. There's also the hope that Kuzma's numbers could look better if he isn't the primary option of offense. Kuzma also fits the Kings' timeline, as he's still just 27 years old.
The concerns with Kuzma are two-fold. First, Kuzma is a hitting free agency this summer, and is looking for a pay day. More from Pincus:
Kuzma (27), however, is a flight risk and precisely the kind of player many rebuilding teams would covet in free agency. He could be a top-five free agent this offseason—at worst, top-10. "He wants out," an NBA source said. "He's looking for over $20 million a season and in a big market [or with a contender]."
There's also the question of whether a guy looking to get a big payday will be willing to be the third or fourth option on offense. We've previously seen Monte McNair trade for a player after missing out on him initially, but I would have some fit concerns with Kuzma on this squad.
Pascal Siakam, OG Anunoby
Pincus also discusses several players from the Toronto Raptors that may be on the trade block as the team begins to shift its timeline to build around Scottie Barnes, such as Pascal Siakam, OG Anunoby, Fred VanVleet, and Gary Trent. He lists the Kings as being an interested team that is likely interested:
The list of teams interested in Siakam, Anunoby (especially Anunoby), VanVleet and Trent is varied, likely including the Golden State Warriors, Miami Heat, Minnesota Timberwolves, Indiana Pacers, Lakers, Suns, Kings and Nets, among others.
While VanVleet and Trent are both good players, neither seem to be likely targets for the Kings. The Kings and Siakam have been connected in rumors before, and he or Anunoby would also be excellent fits with the Kings.
Siakam has one year left on his deal and is 28 years old. Anunoby has one year and then a player option, and is just 25 years old. Either player would be an excellent fit with the Kings, but the challenge will be coming up with a package that makes Toronto happy. Due to the protected pick in the Huerter trade, the Kings can't trade a first round pick anytime soon.